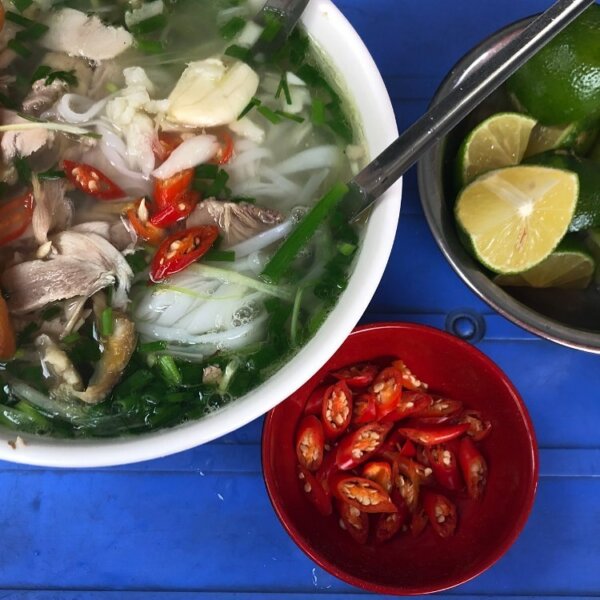 This Saturday, the forecast in Rockland calls for sunny skies and tasty food. The Vietnamese street food pop-up from Nyack native Sadie Mae Burns and partner Anthony Ha is coming to Bluefield Farm at 4p for an evening of food, drinks, music, flowers, and fun. Find out firsthand what's made Ha's Dac Biet a Brooklyn sensation by purchasing a ticket for $25 (tix are limited; venmo @hasdacbiet for entry). And for the backstory behind the pop-up–as well as more on what to expect–we spoke to Burns and Ha.
How/when/why was Ha's Dac Biet started?
Ha's Dac Biet started about 2 years ago, when Anthony found an ice creaming vending cart on Craigslist. This became the inspiration for Vietnamese street food. The whole aesthetic and nature of the cart, in its mobility, in its size, and its quirkiness, creates a scene that immediately reminded us of eating in Vietnam. We have been able to set up our charcoal grill in so many different areas of NY, and have had so many people tell us that it makes them feel a sense of nostalgia. That's really the whole point of all this!
Anthony and Sadie, what are your culinary influences? What experiences most shaped the food you make?
We have so many culinary influences. As far as Ha's goes, our trips to Vietnam, as well as the food that Anthony's mom cooks for us, have been formative. We're also obsessed with going to farmer's markets and cooking super simple, bright food, that plays really well with Vietnamese flavors. Most of how we cook is based on what we can get our hands on at the market, which means that we are changing the menu constantly. It keeps us on our toes!
You guys live in Brooklyn. But Sadie grew up in Nyack. Was food a big part of your life in Nyack? If yes, how so?
Growing up in Nyack, my parents instilled a deep, deep love for cooking & eating from an early age. My parents would make really thoughtful, delicious meals every night. The older my brother and I got, the more central this became to how we operated as a family. We'd plan entire trips around the food that we'd be eating. We all eat with a gusto that is so fun. Anthony fits perfectly into this dynamic.
You're doing a pop-up at Bluefield Farms on Saturday with music from Gusto House and cocktails from Social Hour. What can I expect from the space, the music, and the drinks? 
My mom, Kristina Burns, has been working with Joy of Bluefield Farms for a number of years now. We've actually done a few pop ups there before. The space is so incredibly beautiful–filled with flowers and literal rolling hills, and a huge, magical barn. It's impossible not to fall in love with it. It's the perfect space to play around with. They used to host these open farm days, where people could come and interact with the farm. This is sort of the COVID friendly, more controlled version of that. Joy is such a delight and so mindful of sharing this place with people. Her son, Tom Macy, just launched a line of canned cocktails, which will also be available for sale. Peter Cheney, an insanely talented Nyack artist, will have a series of his paintings on display, as well. It's a family affair! We all get to be so creative, which feels especially important right now.
Let's say I really love Gusto House's music. Where can I find more? And when can I see them perform again?
If you like Gusto House (a.k.a Ethan Cohen), follow @_gusto_house_ on Instagram. Upcoming performances and releases will be posted there, and you can find links to the music that has been released.
What kind of COVID safety procedures will there be? 
We are going to do everything in our power to make sure this feels super safe for everyone. Masks are required, tickets are limited, there will be ample space between groups so that no one is touching elbow to elbow. We've been following the NY guidelines very closely.
What's on Saturday's menu? 
Herb and veggie salad, with tomatoes, green beans & peppers. Dressed with a version of nuoc mam and tossed with peanuts and fried shallots. $1
Meatball bánh mì with end of the season tomato sauce and Thai basil. They have a version of this in Vietnam, but we are gonna make ours slightly more Italian feeling. $15
Pate bánh mì with pickles, cilantro/ onion, mayo and chili. We'll make the pate ourselves- this is something we've been wanting to play around with for ages now! $12
Mini tartlets with pandan crème patisserie and stone fruit. $9