This week in the villages: On Tuesday, Upper Nyack is holding its village election at the Old Stone Meeting House for 2 Board of Trustee positions. The Villages of Nyack and Upper Nyack have various board meetings scheduled. Orangetown's late summer concert series continues. And bring your kids to Clarkstown's StoryWalk, which begins on Wednesday in several parks.
Village of Nyack
Mayor Don Hammond will hold his weekly Communication Meeting via Zoom on Thurs, Sept 17, 2020.
The Mon 9/14 Planning Board will consider an application for tree removal, an application for a historic designation for the John Green House, and a continuation of the site plan application for the construction of a parking garage at Nyack Hospital. Read the full agenda at Nyack-NY.gov before Zoom-ing into the meeting at 7p.
The Wed 9/16 Architectural Review Board will consider a request for business signage, exterior alterations, replacement of existing siding, and an application from Oak Hill Cemetary for a mausoleum. Read the full agenda at Nyack-NY.gov before Zoom-ing into the meeting at 7p.
Village of Upper Nyack
The Architectural Review Board will meet on Mon, Sept 14, 2020 at 6p. More info at uppernyack-ny.us.
The Zoning Board of Appeals will meet on Tue, Sept 15, 2020 at 8p. More info at uppernyack-ny.us.
The Planning Board will meet on Wed, Sept 16, 2020 at 7:30p. More info at uppernyack-ny.us.
The Board of Trustees will hold a regular meeting on Thurs, Sept 17, 2020 at 7p. An agenda may be found on uppernyack-ny.us.
Village Election Tue, Sept 15, 2020
The Village election will be held at the Old Stone Meeting House, 347 N Broadway on Tue, Sept 15, 2020 from 12n to 9p. There will be no separate registration day. The following individuals were nominated for Trustee (2 to be elected for a term of 2 years):
Kennon Rothchild III, 300 Ellen St (Bell Tower Party)
Jeffrey Epstein, 115 Locust Dr (Bell Tower Party)
Nyack Public Schools
The Technology Department will be distributing computer equipment to students who have not already picked them up on Wed, Sept 16, 2020 from 9a-3p at the Central Administration Building at 13A Dickinson Ave. If your child already has a device that was given to them by the district, you may bring it in at this time so a technician can verify it is up to date with all the necessary programs. Please call the Tech Help Desk at (845) 353-7075 if you need further assistance. Visit the Reentry to Schools Page on nyackschools.org for the most current information on the reopening of schools.
There will be a Board of Education Meeting on Tue, Sept 15.
Town of Orangetown
On Thurs, Sept 17, 2020 at 7:30p, "Pack the Park" with Orangetown Parks & Recreation Department for its Late Summer Concert Series featuring Return to Paradise, a Styx tribute band. All attending groups must fit into a 10 x 10 ft social distancing space without a mask, but a mask must be worn when entering and exiting the venue as well as when moving around the venue. There is no indoor site. Cancellations and postponements will be posted on the Town of Orangetown website, Facebook page, and Twitter page.
Inaugural Orangetown PBA 9/11 Stair Climb
The Inaugural Orangetown PBA Remember 9/11 Virtual Stair Climb Fundraiser will raise funds for those in need in our community and at large. The major focus will be for the Stephen Siller, Tunnels to Towers Foundation which has graciously supported families of fallen first responders as well as the families of fallen soldiers. This event is a virtual stair climb/walk/run based on the World Trade Center's 110 Stories which were composed of 1,980 stair steps. This number of 1,980 will be incorporated into the program for the virtual event.
Registration opened Sept 11, 2020 and will remain open for the month of September. After registering, complete your goal at once or over a period of time.
Town of Clarkstown
Tele Town Hall Mon, Sept 14, 2020, 5p
Join Supervisor George Hoehmann for an update on a group telephone call to ask any questions or bring up any concerns you may have. Call  845-203-6304 to join, or watch on FB live.
Clarkstown's Storywalk
Enjoy picture books to be displayed by local libraries in Town of Clarkstown parks. A great opportunity to bring the little ones outdoors and have fun reading large book displays from Sept 16 to Oct 28, 2020. Visit town.clarkstown.ny.us for locations and more details.
Back to School Drive
The Town of Clarkstown is collecting school supplies to help the local not-for-profit People to People distribute supplies to students in need. A donation box is located in the lobby of Town Hall, 10 Maple Ave, New City until Sept 24. A list of supplies that are needed may be found on peopletopeopleinc.org. If you prefer, you may make a virtual donation at peopletopeopleinc.ejoinme.org/BTSWD.
Community Choice Aggregation (CCA) Program Status Update
Clarkstown, Orangetown, and the Nyack river villages are pooling their electricity demand to leverage the collective buying power of their residents.
Rockland Community Power is a Community Choice Aggregation (CCA) program that enables participants to pay less for renewable energy than they've historically paid for traditional (or "dirty") electricity.
Official letters from each community will be mailed to all households in early September. Please be aware that any letters that residents have received about energy contracts are not from the Rockland CCA program, which does not require any action to participate. If you have any questions about something you have received or have been offered, call the Rockland Community Power phone hotline at (845) 859-9099, or email the Community Coordinator at peggy@rocklandcommunitypower.com, or visit RocklandCommunityPower.com.
Rockland Community Power is inviting residents and businesses in the villages, Clarkstown, and Orangetown to enroll in their 100% renewable Community Solar program to save up to 10% annually on their electric bills. Community Solar is available to anyone with a residential or small business utility account. For every enrollment in this program, a $50 donation will be made to the Rockland Community Foundation which is providing relief through grants to combat COVID-19 challenges in Rockland County. Learn more at the Community Solar page at RocklandCommunityPower.com.
Rockland County
Child Care Subsidy Program is Now Accepting Applications
The Department of Social Services Child Care Subsidy program is open and accepting applications for low income Rockland families. Families may be eligible for subsidies provided by the Department of Social Services if they are meeting income thresholds and the parent/caregiver is working a minimum of 20 hours per week earning at least minimum wage. Please call 845-364-2797 to be pre-screened and to receive an application. Or email RocklandCCR@dfa.state.ny.us for general information about the program. School aged children are now eligible to receive childcare during school hours if they are attending a childcare program and participate in remote learning. More information about the program and income thresholds may be found on rocklandgov.com.
Census 2020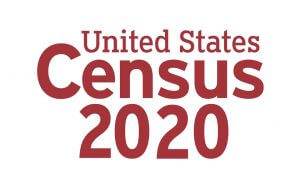 If you or someone you know has not yet completed a census questionnaire, please do so as soon as possible at my2020census.gov or by phone at 1-844-330-2020. The deadline is Sept 30, 2020. It's easy and only takes about 10 minutes to complete. When you respond to the census, you help your community get its fair share of the more than $675 billion per year in federal funds spent on schools, hospitals, roads, public works, and other vital programs. Businesses use census data to decide where to build factories, offices, and stores, and this creates jobs. Census statistics help determine the number of seats each state holds in Congress and how billions of dollars in federal funds will be allocated by state, local, and federal lawmakers every year for the next 10 years. Read more about what can happen if no one responds to the census in Why the 2020 Census Is So Important.
2020 General Election
The 2020 General Election is Tue, Nov 3. This year, you may vote 3 ways: (1) vote early from Sat, Oct 24 through Sun, Nov 1 at any of the 4 early voting centers in Rockland; (2) vote by mail (apply by mail by Oct 27, vote by Nov 3); or, (3) vote on election day. The last day to register to vote is Oct 9 (if application is mailed it must be received by Oct 14). You may also request an absentee ballot in person until Nov 2.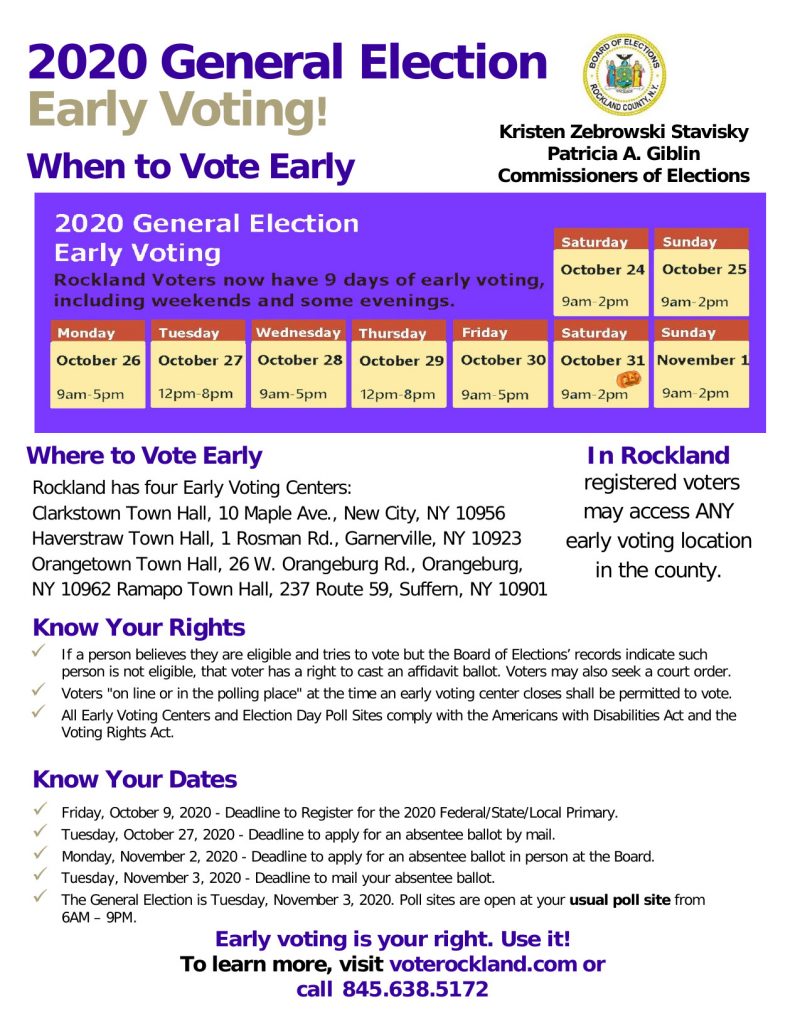 The Rockland County Board of Elections is in need of poll workers and election inspectors. In order to serve, you must be 18 yrs old and a registered voter enrolled in either the Democratic or Republican Party. Poll workers are paid for their time spent working on the election and attending required certification classes. The work day begins at 5:30a and ends after the polls close at 9p. The Board of Elections pays poll workers $200 per election and $25 for every required class. For more information on how to become a poll worker or election inspector call (845) 638-5172. Read more at Poll Worker Shortages Pose Election Challenge.