This week in the villages: It's back to the classroom for Nyack public school students participating in the Hybrid Learning Model. A Health Screening Questionnaire must be filled out for each student every day they'll be in the classroom. Wednesday is the last day to complete the 2020 Census if you haven't already done so. It's also the last day to pay Town of Orangetown school taxes without incurring a penalty. The Town of Orangetown has released its proposed 2020-2021 budget. The Pearl River school district is looking for substitute RNs. And there will be a free rabies vaccination clinic.
Village of Nyack
The Tue 9/29 Zoning Board Meeting will consider applications, permits, and plans for 5 properties. Read the full agenda at Nyack-NY.gov before Zoom-ing into the meeting at 7p.
Village of Upper Nyack
Save the Date – Public Hearing to Rename the Board of Architectural Review
The Board of Trustees of the Village of Upper Nyack will hold a public hearing on Thurs, Oct 15, 2020 at 7:30p at the Upper Nyack Village Hall to consider the adoption of a proposed local law repealing Local Law # 2 of 2005, continuing the Board of Architectural Review and renaming the board as the Architectural Review Board of the Village of Upper Nyack. It would also empower the board to take certain actions. This law will also be known as Local Law # 6 of 2020.
The meeting will be held via Zoom videoconferencing, and a transcript will be provided at a later date. The public will have the opportunity to see and hear the meeting live and provide comments. Comments and questions can also be provided via email before the meeting to Carol G. Brotherhood, Village Clerk at village.clerk@uppernyack-ny.us. The full text of the proposed Local Law is available on uppernyack-ny.us.
September 17 Board of Trustees Workshop 
In case you missed it, a video recording and a transcript are available for the September 17, 2020 Village Board of Trustees Meeting.
Nyack Public Schools
Hybrid Learning Starts Tuesday
On Tuesday, the hybrid model for instruction begins. Children who are participating will be entering school buildings for the first time in the new school year. Here are some reminders for parents/guardians who have chosen the hybrid model of instruction for their child:
If your child is in Cohort BLUE, they begin hybrid in-person learning on Tue, Sept 29, 2020. If
your child is in Cohort RED they begin hybrid/in-person learning on Wed, Sept 30, 2020.
Your child's schedule, assigned cohort, and student ID are posted to your Parent Portal account.
A Health Screening Questionnaire MUST be completed every day your child enters their school building for hybrid/in-person instruction. This questionnaire must be completed for every child in your household on the days they are scheduled to attend school in-person.
To ensure that you child is safe while in school, masks must be worn and hand-washing protocols will be followed. Any child with COVID-symptoms will be sent to the school nurse immediately.
Bus transportation schedules have been updated and posted to Parent Portal accounts. Please review the Bus Transportation Safety Guidelines with your child(ren).
Nyack Mascot Name Survey
The Nyack Mascot Selection Committee has been charged to make recommendations to the Board of Education for the district's new name and mascot. The committee looked at numerous criteria including ties to local history, geography, and traditions, and narrowed the choices down to 11 options. Please take this brief survey which will be distributed within the Nyack community and will be used to guide the final recommendation to the Board of Education. If you missed the Sept 15, 2020 Board of Education meeting, a copy of the presentation made by the selection committee may be found on nyackschools.org.
Town of Orangetown
School Taxes
Reminder: the last day to pay 2020-2021 Town of Orangetown School Taxes is Wed, Sept 30, 2020. Taxes paid after that date will incur penalties. Tax payments will be accepted by the Town Clerk's Office through Sept 30. You are urged to pay your taxes by mail or on egov.basgov.com. Payments are to be made payable to: Rosanna Sfraga, Town Clerk.
Tentative Town Budget
Supervisor Teresa Kenny's tentative 2021 budget was presented at a recent Town Board meeting. The board will be fine-tuning it over the course of the next couple of weeks. As expected, this year's budget was a challenge. In addition to the large COVID-related revenue losses, New York State increased the town's pension contributions by over a million dollars. A copy of the tentative budget may be found on orangetown.com.
Employment Opportunities
Pearl River School District is seeking Substitute RN's to work with school nurses to provide additional support during the school day. All applicants must currently be licensed as a Registered Professional Nurse. The daily rate is $110. Please complete an application and call the Human Resources and Community Services Office at 845-620-3928 for an interview. If you have not been fingerprinted for NYSED they will start the process then.
Inaugural Orangetown PBA 9/11 Stair Climb
The Inaugural Orangetown PBA Remember 9/11 Virtual Stair Climb Fundraiser will raise funds for those in need in our community and at large. The major focus will be for the Stephen Siller, Tunnels to Towers Foundation which has graciously supported families of fallen first responders as well as the families of fallen soldiers. This event is a virtual stair climb/walk/run based on the World Trade Center's 110 Stories which were composed of 1,980 stair steps. This number of 1,980 will be incorporated into the program for the virtual event.
Registration opened Sept 11, 2020 and will remain open for the month of September. After registering, complete your goal at once or over a period of time.
Town of Clarkstown
Clarkstown's Storywalk
Enjoy picture books to be displayed by local libraries in Town of Clarkstown parks. A great opportunity to bring the little ones outdoors and have fun reading large book displays from Sept 16 to Oct 28, 2020. Visit town.clarkstown.ny.us for locations and more details.
Rockland County
Census 2020 Deadline Approching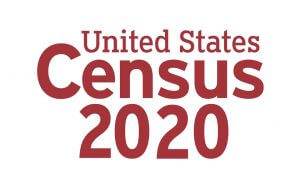 The Sept 30, 2020 deadline to complete the census is fast approaching. If you or someone you know has not yet completed a census questionnaire, please do so as soon as possible at my2020census.gov or by phone at 1-844-330-2020. It's easy and only takes about 10 minutes to complete. When you respond to the census, you help your community get its fair share of the more than $675 billion per year in federal funds spent on schools, hospitals, roads, public works, and other vital programs. Businesses use census data to decide where to build factories, offices, and stores, and this creates jobs. Census statistics help determine the number of seats each state holds in Congress and how billions of dollars in federal funds will be allocated by state, local, and federal lawmakers every year for the next 10 years. Read more about what can happen if no one responds to the census in Why the 2020 Census Is So Important.
Free Rabies Clinic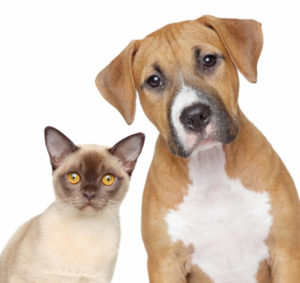 The Rockland County Department of Health is holding a free drive-thru rabies clinic on Sun, Oct 4, 2020, from 10a to 1p at the Robert Yeager Health Complex, 50 Sanatorium Road in Pomona (enter Complex at Building F). No appointment is needed. The shots are free, though a $5 donation is suggested. To be vaccinated, your dog, cat, or ferret must be healthy; your pet must be older than 3 months; dogs must be on a leash and cats and ferrets must be on a leash or in a top opening container. All attendees must limit the number of passengers and remain in the vehicle. In order for your pet to receive a vaccine, everyone in the vehicle must wear a mask. Please download and print a Rabies Vaccination Release Form and bring the completed and signed form to the clinic. For more information, call 845-364-2656.
2020 General Election
The 2020 General Election is Tue, Nov 3. This year, you may vote 3 ways: (1) vote early from Sat, Oct 24 through Sun, Nov 1 at any of the 4 early voting centers in Rockland; (2) vote by mail (apply by mail by Oct 27, vote by Nov 3); or, (3) vote on election day. The last day to register to vote is Oct 9 (if application is mailed it must be received by Oct 14). You may also request an absentee ballot in person until Nov 2.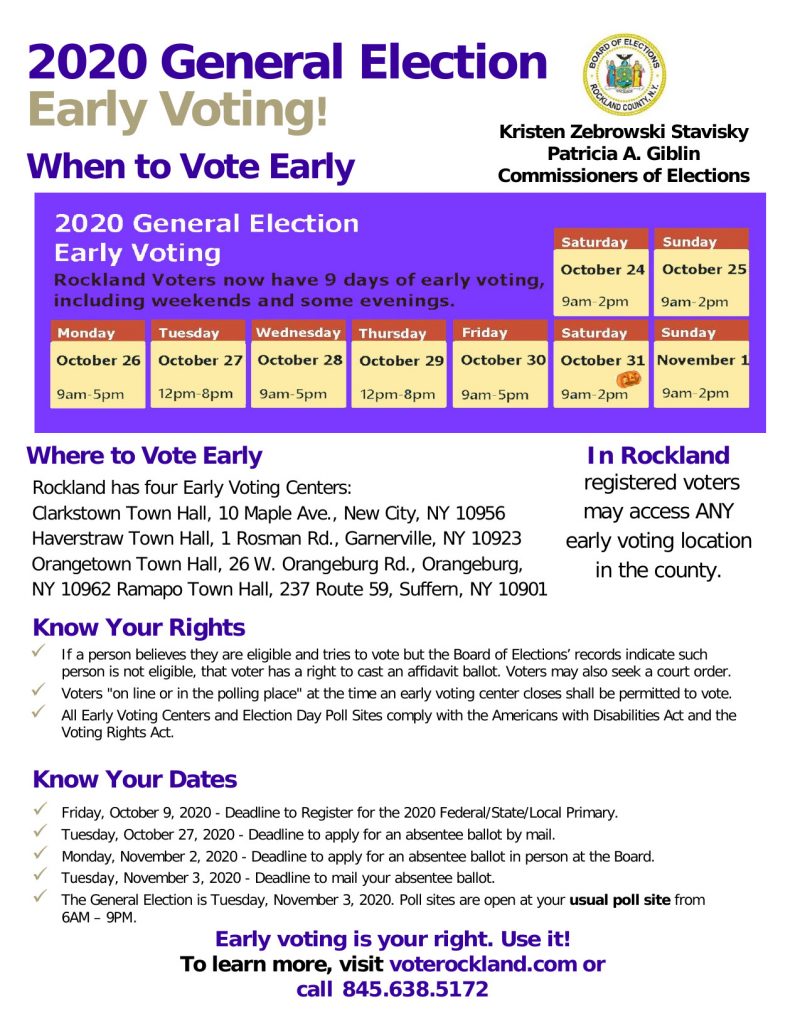 The Rockland County Board of Elections is in need of poll workers and election inspectors. In order to serve, you must be 18 yrs old and a registered voter enrolled in either the Democratic or Republican Party. Poll workers are paid for their time spent working on the election and attending required certification classes. The work day begins at 5:30a and ends after the polls close at 9p. The Board of Elections pays poll workers $200 per election and $25 for every required class. For more information on how to become a poll worker or election inspector call (845) 638-5172. Read more at Poll Worker Shortages Pose Election Challenge.