This week in the villages: The river villages and the Town of Orangetown will be holding Virtual Information Sessions about the Rockland Community Power Clean Energy Program. Nyack's Mascot Selection Committee needs your input to help decide what the district's new mascot will be. And People to People need volunteers for its Back to School with Dignity program. Orangetown is holding its last outdoor concert and Clarkstown is having a Community Tag Sale.
Rockland Community Power Clean Energy Program

The Villages of Nyack, South Nyack, and Upper Nyack are proud to be founding members, along with 3 other Rockland municipalities, of a collaborative municipal program called Rockland Community Power. This program aims to bring 100% renewable energy to the communities, while also lowering costs and strengthening consumer protection. This program is about to launch. At the end of September, most residents and small businesses will receive a mailing from the villages about the program. This week, each of the villages are holding Virtual Information Sessions where you can learn how to save money with clean energy through this community program and get answers to your questions. The dates and times for each virtual session are as follows:
If you cannot view any of these 3 virtual information sessions, the Town of Orangetown will also have a Virtual Information Session on Mon, Sept 21, 2020 at 7p.
Village of Nyack
Mayor Don Hammond will hold his weekly Communication Meeting via Zoom on Thurs, Sept 24, 2020.
The Village Board of Trustees will hold a pre-meeting workshop on Thurs, Sept 24 at 6:30p with the regular board meeting to follow at 7:30p.
Village of South Nyack
The Police Board will meet on Tue, Sept 22 at 6p.
The Board of Trustees will meet on Tue, Sept 22, 2020. Read the full agenda at Southnyack.ny.gov before Zoom-ing into the meeting at 7:30p.
Dissolution of South Nyack
A citizen dissolution of South Nyack petition was filed on Aug 14, 2020. A referendum date will be scheduled at the Sept 22, 2020 Board of Trustees meeting. Deciding whether to remain an incorporated Village or to dissolve and become a hamlet governed by the Town of Orangetown is a big decision for the South Nyack electors to make.
Before votes are cast, it is critical that our electors know the potential impacts that will result if this referendum passes. Therefore, it's relying on the services of CGR to provide unbiased consultation related to this matter. CGR will analyze the first phase (impact analysis) prior to a referendum on dissolution. CGR will also provide a website for the purpose of keeping the residents informed about the process and the findings. A proposal for support during reorganization and other information may be found on southnyack.ny.gov.
Village of Upper Nyack
The Board of Trustees will hold a workshop on Thurs, Sept 24, 2020 at 7p. 
Nyack Public Schools
Nyack Mascot Name Survey
The Nyack Mascot Selection Committee has been charged to make recommendations to the Board of Education for the district's new name and mascot. The committee looked at numerous criteria including ties to local history, geography, and traditions, and narrowed the choices down to 11 options. Please take this brief survey which will be distributed within the Nyack community and will be used to guide the final recommendation to the Board of Education. If you missed the Sept 15, 2020 Board of Education meeting, a copy of the presentation made by the selection committee may be found on nyackschools.org.
School Positive COVID-19 Tests Report Card
The School Positive COVID-19 Tests Report Card for NYS may be found on schoolcovidreportcard.health.ny.gov. The data includes enrolled students and working teachers/other staff who are physically present in the building(s) or on school grounds in any capacity, including in-person learning, hybrid learning (partially remote learning), extracurricular activities, etc. As part of a contact tracing effort, this information is either shared by the parent or guardian of the student, by teachers and other staff, or communicated by the local health department.
Town of Orangetown
On Thurs, Sept 24, 2020 at 7:30p, "Pack the Park" with Orangetown Parks & Recreation Department for its Late Summer Concert Series featuring Asbury Fever, a Bruce Springsteen tribute band. All attending groups must fit into a 10 x 10 ft social distancing space without a mask, but a mask must be worn when entering and exiting the venue as well as when moving around the venue. There is no indoor site. Cancellations and postponements will be posted on the Town of Orangetown website, Facebook page, and Twitter page.
Fall/Winter 2020/2021 Recreation Programs
The Fall/Winter 2020/2021 Recreation Programs brochure is available now on orangetown.com. Registration for all programs is open on the Parks & Recreation webpage.
Inaugural Orangetown PBA 9/11 Stair Climb
The Inaugural Orangetown PBA Remember 9/11 Virtual Stair Climb Fundraiser will raise funds for those in need in our community and at large. The major focus will be for the Stephen Siller, Tunnels to Towers Foundation which has graciously supported families of fallen first responders as well as the families of fallen soldiers. This event is a virtual stair climb/walk/run based on the World Trade Center's 110 Stories which were composed of 1,980 stair steps. This number of 1,980 will be incorporated into the program for the virtual event.
Registration opened Sept 11, 2020 and will remain open for the month of September. After registering, complete your goal at once or over a period of time.
Town of Clarkstown
Community Tag Sale
There will be a Community Tag Sale on Sat, Sept 26, 2020 from 9a to 2p at the lower lot of Germonds Park, 185 Germonds Rd, West Nyack. There is a $30 seller registration fee. Call 845-639-6200 or log onto your community pass account to sign up.
Clarkstown's Storywalk
Enjoy picture books to be displayed by local libraries in Town of Clarkstown parks. A great opportunity to bring the little ones outdoors and have fun reading large book displays from Sept 16 to Oct 28, 2020. Visit town.clarkstown.ny.us for locations and more details.
Back to School Drive
The Town of Clarkstown is collecting school supplies to help the local not-for-profit People to People distribute supplies to students in need. A donation box is located in the lobby of Town Hall, 10 Maple Ave, New City until Sept 24. A list of supplies that are needed may be found on peopletopeopleinc.org. If you prefer, you may make a virtual donation at peopletopeopleinc.ejoinme.org/BTSWD.
Rockland County
Census 2020 Deadline Approching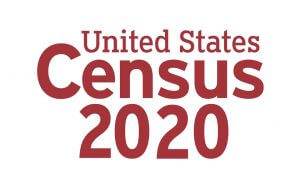 The Sept 30, 2020 deadline to complete the census is fast approaching. If you or someone you know has not yet completed a census questionnaire, please do so as soon as possible at my2020census.gov or by phone at 1-844-330-2020. It's easy and only takes about 10 minutes to complete. When you respond to the census, you help your community get its fair share of the more than $675 billion per year in federal funds spent on schools, hospitals, roads, public works, and other vital programs. Businesses use census data to decide where to build factories, offices, and stores, and this creates jobs. Census statistics help determine the number of seats each state holds in Congress and how billions of dollars in federal funds will be allocated by state, local, and federal lawmakers every year for the next 10 years. Read more about what can happen if no one responds to the census in Why the 2020 Census Is So Important.
Volunteers Needed for People to People's Back to School with Dignity Program
People to People needs your help to fill more than 1,000 backpacks with grade-appropriate school supplies from Sept 21 through Sept 25, 2020 from 9:30a to 12p and from 1p to 3:30p. They also need volunteers to distribute the backpacks at a weekend drive-thru pickup event on Sat, Sept 26, 2020 from 11a to 4p and on Sun, Sept 27, 2020 from 12 to 3p. Volunteers are asked to sign up in advance by contacting Guadalupe Fishman, Director of Administrative Services, at guadalupe@peopletopeopleinc.org or at 845-623-4900 ext. 208.
Solar Parking Lots: Design, Engeneering, Ownership, and Financing!
Rockland Goes Green presents a virtual program about the design, engineering, ownership, and financing of solar parking lots and Resiliency Zones on Wed, Sept 23, 2020 from 7 to 8:30p. Are you interested in solar parking lots but wondering what happens when it snows, or wondering who will own them or what they cost? Register for the session and get answers to these and other questions. A Zoom link will be sent to registrants. CE credit will be available for Planning Board and Zoning Board members via the Rockland Municipal Planning Federation. For more information, email RocklandGoesGreen@aol.com.
2020 General Election
The 2020 General Election is Tue, Nov 3. This year, you may vote 3 ways: (1) vote early from Sat, Oct 24 through Sun, Nov 1 at any of the 4 early voting centers in Rockland; (2) vote by mail (apply by mail by Oct 27, vote by Nov 3); or, (3) vote on election day. The last day to register to vote is Oct 9 (if application is mailed it must be received by Oct 14). You may also request an absentee ballot in person until Nov 2.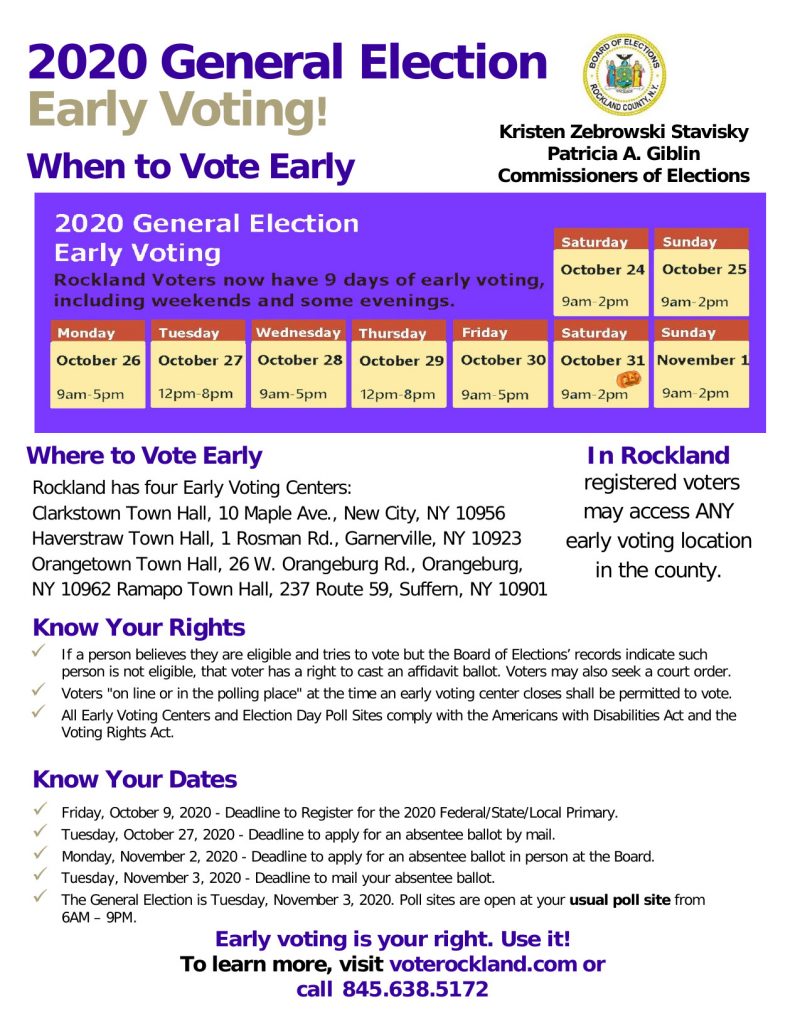 The Rockland County Board of Elections is in need of poll workers and election inspectors. In order to serve, you must be 18 yrs old and a registered voter enrolled in either the Democratic or Republican Party. Poll workers are paid for their time spent working on the election and attending required certification classes. The work day begins at 5:30a and ends after the polls close at 9p. The Board of Elections pays poll workers $200 per election and $25 for every required class. For more information on how to become a poll worker or election inspector call (845) 638-5172. Read more at Poll Worker Shortages Pose Election Challenge.