3 Iconic Mid-20th Century Ice Cream Stores Go Up In Flames!
by Mike Hays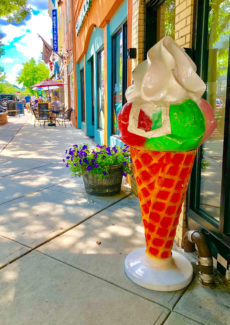 "I scream, you scream, we all scream for ice cream" is not only a song phrase we all know. It can also aptly describe the event of your favorite ice cream store burning down. Which is what happened 3 times, in short succession, from September 1968 to January 1971.
Every era has its favorite ice cream spots. Today in Nyack we seek out Temptations Cafe and Strawberry Place for ice cream, or Patisserie Didier Dumas and Turiello's for gelato. Back in the 1950s and 1960s, Nyack kids had many more choices. It was a simpler time (at least in senior memories). Parents packed kids into their station wagons to get ice cream on pre-AC summer nights, on birthdays, after baseball games and church. On summer days, kids biked or walked to their favorite ice cream parlor, soda fountain, or corner store.
Mid-century Village Ice Cream Stores
Downtown
Schmitt's Confectionery Store. An iconic ice cream parlor first opened in 1890. Schmitt's made its own ice cream. The store closed in 1958 when it became The Clock diner. The building is now Johnnycakes.
Shea's drug store. Classic soda fountain at the corner of South Broadway and Burd Street.
McManus Pharmacy. At the corner of Park and Main Street, McManus is remembered for his triple ice cream cone, chocolate: vanilla, and strawberry.
Starks Sweet Shop. Located On Broadway next to the Rockland Theater was an after-movie favorite, especially for the 25-cent milkshake. The theater closed in 1967.
Midtown
Jerry D'Auria Confectionery. Located at 210 N. Main, this small store was better known as Jerry's. Jerry sold coffee, newspapers, candy and ice cream and was known for his root beer floats. The remodeled store is now a private house.
Central /West Nyack
Traverson's Wooden Indian Restaurant. Ed and Marguerite Traverson worked at McDermott's then, in 1969, started their own restaurant on Route 59. Known for hot fudge sundaes and free birthday cones with school certificates, at least 1 mother drove her kids in her convertible for orange sherbet cones. Art Gunther remembers the hand-packed take-out ice cream that bulged the sides of deli-style cardboard buckets.
Dairy Queen. Opened in 1954 on Route 59 in West Nyack, the chain soft-serve ice cream store sported a rooftop sign showing a stylized Eskimo girl. Banana splits and dipped cones were favorites, especially for those who went to nearby Kiddie Land after it opened in 1962.
McDermott's Milk Bar
Frank and Peter started their Milk Bar on Jackson Street in the 1920s and later moved to Route 59 near the Thruway overpass on the site of an old Mercury and Lincoln car dealership. McDermott's made its own ice cream on site for sale at their large indoor seating area and for distribution to local retailers. McDermott's was known for its French vanilla ice cream, ice cream sandwiches and banana splits.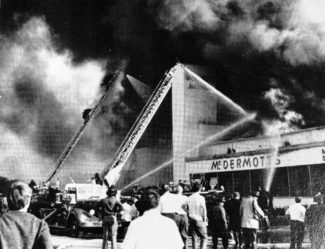 On September 30, 1968, a late afternoon fire started in the ceiling area. Soon, black smoke poured out of the building. Smoke could be seen as far away as White Plains and the Palisades Parkway in New Jersey. Route 59 was closed until 10p and the Thruway was closed for a short time. It took local fire departments 2 hours to get the fire under control. 5 firemen were taken to Nyack Hospital suffering from smoke inhalation.
McDermott's was totally destroyed. Imagine the horror and sadness of young Nayck native Alan Englander who had just left school for the day only to see 1 of his favorite ice cream stores burn down. He was transfixed for hours. The shell of McDermott's stood for a long time as a grim reminder of what once was a cool respite.
Hearne's Confectionery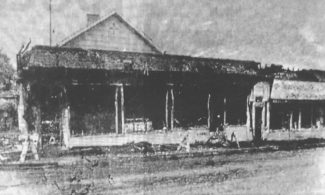 Hearne's was located on the corner of Main Street and Midland Avenue across from the Burnweit Pontiac dealership. First owned by Maxie Smith, the store was known for its black and white sodas. Under the Hearnes' ownership, kids' favorite ice cream was an especially creamy style known as Country Club, which often came packaged in a paper cone with a rounded paper top.
Awakened by their barking dog in their apartment behind the store at 3:58a on July 28, 1969, Frank Hearne and his wife discovered the store was burning. Firemen contained the fire but the interior was ruined.
The confectionery would never re-open.
Eagle Confectionery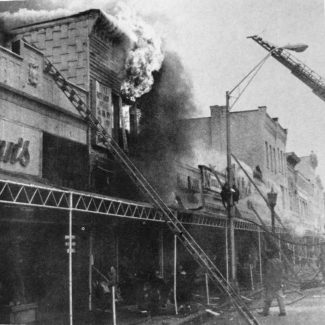 Opened in July 1908 and located at 110 Main Street, the Eagle Confectionery made ice cream and candies served at a soda fountain or in back, in an ice cream parlor setting. Tom Vasilow was famous for his large chocolate sculptures that he made each year before Easter and displayed in the storefront. He became known locally as the "Candy man."
In January of 1971, a large fire started in the store and went on to destroy 3 other stores on Main Street: Mae Moon, a dress shop; Peterzell's Card and Toy Shop; and National Shoes. The Eagle Confectionery never re-opened and Tom Vasilow, the candy man, retired.
End of an Era
In just 28 months, 3 iconic ice cream stores disappeared from the Nyack landscape forever. It couldn't have come at a worse time, as local businesses were under siege from the advent of malls, and it took a long time for new buildings to replace the old. While the ice cream stores didn't last, sweet memories remain.
See also:
Photo by Mike Hays. Photos of fires from the Journal News and Nyack Fire history.
Michael Hays is a 30-year resident of the Nyacks. He grew up the son of a professor and nurse in Champaign, Illinois. He has recently retired from a long career in educational publishing with Prentice-Hall and McGraw-Hill. He is an avid cyclist, amateur historian and photographer, gardener, and dog walker. He has enjoyed more years than he cares to count with his beautiful companion, Bernie Richey. You can follow him on Instagram as UpperNyackMike.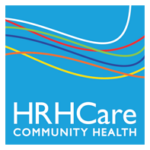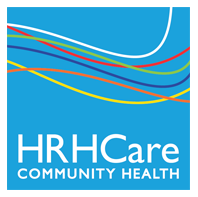 Nyack People & Places, a weekly series that features photos and profiles of citizens and scenes near Nyack, NY, is brought to you by
HRHCare
and 
Weld Realty
.