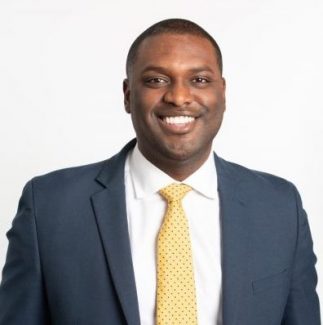 by Nate McCarthy
In June, as Democratic nominee Mondaire Jones claimed a victory in the party's primary for New York's 17th Congressional District, he pledged to advocate relentlessly on behalf of the residents of NY-17.
Though the 33-year old lawyer from Spring Valley, NY has not yet taken office, he is already making good on that pledge.
On Monday afternoon, it was announced that Jones won a lawsuit in the U.S. District Court for the Southern District of New York against President Trump and Postmaster General Louis DeJoy, ordering them to cease interfering in the General Election through sabotage of the Postal Service.
"In the midst of a global pandemic requiring more Americans to vote by mail than ever before, we are simply asking for a free and fair election," Jones said. "I'm grateful to the District Court for affirming our right to one."
The lawsuit was filed in conjunction with 15 other plaintiffs, including Alessandra Biaggi, a young progressive state senator representing NY-34.
The court ordered the following actions to be taken by the USPS:
(1) Treat all election mail as Priority and First-Class; (2) Pre-approve all overtime pay between October 26 and November 6, 2020; (3) Submit a list of steps necessary to restore First-Class Mail and Marketing Mail on-time delivery scores to their highest levels; and (4) Allow late and extra trips to facilitate the prompt delivery of election mail.
The court's decision comes as a major victory for Jones, Biaggi, and the other plaintiffs who refused to sit idly by while Trump and DeJoy made deliberate attempts to sabotage vote-by-mail efforts.
"The stakes of this November's election are too high to watch from the sidelines," Jones said "Now more than ever, our democracy is on the line, our rights are on the line, and the fate of this nation is on the line."
While the victory is a reassurance to local residents who expressed anxiety about their votes being counted in the General Election, some voters still plan on going to the polls.
"I absolutely believe that the current administration will do everything in their power to contest the results should Trump lose," said Steev Richter, a songwriter and Nyack resident who supported Mondaire Jones in the primary. "For that reason, I will be voting in person"
For Richter, the choice to back Jones was not difficult: his unapologetically progressive platform and his background were deciding factors.
"He will have a unique voice given his background and experience. As Black man who identifies as gay, he will represent two severely underrepresented demographics," says Richter. "That is more important than ever in today's hate-filled and divisive political climate."
See more: