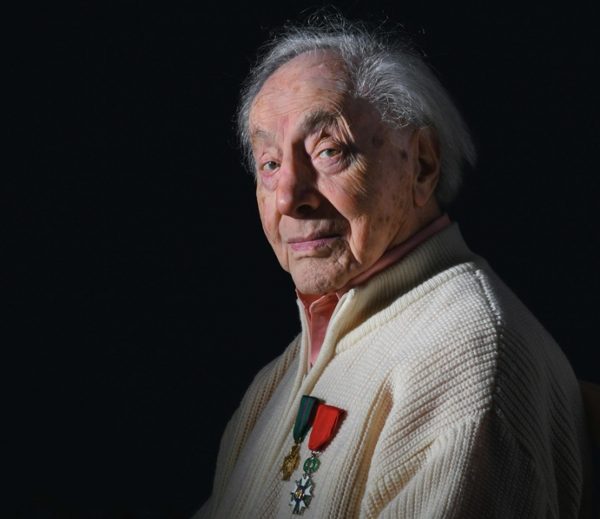 by Donna Schmidt
It is a sad day. Our hearts are heavy. Social media is dark with photos. Another September 11th has come. But it's not all doom and gloom. Today, in addition to the mourning, we celebrate a local legend: Eugene Polinsky, a loving, genuine Grandview resident, who has done it all–flown special ops, acted, worked as a theater critic, a photojournalist, you name it–and who today turns 100.
A Man with a Mission
A few years ago, while snacking on ginger cookies and sipping ginger ale, I was lucky enough to sit down with Gene on his sprawling front porch across from the Hudson in Grandview, New York. He spoke of many things, including his upcoming trip to visit his sister-in-law in Dublin, his new friends in Belgium, and his hope to see 97-year-old John G. Morris in France. As a young photo-editor for Life magazine, John G. Morris was based in London and assigned to oversee the photographic reportage of World War II. Most notably, he coordinated the dramatic photojournalistic coverage of the D-Day invasion on June 6, 1944, including the iconic photographs of the landing made for Life by Robert Capa.
The Mission
Gene and 7 other men flew "special operations" in B-24s, clandestine night operations from a then secret base in England known only as Station 179 (Harrington). The base was located about 10 miles west of Kettering, Northamptonshire. They shared the base with 2 other bomb groups. Polinsky was a navigator in this Air Force special operations group, the 492nd/801st Bomb Group known as the "Carpetbaggers."
A book was written about his crew in 2005. That year he met people who were on the ground, who were part of the underground and part of the reception committee that he had never met before. It made a huge impact on his life. He now feels a sense of community with these men that he never experienced. "I cannot get over the range of gratitude the Belgians feel toward Americans. It really overwhelms me. They took us to visit cemeteries. I went to Bastogne, Ardennes—they took me all over."
Gene was invited to a reception in Belgium and has gone back every year. He is the only survivor of his crew.
Eugene's Life
"My daughter says that there are buildings named after the people I know," he laughed.
Gene has a long story (he told me one fraction of it) about being an actor, writer, producer, director, father and husband.
"I became friendly with Lee Strasberg after the war and got involved with the American Theater Wing. I was a very good actor and a medium director," he said.
More recently, he's written theater reviews. He used to go into Manhattan a few times a week to see a show. Broadway, in the Park, Off Broadway—you name it, he has seen it. His pseudonym is Eugene Paul.
Love
Gene met his wife, the love of his life, in college in 1937. "When I sat down in class, Mary Post was sitting right next to me," he smiled. They had 4 children and much to his genetic luck his great, great grandfather lived to be 107. "I will definitely shoot past 100," he said at the time (he did!).
I asked him his secret to a long and productive life. Did you drink or smoke or do anything 'bad' I asked?
"Of course!!" he laughed. "But that was quite a long time ago."