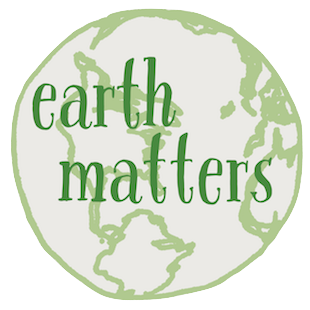 Earth Matters focuses on conservation, sustainability, recycling and healthy living.
If Earth Matters to you, sign up for our mailing list and get the next installment delivered bright to your inbox.
by Suzanne Buchauer
Spending more time in the garden has certainly allowed for more contemplation of how to best use the resources available to us, save the precious natural resources we are blessed with, and help to reduce large percentages of waste in our landfills. Composting ticks all the boxes of personal gain and community service—and it is very low cost, and helps save money for the greater good.
Our Composting Journey In Rockland County
When my family moved to Upper Nyack 5 years ago, one of the first things we noticed was a composting bin over the fence in our neighbor's yard. She told us that she had gotten her recycled plastic composting bin through the Cornell Cooperative Extension. It made sense for us to try this method. The bin seemed contained, keeping critters out. It had air holes, a little door to harvest compost from below. And it's lightweight.
So, we went and picked up a bin at the Rockland County Solid Waste Authority, which had the bins at the time. It was very easy to get and bring home and start using right away. And it is not costly. We placed it behind a juniper tree and started putting our raw food scraps in. At the end of the year, we moved the bin and threw some leaves and dirt on the remaining pile. It had decomposed, but slowly, and we noticed that certain items took much longer than others. We had not done any research and did not have prior composting experience. It took a few years before we figured out that adding so called "brown" material, such as leaves, ripped up paper egg cartons, shredded paper, or napkins, increased the process. Then, we figured out that smashing up the leaves and cutting up the veggie and fruit scraps that are larger or harder, like broccoli stems and watermelon or squash, helps even more.
A couple weeks ago, we heard a very informative and helpful Zoom presentation, sponsored by the Green Committee of Upper Nyack and given by Kristen Nora Ossman from the Cornell Cooperative Extension, and we learned even more–better late than never! Here are some of the things we learned:
If It's Wet and Smelly, Add More Brown; If It's Dry, Sprinkle Water
That was all we needed. Amazingly, we notice that the composting process goes SO MUCH quicker, does not smell, and it works. Composting was and now still is a process; it is gratifying and enriching to know we are doing our part for the larger good and to help our garden. Honestly, even if you just compost, move the bin each year and let it just go back into the earth right there, it is still helping to reduce waste in our landfill… by a very large amount!
Save Leaves For the Year
This year, now that the leaves are about to fall, we have planned on collecting and mulching them a bit—which is easy to do with your lawnmower. In our case, we actually got a leaf mulcher, due to the extremely large amount of leaves we have in our back area. I am excited that we will have mulched browns to put in our compost bin after every bucket of food scraps that we place in there.
What is your composting journey? Where are you in the process? Please know that there is information right here in Rockland County available to you (or on the wondrous interweb).
For more information on composting and the easy recycled plastic composting bins, see the website at the Cornell Cooperative Extension. I just heard that the bins are back in stock! Contact Jennifer Strianese, Administrative Assistant, Cornell University, Cooperative Extension Rockland County at 845-429-7085 x 117 or by emailing jas946@cornell.edu
Suzanne Buchauer is a Licensed Davis Dyslexia Correction Facilitator. Visit www.dyslexia-works.com.
Earth Matters is a weekly feature that focuses on conservation, sustainability, recycling and healthy living. Read Earth Matters every Wednesday on Nyack News And Views, or sign up for the Earth Matters mailing list.