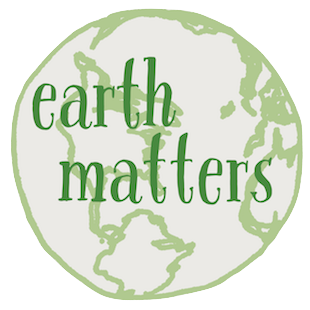 Earth Matters focuses on conservation, sustainability, recycling and healthy living.
If Earth Matters to you, sign up for our mailing list and get the next installment delivered bright to your inbox.
by Laura Burkhardt
The Danskammer Generating Station is located on the shore of the Hudson River in the Town of Newburgh, NY. The station was built by Central Hudson Gas & Electric in the 1950s as a coal-fired plant, and sold to Dynegy in 2001 as part of electricity deregulation; a succession of owners followed. In 2012 the plant incurred extensive storm damage from Hurricane Sandy and was shut down.  It was re-opened in 2014 as a natural gas plant, and now operates as a peaker plant, running just a few hours per week. In 2018, the current owner, Danskammer Energy, filed an application with the NY Public Service Commission to build a new, larger, more efficient plant uphill of the current site, which would be shut down. This new plant would operate as a baseload station, able to run all the time.
Environmentalists are appalled by this proposal, especially in light of the climate legislation (CLCPA) passed in 2019 which emphasizes generation from renewable sources and reduction of greenhouse gas emissions. Here's why.
We don't need new power generation to replace Indian Point. 
Danskammer Energy claims that a new power plant is needed to replace Indian Point when it shuts down.  This is not the case. In 2012, Gov. Cuomo directed the Public Service Commission to develop a plan for the closing of Indian Point. The resulting plan included grid upgrades that will allow for additional transmission from upstate New York where electricity is plentiful, and changes by Con Edison that include increased efficiency, energy conservation, and a demand response program where large users are paid to curtail usage at peak times. Additionally, between 2012 and 2015, 2 plants that were out of service and expected to be demolished (Danskammer and Bowline) were being refurbished and brought back online as gas generators, resulting in an additional 1,650 MW of electricity. This led to a determination by the PSC that the construction of new power plants was not necessary in order to replace Indian Point.
And, in fact, Danskammer has stated in its filed documents that about 33% of its generated electricity will be used to supply demand out-of-state (read pg. 4).
Contrary to the CLCPA goal of reduced carbon emissions, the Project increases carbon emissions in NYS and does

not

contribute in any meaningful way to reducing carbon emissions in the Northeast region. 
Danskammer contends that the Project would displace less efficient generating plants but does not provide any supporting evidence. This statement occurs numerous times in Exhibit 8 and the Supplemental Greenhouse Gas Analysis, but no plan or timeline is given for how/when this would occur.
But even if the proposed plant does displace less efficient generating plants, it actually increases CO2  emissions in NY and does not result in a meaningful reduction of CO2 emissions in the Northeast region (defined in this context as NYISO, PJM, ISO-NE, and Ontario bulk power markets). The following table contains a summary of CO2 emissions expected if the proposed plant goes online. Both Exhibit 8 and the Supplemental Greenhouse Gas Analysis state that the proposed plant would increase CO2 emissions in NY state but would reduce them in the Northeast region. The numbers in the table below support this conclusion, but the net amount of decrease in the Northeast region is negligible. For years 2024 and 2025, the net decrease is .07% from the base case. For years 2030 and 2035, the net decrease is .03% from the base case. These percentages hardly represent a meaningful reduction.
[INSERT TABLE]
CO2 Emissions (Short Tons)

Year
Region
Base Case
(without the
project)
Change
Case
Delta
(Amount)
Delta
(Percent)
Source: Supplemental Greenhouse Gas Analysis
2024
New York
26,832,605
27,154,390
321,785
1.20%
Exhibit 8, Table 8-2
Northeast
469,985,745
469,652,920
(332,825)
-0.07%
2025
New York
20,130,000
20,356,000
226,000
1.12%
Table 4-4
Northeast
458,599,000
458,285,000
(314,000)
-0.07%
2030
New York
11,797,000
11,988,000
191,000
1.62%
Table 4-4
Northeast
467,160,000
467,024,000
(136,000)
-0.03%
2035
New York
11,980,000
12,267,000
287,000
2.40%
Table 4-4
Northeast
527,078,000
526,940,000
(138,000)
-0.03%
The proposed Danskammer plant would violate the Environmental Justice provisions of the CLCPA.
In both Exhibit 8 and the Supplemental Greenhouse Gas Analysis there are statements that the proposed plant would increase emissions in NYS but reduce them in the overall Northeast region. The CLCPA has a requirement that the state prioritize projects that both reduce greenhouse gas (GHG) emissions and eliminate criteria pollutants in historically disadvantaged communities when the state acts to meet its GHG reduction goals. The Danskammer plant's increase in emissions would be a direct violation of the EJ provisions of the CLCPA because it would adversely affect the City of Newburgh.
The City of Newburgh is a disadvantaged community: a predominantly non-white population with a poverty level of 15% and median income well below that of NY state as a whole. Despite progress from the early 1990s, poverty remains a significant problem. The 2000 census found that 2 of the city's 5 census tracts were among the poorest in the entire state. In 2004, the state declared it one of the state's 5 most "stressed" cities, based on a mix of statistics like families headed by single mothers, abandoned buildings, unemployment, residents under the poverty line, and adults without a high school diploma.
The City of Newburgh lies south of the site for the proposed Danskammer plant. The predominant wind direction in Newburgh varies throughout the year; however, the wind is most often from the north for approximately 3 months of the year, thus bringing emissions from the plant to the city.
On the other hand, the Marlboro Central School District, composed primarily of the Town of Marlborough, is a relatively prosperous community. The population of the Town of Marlborough is very predominantly white with a median household income well above that of NY state and a poverty level of 7%. The Town of Marlborough is situated north of the proposed plant; winds are from the south for approximately 1 week of the year. The Marlboro Central School District will receive very generous PILOT payments from Danskammer Energy while the City of Newburgh, a much poorer community that will be adversely impacted by pollution from the proposed plant, will not receive any compensation from Danskammer Energy.
The proposed Danskammer plant does not contribute to the CLCPA mandates for a renewable energy electric grid.
Obviously the proposed plant would not contribute initially to providing a 70% renewable energy grid by 2030 because it would be powered by natural gas. However, Danskammer contends that by 2040 it would be converting the plant to run with zero-emission fuels: either hydrogen or renewable natural gas (RNG). Theoretically this is possible, but Danskammer does not provide any specific information about how this might be achieved.
The proposed use of hydrogen raises a number of safety and environmental concerns related to transporting, storing, and fueling the facility with hydrogen, including the radius of any blast zones. The source of any hydrogen to be used is also a concern since hydrogen today is largely produced via steam methane reforming using natural gas, a process that results in significant GHG emissions. Electrolysis is an alternative means to produce hydrogen but is highly energy intensive and not necessarily carbon neutral.
The use of RNG also raises environmental concerns. The Supplemental Greenhouse Gas Analysis describes 8 categories of RNG which are dispersed sources of methane (e.g., animal manure, food waste, and the thermal gasification of energy crops and forest, and agriculture residues). Converting to RNG would quite possibly increase rather than eliminate carbon emissions (read pg. 4).
In addition to dubious environmental benefits, there is the question of economic feasibility. Danskammer's consultant, ICF, estimates that hydrogen in 2040 will cost $45/MMBtu in nominal dollars while the Energy Information Administration (EIA) estimates that in 2040 natural gas will cost well below $4/MMBtu. How will Danskammer be able to economically switch to a fuel that is many times more expensive than its proposed fuel? In the case of RNG, the Supplemental Greenhouse Gas Analysis lists the cost ranges of each of the 8 categories; overall, RNG would be 2 to 11 times as expensive as natural gas.  Again, how is it economically feasible for Danskammer to switch to this more expensive fuel?
Does the Memoranda of Understanding signed by Danskammer guarantee jobs to local unions? 
In May 2019 the President of the Hudson Valley Building Trades announced that the union has entered into a Memorandum of Understanding (MOU) with Danskammer Energy that secures more than 400 union jobs for the region. According to sources who read the MOU, which has since been deleted from web sites where it originally appeared, jobs are not actually guaranteed; the MOU says only that the company will attempt to use local workers. The construction of a large power plant such as that proposed by Danskammer typically requires highly skilled workers with specific technical expertise, and these plants are usually constructed by out-of-state workers with those necessary skills. The MOU should be made publicly available by re-posting it on the appropriate web sites so that its wording and intent can be independently evaluated.
What's wrong with this picture?
The proposed Danskammer plant would increase carbon emissions in New York State while sending 33% of its generation elsewhere in the Northeast region. Its plans to actually switch to zero-emission fuels are non-existent. The company will be making generous PILOT payments to Central Marlboro School District, a majority white, relatively prosperous community, while its emissions will be drifting toward the City of Newburgh, a community of color with median income well below NY state average and poverty level well above. So, what's wrong with this picture?
Earth Matters is a weekly feature that focuses on conservation, sustainability, recycling and healthy living. Read Earth Matters every Wednesday on Nyack News And Views, or sign up for the Earth Matters mailing list.