by Melanie Rock
With theaters and music venues shuttered around the globe, promoters, artists, and audiences are embracing the ease of live-streamed entertainment. As the pandemic continues to restrict our ability to come together in our community, Rockland County's own ArtsRock is launching its 12th season in the virtual realm.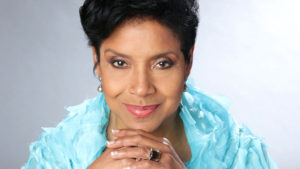 The 2020 season opens Thurs, Sept 24, 2020 with a live-streamed conversation between actor/singer/director Phylicia Rashad and ArtsRock Executive Director, Elliott Forrest–whose daily WQXR Radio show streams from his Nyack home studio these days. Ms. Rashad is best known for her role as TV's super-mom Claire Huxtable on the wildly popular Cosby Show, as well as her Emmy-nominated work on This Is Us.
She's most recently heard in Richard II, the 2020 Shakespeare on the Radio collaboration between The Public Theater and WNYC.
In this first foray in streaming, Forrest explains how the organization approached ticket pricing: "We created a sliding scale for tickets. The goal being that people pay what they're comfortable with. If a group of friends gets together for a watch party, or it's a household of three or four people, then maybe they choose the twenty-five or fifty dollar ticket instead of ten dollars. Or maybe someone's a huge fan and they just want to support, so they pay more than the minimum. Times are tough for everyone–audiences and talent alike. With scaled pricing, we hope to keep the base price affordable while also honoring the real value of a ticket. Some of our shows will have a FREE option as well, in keeping with our mission to make the arts widely accessible."
ArtsRock relies on ticket sales, sponsorships, grants, and donations to keep programming alive. Rescheduled for Oct 24, 2020, the annual fundraiser Songs Of Protest #4 will be an expansive video-fest, with headliners Branford Marsalis, Suzanne Vega, and Tom Chapin. The show typically sells out Nyack's BOCES auditorium; this year's streaming capabilities will hopefully expand the reach to an international audience.
Other live-streamed shows in ArtsRock's 2020 season include Jazz for Kids with vocalist Shirley Crabbe and friends (Nov 7); and a classical piano concert by Simone Dinnerstein (Nov 15), hosted by Robin Quivers of The Howard Stern Show.
To purchase tickets and for more details, please visit ArtsRock.org.
Melanie Rock is a freelance writer, musician, and board member of ArtsRock.