by Amy Alinkofsky
To continue its mission of enrichment through the arts, Rockland Center for the Arts (RoCA) is presenting 2 more virtual artists' studio tours. You'll get the rare privilege of stepping into some incredible artists' studios–to get a glimpse of where and how they make their art, find their inspiration, and create. These studio tours will be conducted via Zoom.
Surreal Artist, Charlotte Schulz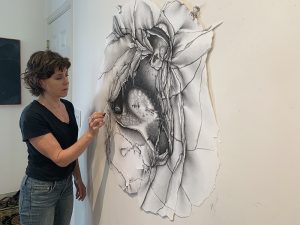 On Tue, Aug 4, 2020 at 3p, tour the studio of Charlotte Schulz, a surreal artist who exhibited at RoCA in 2017's Dwellings. Schulz creates large-scale charcoal drawings where personal sensibilities tangle with larger collective experiences such as natural disaster, social upheaval, and fears about global warming. They are composed of small discrete images ranging over expansive spaces weaving together narratively.  Assembling torn section of paper, she creates an oddly shaped and undulating final drawing–taking on a sculptural sensibility. Her process is at once additive, subtractive, and improvisational. Pieces can be added to the size of the drawing, charcoal removed with eraser, built up on the surface or edges torn leaving a missed piece of the scene, as an evolving narrative emerges. By mixing up the actual and illusionary, Schulz creates a visual correspondence to forces felt in the world and in us–forces both intimate as well as social and environmental. Informed by extensive reading her work draws upon Buddhist teachings, news, events, and poetry.
Charlotte is the recipient of individual artist fellowships from the John Simon Guggenheim Memorial Foundation in 2010, the New York Foundation for the Arts in 2017, 2009, and 2002, the Pollock-Krasner Foundation in 2005-2006, and the State of Florida in 1996. Her exhibitions include The Aldrich Contemporary Art Museum, Mills College Art Museum and Wake Forest University. Schulz's work is included in the permanent collections of The John and Mable Ringling Museum of Art, the University of Florida, and Mills College Art Museum.
Sculptural Artist, Aurora Robson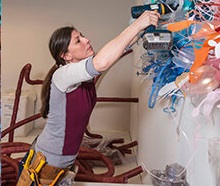 On Tue, Aug 11, 2020 at 3p, tour the studio of Aurora Robson, a sculptural artist whose work was exhibited in 2018 for The Tipping Point at RoCA. She explores ecological issues and the relationship between nature and humanity. Her lively and intricate sculptures are constructed from plastic debris. Robson is an eco-activist and founder of Project Vortex, an international organization of artists, architects, and designers working together to reduce the amount of plastic debris littering our oceans and shorelines. Robson's work has been featured in Sculpture Magazine, Art in America, WIRED, Art & Antiques, the cover of Green Building + Design and other publications. She is a recipient of the Pollock Krasner Grant, a New York Foundation for the Arts Fellowship in Sculpture, a TED/Lincoln Re-Imagine Prize and a National Endowment for the Arts Art Work Grant.
Robson's artistic practice is about shifting trajectories as she transforms waste into aesthetic objects of beauty. She uses her art to inspire others to rethink and reinvent plastic waste in ways that promote creative stewardship of our global waterways. Robson's large welded plastic sculptures raise awareness of our enormous plastic waste problem and the detrimental effects on our planet. Delicate carved and sculpted plastic sculptures resembling sea creatures help us recognize the monumental effects of plastic waste on distant ecosystems and provides strategies towards intercepting the waste stream and upcycling discarded plastics into new objects.
Register
To register for these virtual studio tours event, visit rocklandartcenter.org. The fee to register for each virtual studio tour is $10. Zoom details will be sent to you by email upon registration. To ensure you can join on time, please use the zoom link to register at least a few minutes before start time.
Rockland Center for the Arts is the oldest arts organization in Rockland County, presenting outstanding programming in the arts for over 70 years. RoCA is located at 27 South Greenbush Rd, West Nyack, NY 10994. For more information visit rocklandartcenter.org or call 845-358-0877.