This week in the villages: ParkMobile replaces Flowbird as the parking app in Nyack. Changes to parking regulations begin on Tuesday. It will be a bit tougher getting around on Monday due to a detour on Main St. The Village of Upper Nyack is hosting a virtual session on backyard composting. Clarkstown and Orangetown continue their summer concert series'.
Nyack Public Schools
The Technology Department will be distributing computer equipment to students in grades 2-12 who did not pick it up last week from 10a-3p at the Central Administration Building at 13A Dickinson Ave. If your child already has a device that was given to them by the district, you may bring it in at this time so a technician can verify it is up to date with all the necessary programs. Please call the Tech Help Desk at (845) 353-7075 if you need further assistance. Visit the Reentry to Schools Page on nyackschools.org for the most current information on the reopening of schools.
Village of Nyack
Mayor Don Hammond will hold his weekly Communication Meeting via Zoom on Thurs, Sept 3 at 9a.
Infrastructure Work on Main St
On Mon, Aug 31, 2020, there will be a detour on Main St from 9W to Midland Ave for infrastructure work. One westbound lane is expected to remain open.
Parking Changes Begin Tuesday
Paid parking returns on Tue, Sept 1, 2020 with new hours of parking meter enforcement: 10a – 7p.
On street parking will be limited to a 3 hr. maximum for the metered areas of Main St, Broadway, Franklin St, and Midland Ave.
Municipal parking lots on Artopee Way and metered side streets will offer long term metered parking from 10a to 7p.
No parking from 3 to 6a in the metered areas of Main St, Broadway, and Franklin St.
Alternate side parking has been reinstated village-wide effective Aug 1, 2020.
The parking app will change to ParkMobile, replacing the Flowbird app.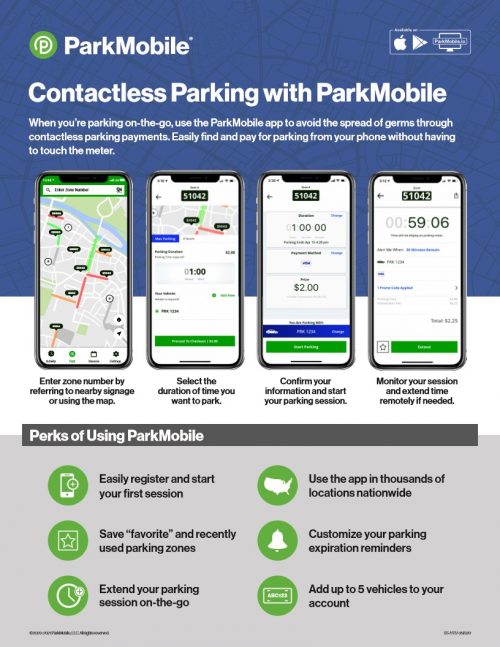 Village of South Nyack
The Board of Trustees will hold a special meeting on Mon, Aug 31 with a consultant who will speak about the pros and cons of a village dissolution. Read the full agenda at Southnyack.ny.gov before Zoom-ing into the meeting at 11a. The Zoning Board of Appeals will meet on Tue, Sept 1 at 7:30p.
Village of Upper Nyack
The A-to-Z's of Backyard Composting
The Upper Nyack Green Committee is hosting an online event, The A-to-Z's of Backyard Composting, on Wed, Sept 2, 2020 from 7 to 8:30p. Whether you are a composting novice or an experienced veteran, join your neighbors to learn some great tips and tricks for personal composting from Kristen Nora Ossmann, a Horticulture Educator at Cornell University, Cooperative Extension Rockland County. Please register at Eventbrite.
Save the Date – Village Election Tue, Sept 15, 2020
The Village election shall be held at the Old Stone Meeting House, 347 N Broadway on Tue, Sept 15, 2020 12n to 9p. There will be no separate registration day. You must register with the Rockland County Board of Elections by Sept 4, 2020. The following individuals were nominated for Trustee (2 to be elected for a term of 2 years):
Kennon Rothchild III, 300 Ellen St (Bell Tower Party)
Jeffrey Epstein, 115 Locust Dr (Bell Tower Party)
August 20 Board of Trustees Meeting 
In case you missed it, a video recording and a transcript are available for the August 20, 2020 Village Board of Trustees Regular Meeting.
Town of Orangetown
On Fri, Sept 4, 2020 at 7:30p, "Pack the Park" with Orangetown Parks & Recreation Department for its Late Summer Concert Series featuring the 52nd Street, a Billy Joel tribute band. All attending groups must fit into a 10 x 10 ft social distancing space without a mask, but a mask must be worn when entering and exiting the venue as well as when moving around the venue. There is no indoor site. Cancellations and postponements will be posted on the Town of Orangetown website, Facebook page, and Twitter page.
School Greeter Substitutes Needed
Pearl River School District is accepting applications for School Greeter Substitutes for Pearl River High School, Pearl River Middle School, and the District Administration building. Hours vary and the salary is $11.80 per hour. There are no benefits associated with these positions. If interested, please request an application and return to muthigm@pearlriver.org or to the District Administration office, 135 W Crooked Hill Rd by Fri, Sept 4, 2020.
Town of Clarkstown
Town of Clarkstown Summer Concert Series
…continues on Thurs, Sept 3, 2020 with Kick Start Charlie. The concert begins at 7:30p at the Lake Nanuet Ballfield. Appropriate spacing will be maintained and it is suggested that all attendees wear masks. The town will have masks available upon entrance for those who need them. In case of inclement weather, all concerts will be held indoors at the Pascack Community Center at reduced capacity. Residents should bring their own chairs.
Community Choice Aggregation (CCA) Program Status Update
Clarkstown, Orangetown, and the Nyack river villages are pooling their electricity demand to leverage the collective buying power of their residents.
Rockland Community Power is a Community Choice Aggregation (CCA) program that enables participants to pay less for renewable energy than they've historically paid for traditional (or "dirty") electricity.
Official letters from each community will be mailed to all households in early September. Please be aware that any letters that residents have received about energy contracts are not from the Rockland CCA program, which does not require any action to participate. If you have any questions about something you have received or have been offered, call the Rockland Community Power phone hotline at (845) 859-9099, or email the Community Coordinator at peggy@rocklandcommunitypower.com, or visit RocklandCommunityPower.com.
Rockland Community Power is inviting residents and businesses in the villages, Clarkstown, and Orangetown to enroll in their 100% renewable Community Solar program to save up to 10% annually on their electric bills. Community Solar is available to anyone with a residential or small business utility account. For every enrollment in this program, a $50 donation will be made to the Rockland Community Foundation which is providing relief through grants to combat COVID-19 challenges in Rockland County. Learn more at the Community Solar page at RocklandCommunityPower.com.
Rockland County
Census 2020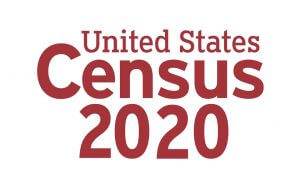 If you or someone you know has not yet completed a census questionnaire, please do so as soon as possible at my2020census.gov or by phone at 1-844-330-2020. It's easy and only takes about 10 minutes to complete. When you respond to the census, you help your community get its fair share of the more than $675 billion per year in federal funds spent on schools, hospitals, roads, public works, and other vital programs. Businesses use census data to decide where to build factories, offices, and stores, and this creates jobs. Census statistics help determine the number of seats each state holds in Congress and how billions of dollars in federal funds will be allocated by state, local, and federal lawmakers every year for the next 10 years. Read more about what can happen if no one responds to the census in Why the 2020 Census Is So Important.
2020 General Election
The 2020 General Election is Tue, Nov 3. This year, you may vote 3 ways: (1) vote early from Sat, Oct 24 through Sun, Nov 1 at any of the 4 early voting centers in Rockland; (2) vote by mail (apply by mail by Oct 27, vote by Nov 3); or, (3) vote on election day. The last day to register to vote is Oct 9 (if application is mailed it must be received by Oct 14). You may also request an absentee ballot in person until Nov 2.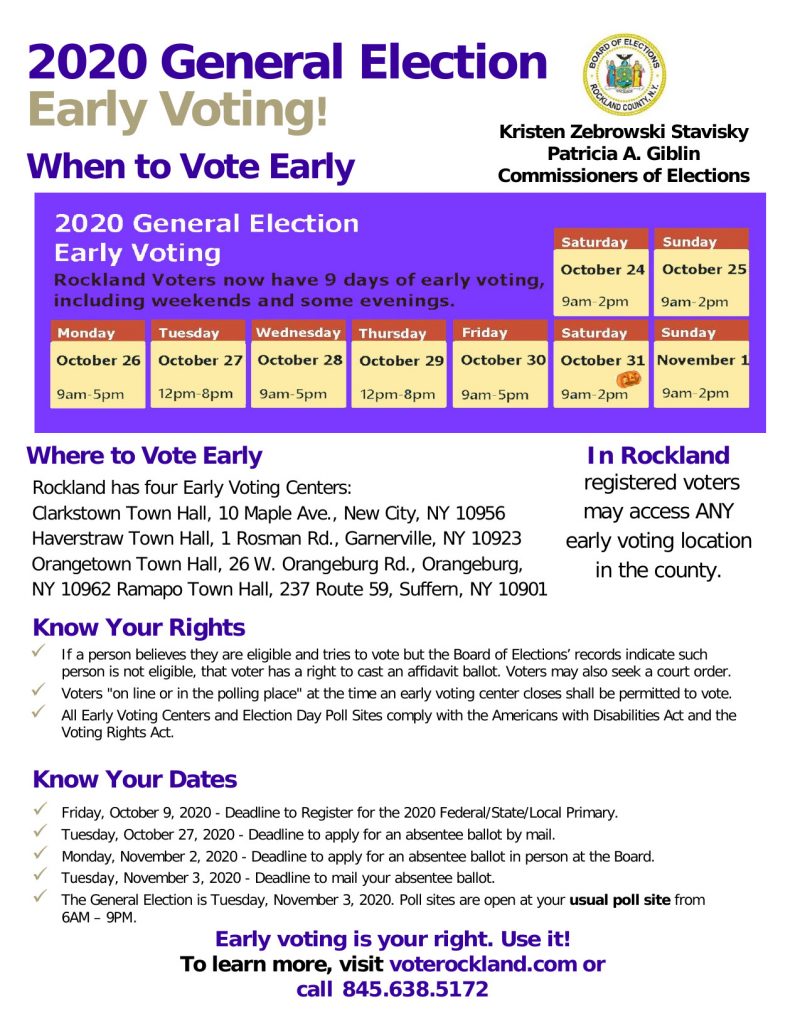 The Rockland County Board of Elections is in need of poll workers and election inspectors. In order to serve, you must be 18 yrs old and a registered voter enrolled in either the Democratic or Republican Party. Poll workers are paid for their time spent working on the election and attending required certification classes. The work day begins at 5:30a and ends after the polls close at 9p. The Board of Elections pays poll workers $200 per election and $25 for every required class. For more information on how to become a poll worker or election inspector call (845) 638-5172. Read more at Poll Worker Shortages Pose Election Challenge.