by Kris Burns
When you see something that is not right, not fair, not just, you have a moral obligation to do something, to say something, and not be quiet.

Congressman John Lewis
I trust by now that many of my fellow Rockland residents may have heard the story about an incendiary Facebook post by our Sheriff, the racist commentary it provoked, and his unsatisfactory explanation. If not, here is a link to one of many stories on the subject that has appeared in LoHud.
Like most stories, especially those about systemic racism, the one that is circulating, awful as it is, only scratches at the surface of an even darker and more pervasive underbelly.
Until I fully understood the story, I did not fully understand the demand for Sheriff Louis Falco's resignation. Now that I do, I am fulfilling what the late John Lewis would call my "moral obligation" to share what I know. And in so doing, I'm committing myself to joining the fight for Falco to resign.
First of all, the post that the original story focuses on was not at all an isolated, accidental incident that was deleted as soon as it was brought to the Sheriff's attention. Virginia Norfleet, head of the Haverstraw African American Connection, points out, "So many people… have been led to believe that there was only one post to which he said was meant to be shared privately… There were in fact 5 posts… and all [of them] focused on crimes committed by African-Americans… meant to incite fear of African Americans."
In Sheriff Falco's recurring criticism of bail reform, he routinely posts inflammatory articles from dubious sites, which regularly incite alarmingly vile, violent, and racist rhetoric. As stated by Norfleet, "Citing crimes of any particular race with exaggerated titles on a public forum is the absolute definition of race-baiting."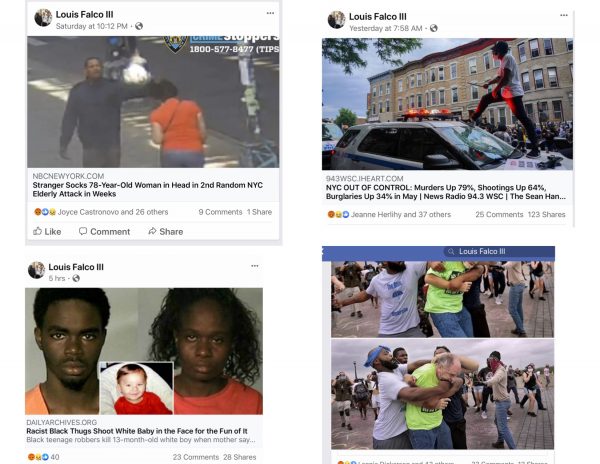 Most of these posts and comments were deleted once they were brought to the attention of the public, but my first photo (above) is a compilation the 5 posts Norfleet referred to and the second photograph (below) is a compilation of the comments they elicited and that were tolerated on his page. (FYI: The comment "shoot the perp, save the courts" is still on his page as of my writing this.)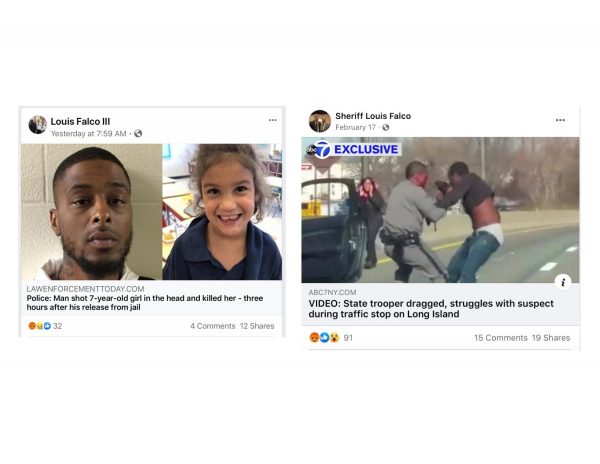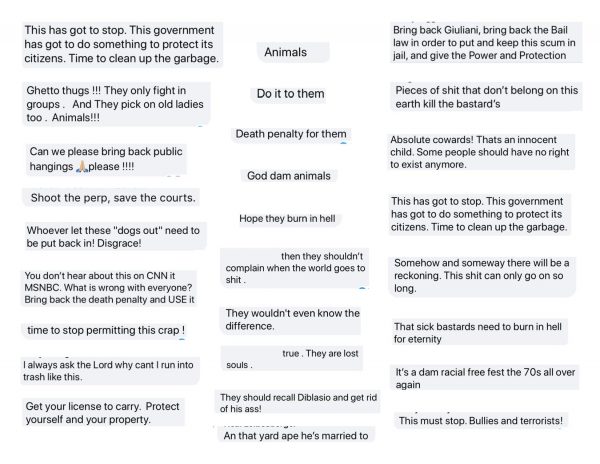 As you can see, the Sheriff's provocative and irresponsible posts were shared hundreds of times (to his 5,000+ followers), along with their racist commentary, before they were removed. That means there is no way to fully calculate their damage and reach.
How many times were reckless posts by a local Sheriff with accompanying comments–such as "yard ape," "please bring back public hangings," "goddamn animals," "some people have no right to exist anymore," "protect yourself and your property," kill the bastards"–used to endorse racist rhetoric, embolden calls for lynching, support rallying cries for street vigilantism, encourage violence against Black, Indigenous, and People of Color in Rockland ?
As if all of that isn't bad enough, the origin of the article from the post in question came from dailyarchive.org, a website which extolls the virtues of Hitler, sells Neo-Nazi merchandise, and serves as a clearinghouse for race-baiting, homophobic, white supremacist, anti-Semitic articles.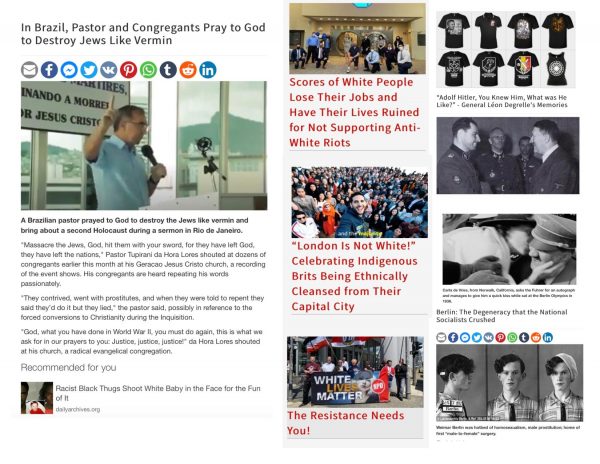 My third photograph is a compilation of just a few of the outrageously offensive articles on this site. If you look closely, 1 of them suggests I might be interested in the article Sheriff Falco originally posted. Which is just how this kind of website works: with every click, you are invited further down a hateful, reckless rabbit hole of white supremacy ideology.
I regret every single second I spent on that website and every single word I read. And I am only aware of its awful existence because my County Sheriff not only directed me to it, he shared and circulated its seditious content.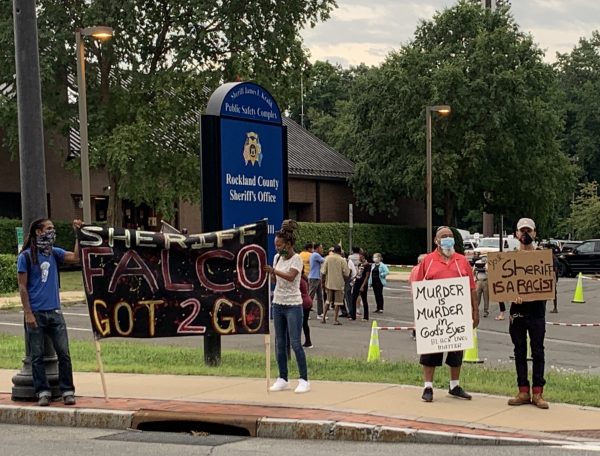 Falco alleges to have a "mission to create a safe environment in which Rockland County citizens can live, work, and pursue a better quality of life." He has put himself forward as a leader in the countywide review of police policy and procedures initiated by the New York State Police Reform Reinvention Collaborative Executive Order by Governor Cuomo. He is the Chair of Zone 4 of the NY Counter Terrorism Unit, giving him "responsibility for routing intelligence data from federal, state, and local sources to law enforcement." This same man "routed" me and an untold number of people to precisely the kind of website that I would imagine appears in such "intelligence data" when investigating individuals who harbor terrorist inclinations and sympathies for terrorist behaviors.
The truth of the matter is the post in question, the accompanying commentary, and the dubious source was not at all out of character for Sheriff Falco; it is part of a pattern of alarming, unacceptable behavior. It was just the most recent and egregious example of a regularly divisive racist conversation that a publicly elected, Democratic Party member routinely hosted on his social media page. (Did I mention that he is also a member of a private page called "Make Rockland Great Again"?)
The damage has been done and its consequences are potentially more dire than we may ever fully know.
It is not something he can simply make apologies for or delete.
His posts gave permission, substance, and ammunition to a community of Rockland residents who feel increasingly comfortable articulating threats of violence against other Rockland residents–on the Facebook page of their County Sheriff, with impunity.
His posts undermine the commitment of his office to "never waiver in (their) obligation to provide the very best in public safety services to every child, woman and man in our community".
His reckless behavior made it decidedly less "safe" for the Black, Indigenous, and People of Color in Rockland, as well as the entire community at large–and he has compromised the very "quality of life" he was sworn to defend.
When the Rockland Democratic Executive Committee met recently to address the public outcry for Sheriff Falco's resignation, members such as the Orangetown Chairman Michael Hogan agreed that his actions were "'race-baiting' and inciting the public… dangerous and reckless… behavior unbecoming of a member and leader of the law enforcement community." However, not only did the committee vote against insisting on his resignation, they also voted against any official censure.
I have signed the Rockland United petition demanding that the Rockland County Democratic Executive Committee call for the resignation of Sheriff Falco. Will you?
If not us than who? If not now then when?

John Lewis
Kris Burns is a local artist, florist, event planner, and activist .