by George Potanovic Jr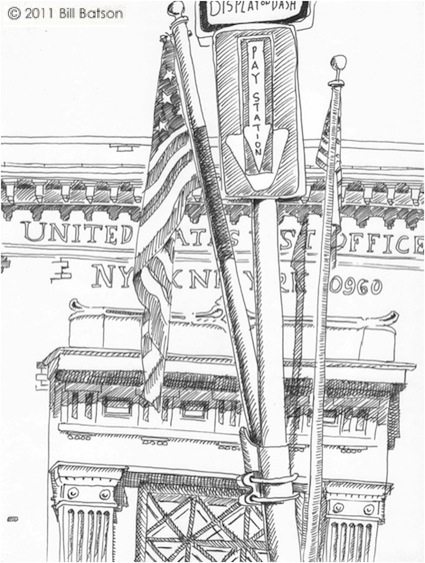 I am sure that you are as disturbed as I am by President Donald Trump's appointment of Louis DeJoy as US Postmaster General in June, and his subsequent politically partisan dismantling of the US Post Office. He has eliminated workers overtime, removed mail sorting machines and mail boxes, and it's all intended to slow down mail services. Due to the timing, this is obviously not being done as a means of "cost-saving," as claimed, but clearly instead to undermine our election and census in a year when we must especially rely on mail-in voting because of the COVID-19 pandemic.
As we celebrate 100 years since the 1920 passage of the 19th Amendment of the Bill of Rights, which ratified women's right to vote, we realize that history happens because American people have stood up, marched, and then taken action to protect and defend our most precious right to vote. It has also become clear to many of us that if we do not take action when faced with a threat to our democracy, we risk the possibility of losing our rights, one by one.
I feel strongly that this is a time when we must all decide where we stand and how we can each individually take action–to live up to the values that we hold to be true as Americans in 2020.
As the US Senate is returning to Washington DC to question Louis DeJoy's attempts to undermine our US Postal Service, he announced  that he will rescind his orders until after the November Election. However, with removal of mail sorting equipment, the damage to the system has already been done. Meanwhile, Trump continues to sew the seeds of unfounded doubt that mail-in voting is unreliable and that it will lead us to unpredictable results. This happens as US Attorney Generals are meeting to consider a possible lawsuit. The Democratic US Congressional candidate in NY-17, Mondaire Jones, has already filed a lawsuit.
The American people need to stand up to defend our US Post Offices in each of our local communities by making a sign, bringing our masks, and holding a socially-distant protest in support of and in appreciation of our US Postal Service on the sidewalks in front of the post offices within each of our communities as part of a national "SAVE OUR POST OFFICES" on this Saturday, August 22, 2020 from 10a-12n.
WHAT: #SaveThePostOfficeProtest
WHEN: Saturday, August 22, 2020 at 11-11:30a
WHERE: Nyack Post Office, 48 S Broadway, Nyack and New City Post Office, 245 N Main Street, New City
I hope that you will make the time to participate in this action in your community!
So get your poster board, your colored makers, make a poster about what voting means to you, and in support of our post office stand with us!
Help spread the word by inviting your friends by email and social media! Please forward, share, tweet!
George Potanovic Jr is president of SPACE, the Stony Point Action Committee  for the Environment. He is a resident of Stony Point NY.