Rivertown Film & Nyack Center Teen Council Host a Screening
by Juliana Roth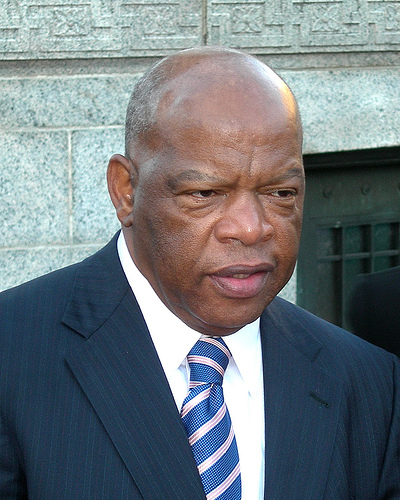 Last month, mourners assembled in Nyack at Hezekiah Easter Park to honor Congressman John Lewis, who died on July 17th. Attendees were offered flowers from the memorial as a symbol of their commitment to get in #goodtrouble. Hezekiah Easter Park is local landmark that's become a daily site for local #BLM demonstrations, a public space many did not know the full history of, myself included. The park serves as a memorial to the first African American elected official in Rockland County, Hezekiah Easter, Jr, who was also a veteran, rotarian, and activist. It is fitting John Lewis was remembered there.
Lewis dedicated his life to protecting human rights and civil liberties so as to build what he calls "The Beloved Community" in America, a vision he held as possible until his final days, which happened to be in the midst of an international pandemic, historic protests, and historic violence against protesters. Local artists, advocates, and students will join together this month to screen John Lewis: Good Trouble in his honor. The title of the documentary comes from one of Lewis's most memorable quotes: "Never, ever be afraid to make some noise and get in good trouble, necessary trouble."
Director Dawn Porter imagines Lewis's life for the viewer through interviews with Lewis from last year, when he was 80 years old. Lewis shares his formative childhood experiences and recalls a fateful meeting with Dr. Martin Luther King Jr. in 1957. Born to Alabama sharecroppers, Lewis grew up attending segregated public schools and felt his call to action in witnessing the Montgomery Bus Boycott. Following this call led Lewis to a life of social and legislative actions. He championed civil rights, voting rights, gun control, health-care reform, and immigration protections. Lewis's memories of his journey are woven with interviews with political leaders and his colleagues.
The film will be presented by Rivertown Film and the Nyack Center Teen Council, whose students have led local #BLM organizing efforts. The documentary streams through August 13. A Zoom discussion led by members of the Nyack Center Teen Council, moderated by Nicole Hines and Bill Batson, will be held on Wednesday, August 12 at 7p. The event is sponsored by OCADA with Community Partners: Rockland County Pride Center and Center for Safety and Change. All tickets are $12, and a limited number of comp tickets will be provided by the Teen Council of Nyack Center. This virtual theater presentation is provided thanks to Magnolia Pictures. Half of the price of each ticket will be donated to the Nyack Center Teen Council.
In the days after John Lewis died, I returned to an interview he did on one of my favorite podcasts, On Being. This quote stood out: "When we were sitting in, it was love in action. When we went on the freedom ride, it was love in action. The march from Selma to Montgomery was love in action. We do it not simply because it's the right thing to do, but it's love in action. That we love our country, we love a democratic society, and so we have to move our feet."
Juliana Roth is a writer from Nyack, NY.