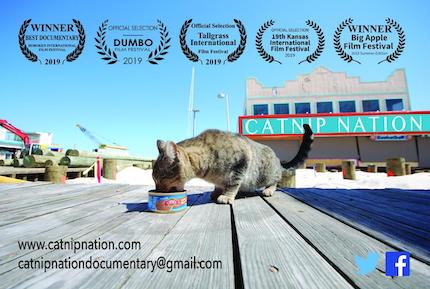 by Juliana Roth
This summer in the Hudson Valley invites us to reevaluate our relationship to the environment–in particular the impact we have on the larger ecosystem of society. By newly seeing how critical each individual is to keeping the whole of us healthy and functioning, the human-animal connection is also coming into special focus. Increasingly, wild animals are changing their behaviors in response to humans lessening their commutes and presence outdoors. Black bears are more frequently spotted in the suburbs and deer graze where they haven't been seen in years. These new patterns offer an opportunity for us to consciously co-exist with the animals with whom we share our neighborhoods.
Rivertown Film Society examines this complexity of understanding the animals in our lives. Following the recently held Quarantine Cat Film Festival, Rivertown Film Society screens Catnip Nation, a documentary from Rockland Filmmaker Tina Traster. More than 90 million feral cats exist in the U.S., and Traster's film examines the responsibility of a community to care for their stray animals. Traster follows activists who protect community cats vulnerable to the whims of government officials, law enforcement, private property owners, and the justice system, revealing patterns of animal abuse and exploitation across the country.
The program streams August 4th at 6p through August 6th at 6p with Community Partners Four Legs Good and Rockland Organized for Sustainability and a Safe Aquifer (ROSA). Tickets are $10, and $8 for members of Rivertown Film, Friends of Four Legs Good, or ROSA, and can be purchased online. There will be a post-screening discussion on Zoom at 7:30p on August 6th with Director Tina Traster, joined by Michael Sanducci, former Shelter Manager at Hi Tor Animal Shelter, currently with Four Legs Good and an interviewee in the film. Suzanne Mitchell, board member of ROSA and Rivertown Film, will moderate the conversation. The public is welcome to send an email to film@rivertownfilm.org for a link to the discussion.
After looking at the harm done, Rivertown Film Society finishes the series by creating space for biologists and ecologists to weigh in on how we might move forward as better stewards to the animals in our lives with Bears of Durango. The documentary is an investigation of bears in the suburbs, and it won the audience award at the 2020 Wild & Scenic Film Festival. The film streams August 9th at 6p. A Zoom discussion with director Dusty Hulet follows at 7:30p. Tickets are $12, members $10. Community Partner: Rockland Organized for Sustainability and a Safe Aquifer (ROSA). Friends of Rosa will receive the member ticket price.
"If we want our native biodiversity here, if we want these large carnivores to be back on our landscapes, ultimately we're going to have to figure out, how do we coexist? How do we share a single landscape?" asks Lead Wildlife Researcher Dr. Heather Johnson in the film. Filmmaker Dusty Hulet dives headfirst into bear dens with the biologists studying how human development affects bear behavior, focusing on a 2011 Colorado Parks and Wildlife research effort to address increases in human-black bear conflicts. A team of wildlife researchers led by Dr. Johnson has spent the past 6 years investigating the factors driving those increases and the effects of expanding human development on bear populations. As wildlife and humans have new and increasing interactions in response to stay-at-home orders, the film is an urgent watch.
To get the Nyack Weekender delivered to your mailbox auto-magically every Friday morning, add your name to our mail list. Visit our online sign-up sheet to subscribe.