This week in the villages: Memorial Park will reopen to the public on Saturday. However, the parking lot, children's playground, basketball courts, skate park, splash pad, and bathrooms will remain closed. Metro-North and Clarkstown Mini Trans are increasing service. The Town of Clarkstown Comprehensive Plan Workshops begin on Thursday. And Rockland County is rolling out a program to supply face masks to small businesses.
Memorial Park Set to Reopen to the Public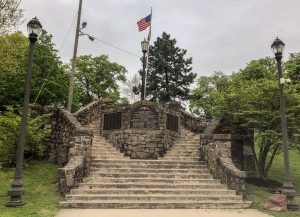 At the May 28, 2020 Nyack Board of Trustees meeting, the Board of Trustees agreed to reopen Memorial Park on Sat, June 6, 2020. The reopening of the park will be in phases. It will require a few days for signage to be prepared and for staff to be hired and trained. Your patience is valued during this difficult time. The park will open at 6a and close at dusk. All park regulations remain in effect.
Please note the following guidelines:
The parking lot will remain closed for social distancing. Please use municipal lots for parking.
Handicap spots will be available on Depew Ave adjacent to the top field; a park attendant will assist handicap parking and access.
The pedestrian bridge is scheduled to be completed by the end of June. Please do not attempt to cross the bridge. Notification will be made when the bridge is open for use.
A mask or face covering is required when entering Memorial Park and when social distancing cannot be maintained.
If people are unable to observe the social distancing requirement (6 feet apart), and wearing a mask or face covering, the Village Board reserves the right to close the park.
The children's playground, skate park, splash pad, basketball court, and bathrooms will remain closed following the governor's orders.
Recreational activities will be reviewed by the Village Board when Phase 4 of The Forward NY plan is reached.
Metro-North Increases Service
As of Wed, May 27, 2020, Metro-North increased service on the Hudson, Harlem, and New Haven lines as the Mid-Hudson region began Phase 1 of reopening. The expanded service represents an overall increase of 26 percent in peak train availability since the essential service plan went into effect on Apr 13. Metro-North will also have 14 protect trains strategically positioned at major facilities to operate additional service as may be necessary. The new schedules may be found at web.mta.info.
Village of Nyack
Nyack Schools Budget Vote and Board Election
This year's Nyack Schools' budget vote and board election will be 100% vote by mail. All ballots must be received by June 9 (a post mark prior to June 9 isn't sufficient). Registered voters will be mailed a ballot. Completed ballots can be mailed in or deposited in a drop slot at the Nyack Schools' Administration Building on Dickinson Ave. Ballots that aren't received by 5p on June 9 will not be counted. To find out if you are registered to vote in the school board election, visit Nyackschools.org. Find out more about what this means for the local election, who the candidates are, and what the district might expect in "Vote By Mail Stresses Nyack Schools, Budget Vote, Candidates."
Expedited Outdoor Seating Permit Process
At the May 28, 2020 Nyack Board of Trustees meeting, the Village Board approved a resolution to expedite the outdoor seating permit process for restaurants and businesses. For more information, contact the Village of Nyack Building Dept at buildingdepartment@nyack-ny.gov or call 845-358-4249.
Moratorium on Gas Powered Leaf Blowers
The Nyack Village Board recently enacted a moratorium on gas-powered leaf blowers until the end of June, 2020. Residents are requested to please share the landscaper notification with your landscaper. All concerns regarding this moratorium should be directed to Jim Politi, Village Administrator at 845-358-3581. Please do not contact the Orangetown Police Department about leaf blowers.
A Show of Support for Montefiore Nyack Hospital
In order to provide a small bit of joy to the staff of Montefiore Nyack Hospital, the hospital is looking for musicians from the community who would be willing to do a short, solitary set of music during the hospital shift change around 7:15a and 7:15p each day. The musician would stand on the corner of Haven Court, near the hospital (but a very safe distance away), and play or sing a set of their choice.
Interested musicians and vocalists may sign up here. The sessions will also be shared with the hospital on a Facebook page that recognizes the bravery of our first responders and hospital employees. If you have any questions, please contact Melody Patrick, Recreation Director, Village of Nyack.
It Takes a Village to Cover Our Villages.

Local news matters now more than ever. Nyack News & Views has covered news, arts, and culture in and near the Nyacks for a dozen years. During the COVID-19 crisis, we've doubled down on content, bringing readers service-oriented news you can use.
We need your help–NOW–to continue this work. Please consider making a one time or sustaining donation to Nyack News & Views. Thank You!
The Village of South Nyack
Nyack College Application for an Amendment to a Special Permit
To address many of the unanswered questions from the May 26, 2020 South Nyack Board of Trustees meeting in which an application for an amendment to a special permit by Nyack College was rejected, Mayor Bonnie Christian, the South Nyack Board of Trustees, and special counsel put together a list of Frequently Asked Questions which may be found on southnyack.ny.gov.
Free Face Masks 
The Village of South Nyack has face masks for South Nyack and Grand View residents. Reusable cloth masks are available for senior citizens, and non-sterile surgical masks are also available for any other resident. The masks may be picked up at South Nyack Village Hall, 282 S Broadway from 9a-4p M-F.  Visit southnyack.ny.gov for more information.
Village of Upper Nyack
Thurs, May 28, 2020 Special Village Board of Trustees Meeting
There was a special meeting of the Village Board of Trustees on Thurs, May 28, 2020 for a resolution on terms of the lease for 328 N Broadway, 2nd Fl. A transcription of the meeting may be found at uppernyack-ny.us.
Temporary No Parking Signs Have Been Placed on Locust Drive
Residents on Locust Drive reported to the Village Board of Trustees and police an untenable traffic issue. Motorists were parking along both sides of the street, making it difficult to enter and exit driveways, leaving little room for emergency and delivery vehicles to move along the street. For the health, safety, and welfare of the residents, the board requested the Clarkstown Police Dept. to place Temporary No Parking Signs on the street until further notice. Enforcement will be by the Clarkstown Police Department.
Town of Orangetown
Reopening Businesses
This past Tuesday, the Town of Orangetown began reopening under Phase 1 of the NY Forward reopening plan. If you are unsure if your business is allowed to reopen, please visit businessexpress.ny.gov for more information. If you know your business is allowed to reopen and you have yet to fill out your affirmation, please visit the Town of Orangetown's Kickstart Orangetown Page. Everything you need to know about Phase 1 is listed.
New Pool Installations
Many of us will be taking "stay-cations" this summer. If you are thinking of putting in a pool, whether it is above ground or built-in, you must file for a permit with the Town of Orangetown Building Department. Information about building permits may be found on the Building Department webpage.
Orangetown Highway Department Drop-off Center
The Orangetown Highway Department Drop-off Center is now open on Mondays, Wednesdays, and Fridays. A list of COVID-19 Access Regulations and Safety Guidelines may be found on orangetown.com.
Town of Clarkstown
Although  ballfields, playgrounds, basketball courts, pickleball courts, hockey rink, bathrooms, and picnic/ barbecue areas are still closed, the following parks and recreation areas will be be partially open beginning on June 1.
 Congers Lake:

Tennis courts for singles play only
Handball courts: 1 person per court
Clarkstown K-9 Corrals Dog Park: Maximum of 10 people in each area at a time. One dog allowed per handler.
Non-gasoline boats in lake, with approved 2020 boating permit only.
Parking will be limited to the main parking lot and tennis parking lot

Zukor Park: Recreation Office, parking lots and grass areas only
Germonds Park: Lower level parking lot and grass areas only
Parking lots and grass areas only at Kings Park and Tennyson Park
Grass area/path only at West Nyack Hamlet Green, Congers Station Park, Twin Pond, Ungava Park, Davenport Preserve, and Valley Cottage Hamlet Green
Save the Dates – 2020 Comprehensive Plan Workshops
The Town of Clarkstown will be holding Comprehensive Plan workshops by Ward via teleconference on the following dates where residents are asked to voice their opinions and share ideas for the future of the town:
Ward 1 – Councilman Frank Borelli – Thurs, June 4, 2020 from 7-9p
Ward 2 – Councilman Michael Graziano – Mon, June 22, 2020 from 7-9p
Ward 3 – Councilman Donald Franchino – Thurs, June 11, 2020 from 7-9p
Ward 4 – Councilman Patrick Carroll – Mon, June 15, 2020 from 7-9p
Residents are encouraged to participate by phone at 845-286-9068 or by watching through Facebook Live on the Town of Clarkstown Facebook Page. To learn more and submit comments, please visit compplan2020.clarkstown.org.
Tele-Town Hall Mon, June 1, 2020, 3p (new time)
Join Supervisor George Hoehmann for an update on a group telephone call to ask any questions or bring up any concerns you may have. Call  845-203-6304 to join, or watch on FB live.
Clarkstown Mini Trans Returns to Full Schedule
The Clarkstown Mini Trans will resume its full schedule on Mon, June 1, 2020. Schedules and route information may be found on town.clarkstown.ny.us.
Increased Bear Sightings
There has been an increase in bear sightings within the Town of Clarkstown due to a lack of food scraps from restaurants and business dumpsters. For more information about deterring bears in residential neighborhoods, please visit the NYS Department of Conservation website and to report a bear sighting, call Animal Control Officer Coleman at 845-639-5888.
Reopening Clarkstown: A Helpful Guide for Small Businesses Webinar
The Greater Nanuet Chamber of Commerce, the New City Chamber of Commerce, and Supervisor George Hoehmann recently hosted a webinar to discuss the process of reopening small businesses after COVID-19 closures. If you missed the webinar, it may be viewed on the Town of Clarkstown YouTube channel. A copy of the powerpoint presentation may be found on town.clarkstown.ny.us.
Community Centers
The Clarkstown Recreation Department has been filming activities for residents to enjoy while home and social distancing. They will be broadcast every day on the Town of Clarkstown Government Access Channels (Cablevision/Altice Channel 78 and Verizon Channel 35). A schedule for the week may be found on town.clarkstown.ny.us. There will be other recreation activities broadcast on FB Live (on the Town of Clarkstown Recreation & Parks) led by recreation staff and volunteers at 11a each day. Videos will also be on the town YouTube Channel.
Clarkstown Mulch Site Open
Residents of the Town of Clarkstown may pick up compost and wood mulch during regular park hours for use at their residence at Germonds Park, 185 Germonds Rd, West Nyack.
Rockland County
ROCK GOV – FACE COV Program for Small Businesses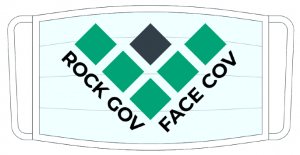 Rockland County announced the "ROCK GOV – FACE COV" Program, which will provide protective face masks to small businesses and nonprofits in Rockland County to assist with reopening and sustaining business operations. To be eligible for the program, small businesses must employ 1 to 20 full-time equivalent employees and must be a for-profit or non-profit incorporated organization with majority of operations located in Rockland County. Each business or non-profit will receive 100 face masks.
Due to the overwhelming response, no additional requests will be taken at this time. Businesses which already received a confirmation email will be able to pick up their face masks at the Rockland County Fire Training Center, 35 Firemen's Memorial Dr, Pomona on Fri, June 5, 2020, from 11a to 2p. For more information, please visit rocklandgov.com or call 845-364-2171.
Supply distribution is through online registration only. No walk-ins will be allowed. Recipients must present a valid driver's license at time of pick up in order to receive supplies. The face masks being distributed have been donated; no taxpayer dollars were spent on the supplies being distributed.
Save the Date: Police & Patrol Officer Civil Service Examination on Sept 26, 2020
Rockland is now accepting applications from candidates interested in a career in law enforcement. A written competitive examination for the Civil Service positions of police officer and patrol officer is scheduled to be held on Sat, Sept 26, 2020, but may be subject to change based on the current health crisis. There are also examinations for Spanish, French/Creole, and Yiddish speaking officers. If interested, applications to take the examination must be received by Wed, July 15, 2020. An online application may be found at mycivilservice.rocklandgov.com. You may also apply by mail at Rockland County Department of Personnel, 50 Sanatorium Rd, Building A, 7th Floor, Pomona, NY 10970. The application fee is $30. For questions, contact the Rockland County Department of Personnel at (845) 364-3737 or at RCPersonnel@co.rockland.ny.us.