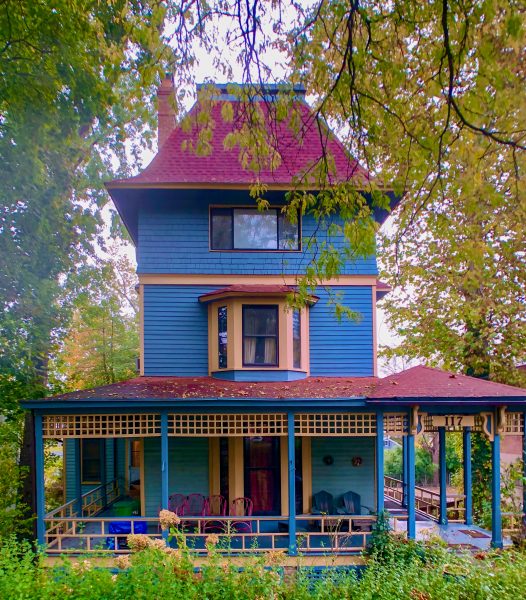 by Juliana Roth
Moving out: About 420,000 people left New York City in March and April. That's about 5% of New York City's total population, roughly equivalent to the entire population of Minneapolis, MN.
The most affluent New York City residents led this flight. They were primarily technology and finance workers, many of whom responded in surveys saying they would continue to stay away from the city if they were offered indefinite remote work. The desired home seems to be one with more space.
Rockland County: Close To NYC, But Just Far Enough Away?
"We're definitely seeing an influx of buyers coming from New York City. We did an analysis of our own clients, and found that in 2019 we had about 9% of our buyers come from New York City,"  says Joseph Rand of Rand Realty in Nyack. "In May, that was almost 12%—and that's not even capturing all the people who were looking in April and May and haven't closed yet. I think it's going to be a significant change for the regional market, and that will help drive prices up as well."
The owner of Nyack's Wright Bros. Real Estate Wright Bros. Real Estate confirms this trend. "We see a lot of buyers coming from Manhattan and Brooklyn," says Russ Woolley. "These buyers enjoy the village atmosphere of Nyack and Piermont, but they also enjoy the fresh air, ease of moving around, a backyard, the river lifestyle." Other than the new lifestyle opportunity made possible for some employees through working from home, businesses are re-evaluating their practices. Between 2017-18, only 29% of wage and salary workers worked from home, but as employers note the decrease in expenses for renting office space as well as the improvement in worker wellbeing, many intend to adopt these remote practices long-term.
Small may be beautiful–but less beautiful after sheltering in a tiny apartment for months. "Once people started to experience their ability to work effectively from their home, they reevaluated staying in their smaller apartment in New York City," says Sabrina Feldman of Nyack's Weld Realty (a Nyack News & Views sponsor). "Instead, for the same price–or much less in many cases–they could own a beautiful home and work from a gorgeous green property in a great community a little further up the Hudson with fairly easy access to New York City via train or bus," she says.
Your donations made this story possible.
Local news matters now more than ever. Thanks to your support, Nyack News and Views has added additional coverage during the pandemic, hiring local journalists to write COVID-19 related articles. Your donations funded this story.


We need your help–NOW–to continue this work. Please consider making a one time or sustaining donation to Nyack News And Views. Thank You!
Finding a New Home from Afar
As New York's restrictions slowly lift, realtors and agents continue the new normal of showing homes virtually. This includes videoconference walk-throughs with clients and Facebook Live open houses, new practices which have led to a wider potential client base, attracting about 10 times as many people than a traditional in-person open house. "Buyer demand simply hasn't slowed, probably because although the job losses in the region have been horrific, and have taken a tremendous personal toll," Rand says. "They didn't necessarily impact the people who were planning on buying homes in the area." 
For home sellers, Rockland realtors report that being stuck at home has made some homeowners find flaws with their current house after being inside for so long. Other sellers are snowbirds who've decided it's time to give up their second home or those who had planned to sell but waited until reopening to begin the process of relocation.
"Most of my current sellers have multiple residences and are deciding this may be a good time to off load one of them. A lot are also retiring and leaving New York entirely," says Kenyatta Jones-Arietta of R2M Realty, Inc. "We are yet again experiencing a shortage of inventory and a plethora of buyers, with most looking to leave the city. This is causing homes to have less days on the market with bidding wars driving properties above asking price."
The Future of Real Estate in Rockland
The Hudson Gateway Association of Realtors released a report in early April for the 1st quarter of 2020, finding that Rockland County had a 15% increase in sales (452 units compared to 393 units in the first quarter of 2019), median sales price went up by 3.1%, and multi-unit sales were on the rise. 
The lessons learned of virtual selling practices revealed to realtors that open houses prove to be more efficient when held online. "We had to sharpen our skills when it comes to using video chat and other photographic technologies. Many of my realtors have now created not just the longer version home tours but the shortened 20-30 second promos for Instagram, Facebook, and other social media platforms," says Woolley. "We also instituted the requirement of complete mortgage pre-approval before an appointment can be confirmed to view one of our properties. This weeds out the causal looker who really has no intent of making a purchase. These per-approvals, or 'proof-of-funds' for cash purchasers were always our requirement for higher end properties, but now we require this for all of our offerings."
Looking to the future, Rand imagines a surge in videoconferencing rather than conference calls, a reduction in live open houses overall, and a shift from live training events and conferences to virtual ones as the technology is more fully integrated into real estate companies across the region. "No one could predict how this was all going to go. All we knew is that this was urgent—listings had to be perfectly staged, video or 3D-shot, priced right and online as quickly as possible before lockdown," says Feldman. "We were forced to slow down, take a huge step back, reassess our priorities, and how we spend our time. Professionally, we tested methods of working virtually, normalizing family life, home, and being human first, as the rhythm of a workplace. This will likely stick in many industries."
"I actually sold and closed on a house where my buyers did not see it in person until our final walkthrough the day before closing," says Arietta-Jones. "Those who learn to adapt survive."
Juliana Roth is a Nyack writer who serves as the Chief Storyteller at the Edward Hopper House Museum & Study Center.