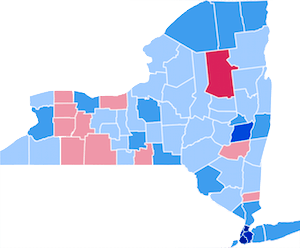 If  Tuesday's Democratic primary election night counts hold up, South Nyack may someday be sending someone to Congress, and Nyack won't be sending a senator to Albany. But in another reminder that the Year of Coronavirus is like no other, final vote counts will have to wait until all absentee ballots are counted on June 30.
The NYS Board of Elections reports a substantial lead for South Nyack resident Mondaire Jones, who is running to replace Congresswoman Nita Lowey in the 17th Congressional District. Jones (43%) leads Adam Schliefer (20%) and NYS Senator David Carlucci (12%). Clarkstown Clerk Justin Sweet (39%) leads Nyack Trustee Elijah Reichlin-Melnick (28%) in the race to replace Carlucci as Rockland's rep in the 38th NYS Senate District.
Also: Veteran Congressman Eliot Engel (34%) trails newcomer Jamaal Bowman (61%) in the 16th Congressional District. Presumptive Democratic Presidential candidate Joe Biden received 67% of the vote. Bernie Sanders, who dropped out of the race several months ago, received 19%.
If Jones' and Sweet's leads persist, they will run against the winners of the Republican primary in the November general election.
The Journal News reports that as many as 27,000 absentee ballots were mailed out, so that mailed-in ballots received after election day and before June 30 could change the outcome of these races, despite the substantial leads of Jones, Sweet and Bowman. Because this is the first election in the history of New York State where vote by mail was encouraged to avoid having crowds gather at polling places during the pandemic, there's no way to know if the returns to date are predictive of the ballots yet to be counted.
Reichlin-Melnick thinks when the dust settles he will win the right to succeed Carlucci in the NYS Senate. "We are confident in a win once all votes are counted," he wrote to supporters on Wednesday morning. "There were a handful of election districts in Ramapo where Justin Sweet won over 95% of the vote; in fact, these districts accounted for more than half the votes he received on election day. Meanwhile, every other part of the district — where our campaign is leading across the board — still has thousands of absentee ballots to be counted," he says.