by Dave Zornow
What's long and loud, very blue and brand new? The 3.6 mile Mario Cuomo Tappan Zee Bridge Shared Use Path across the Hudson River. The bike/pedestrian path opened on Mon June 15 at 2p and thousands have already walked, jogged, cycled, roller bladed between South Nyack and Tarrytown.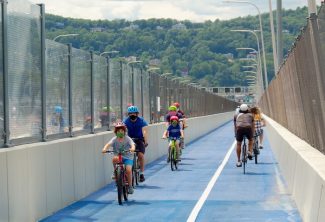 The 12 foot wide path, painted blue to complement the color of the bridge, includes a separate four foot lane for pedestrians with the remaining space allocated to bicycle riders. It can feel a little bit tight sometimes — emphasizing the "shared" part of its name. And it's not where you go to have an intimate quiet conversation, as the din of the westbound traffic on the MCB makes it hard to hear.
Early reviews by SUP users give rave reviews to the Welcome Centers at either terminus and the six historical and geographical themed rest areas along the path. The public art at either end of the bridge is also earning WOWs from visitors, as well as the food trucks where visitors can grab a bite before or after they cross the Hudson. It *can* feel crowded, and everyone — cyclists, walkers, joggers and roller bladers — needs to take it slow and be chivalrous to all of the modalities that share the path.
Here are some first impressions from locals who have either walked or cycled the SUP during its first two days of operation.
The bridge- I think it is a great addition to our community. I have walked it twice and while I won't do it everyday it is another destination for me.

It was crowded yesterday and that was to be expected. Today was easier to maneuver as it was not as crowded. I liked the welcome centers and everyone was helpful and courteous. Loved the art and the wonderful views.  I'm happy. — Denise Hogan, Nyack
Welcome to New York's great new addition to the ever growing bike map, the Mario Cuomo Bridge Shared Use Path. Monday was a nice taste of things to come, a wonderful slow ride among hundreds of folks riding, walking, running, blading, and even sunning!

I liked the fresh blue paint. I knew it would be loud but I was surprised how narrow it felt, especially considering it is wider than the GWB and RFK paths. But I was also surprised by some of the pleasant finishing touches. Looking forward to enjoying these more when we can put the socially distancing behind us.

I'll be back early and often. Early will be nice since the truck traffic might be less at 6am on a Sunday. (yes, it's noisy).

— Jesse Levin, Blauvelt
No Dogs Allowed. But I'm OK With That.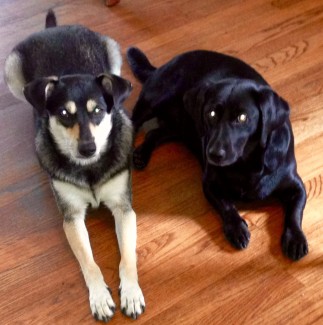 As a dog owner and lover, I was disappointed to see the No Dogs Allowed signs on the SUP. The Hudson River cross walk would be an awesome stroll with our pooch. She would really dig the smells — and would be excited to meet the many humans along the way.
But that's exactly why having dogs on the Shared Use Path is a terrible idea. It can be crowded — and it's design creates bottle necks when walkers, roller bladers, people on bicycles pass each other. Humans have the superpower to look ahead, see potential congestion, and slow down to avoid potential issues. But some of our dogs — not so much.
Maybe we can build a separate dog path when the Mario Cuomo Bridge is ready to be replaced with its third version on this site. But don't hold your breath: the 2017 edition of the Tappan Zee Bridge was built to last 100 years.
The welcome stations were beautiful, very well thought out.

The bike legend markings should have been going both directions. On the return from Nyack, it was terrifying because people from Westchester were coming right at us head on. Everyone should wear a helmet.. — Christine Schopen lives in South Salem, NY and is President of the Westchester Cycle Club
Per officials at the NYS Thruway, additional markings will be added to the pedestrian and bike lanes in the near future. Currently, these stencils are only included near the landings at either end of the Shared Use Path
Overall, based on my first ride – on a picture-perfect June day – I like it. I think I went into it with the right expectations: it is too narrow to fully handle two lanes each of pedestrians and bicyclists, and that's not gonna change, so anyone using it needs to keep their attention sharp and use the limited shared space carefully: pedestrians need to watch for bikes and vice versa.

I love the cool views at the way-stations, the termini at each end, and the blue of the path itself. We live in such a beautiful area, and this new public amenity, though not perfect, is a great way to take it all in. Again, like the GWB pathway, it would be great if it was really wide enough, but if people stay alert and go in with a mindset of sharing the limited space (good overall advice for the 21st century), they will really enjoy it. — Jim Fyfe, Nyack
I was happy to see the path was wide enough to accommodate pedestrians and bikers. I think everyone needs to learn the rules of the road to stay safe, primarily stay to the right and slow down when there's congestion.

At the Rockland Landing I think they may be missing a sign where you drive into the area. I missed the turn once and had to circle back around and go more slowly to catch the entrance. I'm sure more signage is coming.

Other than that, they did a great job, the design was well done, and they implemented it beautifully. It's a great asset for Nyack. — Merrick Weintraub, Nyack
It's truly a beautiful bridge that adds sparkle to the Esposito Rail Trail connector in South Nyack.

Our Teagevity Tea'osk [food truck] sits at the foot of the Rockland landing — all I see is very happy faces as people come off the path! The comments I hear are "Wow!" and "what a great experience the 3.6 mile jaunt was." The impression I have after after the first two days is that cycling or walking the Shared Use Path is a form of therapy for folks and family alike. — Preston Powell is owner of Teagevity, a local business and a regular vendor at the Nyack Farmers Market. The Teagevity Tea'osk is open daily from 9a-7p serving water, organic tea, cold brew coffee and Cliff Energy bars at the Rockland landing Welcome Center
I was surprised that the upgrade to the superstructure wasn't as steep as I thought it would be. I thought the path as a whole could have been a little wider.

I liked the rest areas and the artwork on the bridge. There are plenty of opportunities to take pictures. IMO, the landings on both sides should have a few other vendor trucks for variety, if there's room.

Heads up: I think it's going to be mobbed this weekend! — Paul Langus, New City
"Let's be careful out there."
Actor Michael Conrad's signature line while portraying Sgt. Phil Esterhaus on the 1981 NBC show Hill Street Blues should be adopted by everyone who uses the Mario Cuomo Bridge Shared Use Path: Let's Be Careful Out There.
Ideally, it should have been wider. Or maybe there should have been two paths, with a twin SUP on the south side of the bridge. However, I remember attending an early meeting about a more ambitious, estimated $16 billion corridor crossing project (that included a planned one seat train ride from Rockland) where officials said that adding another path would cost about $50 million more. Yes, it could have been a little wider. But let's celebrate what we have — and accept that keeping it safe is a responsibility shared by EVERYONE who uses the path.
It's not necessarily a bad thing that it's a tight space. There's a design principal in the Complete Streets planning toolkit to create healthier and safer communities for walking and biking called "road diets." Simply put, by making wide streets a little bit more narrow, drivers pay closer attention and DRIVE SLOWER. The application here suggests that ALL Users of the Shared Use Path should do the same: slow down when you see congestion ahead. That means:
…cyclists who are self described "road warriors" capable of 20+ mph speeds while descending from Westchester to Rockland need to slow down and wait for a safe time to pass. And when passing, do it at a speed that makes pedestrians in the adjacent lane feel comfortable. Having a friendly bell to ring, and saying Thank You when people make an effort to give space and share the SUP, isn't a bad idea, either.
…pedestrians stay in their lane — and when you need to step into the bike lane to walk around someone who is traveling more slowly — you look BEFORE you step out.
…parents of children who are just learning to ride need to make sure their kids can ride straight…and safe. Being on the bridge is awesome. But it's not for beginning or cyclists who are building their confidence…yet. If you aren't sure if this is for you, start with a walk to the first rest area on the bridge and check out the views and the environment. It's an awesome view from Fish & Ships (the first belvedere) or any rest area. Get on your bike and go for a ride when you are ready!
…roller blade enthusiasts are good to go. However, the in-line skate guys take up a lot of space when they sway back and forth taking up a wider space than walkers. Please come out and Join the Fun! But remember to be careful and cede the space to faster traffic to allow safe spacing for everyone.
Wear a bike helmet if you are going to be traveling in the bike lane. Duh!
If you buckle up when you get in your car, you should wear a bike helmet if you are cycling or inline skating. Don't do this because it's legally required — do it because it's safer. And sends a message to everyone around you that it's the right thing to do.
Although it was not the intent of the designers who stuck the word SHARED in the name, "Shared Use Path," it's a great reminder that the SUP is many things to many people. It's a transportation corridor for bicycle commuters; it's a recreational space; it will be a revenue generator for communities like Nyack, Piermont and Tarrytown which will benefit from visitors to the SUP. The SUP is a public amenity to be shared by everyone. Keeping it safe is a shared responsibility for everyone as well.
— Dave Zornow is a board member of the Rockland Bicycling Club and the former chairperson for the 2018 Greater Nyack Bike Walk Master Plan project which recommended safer walking and cycling best practices for the municipalities in the Nyack School District. He is also co-publisher of Nyack News And Views.
For me, I was simply looking forward to riding my bike across the bridge to Tarrytown. The path making it possible to do just that. Allowing a way to possibly explore some of Westchester directly from Nyack. And I'm kind of excited to be able to do that now.

The welcome stations and food trucks on each side are a very pleasant addition, one that the Walkway over the Hudson

doesn't have. The next step would be to offer easy and clear direction and passage to the commercial areas in each town. Another thing Walkway doesn't do well.

The path itself is well paved and functional, easy enough for pedestrians and bikers to use. But if the path gets busier than today I can see some issues with bikes passing both directions within the narrow bike lane.

Overall, the ride over is fun, the views from the rest areas are worth seeing, and the path provides opportunities for exploration. — Ira Sussman, Nyack
First, they did a beautiful job constructing the path as well as the terminuses, and the scenic overlooks are stunning. As a member of the Rockland Bicycling Club, it expands the network of trails and bikeways we can explore, and I thank Governor Cuomo for that. However, with moderate mixed use by pedestrians and cyclists, my impression was that it was not nearly wide enough to accommodate two way traffic for both groups. Even if cyclists ride single file and pedestrians walk no more than two abreast, it is still a tight squeeze.  — Dave Herman, New City
See also: