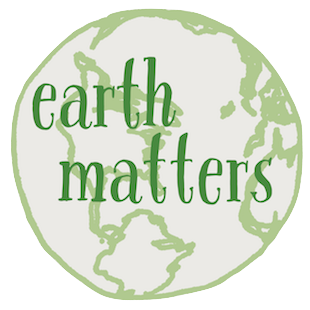 Earth Matters focuses on conservation, sustainability, recycling and healthy living.
If Earth Matters to you, sign up for our mailing list and get the next installment delivered bright to your inbox.
by Talia Reiss
As the devastating effects of climate change become increasingly apparent, scientists continue to warn that humankind has only 10 years to improve the state of our planet before the effects of the climate crisis become irreversible. Nevertheless, many world leaders refuse to acknowledge the reality of the ecological breakdown–some denying its existence altogether, others claiming that humans played no role in a crisis they've deemed "inevitable." Realizing that immediate action is necessary to prevent mass extinction, many teen girls have stepped up to fill the role of negligent politicians and draw attention to the climate emergency. 
There is, of course, Greta Thunberg, the Swedish teenager who has become the face of the youth climate movement worldwide. She's doing important work, but she's not the only one. Many young environmentalists of color are also doing important work, and unfortunately they tend to be left out of the discussion. The climate movement requires every act of support and leadership that it can get, but we simply cannot ignore the voices of those who are most affected by climate change and environmental racism. Marginalized voices deserve to be at the forefront of the global climate conversation, and the media can no longer ignore the young women of color who are leading the fight against ecological breakdown. 
Alexandria Villaseñor
Among the most influential climate activists of our generation is Latina teenager Alexandria Villaseñor, who is credited with popularizing the climate strike movement within the United States. About a year ago, Villaseñor was abruptly swept up in the terrifying reality that is climate change. She had a flare up of asthma while visiting family in California during a devastating wildfire. She was sent home to New York earlier than anticipated, and after doing some research, she came to the realization that inaction can be deadly. 
Inspired by Greta's one-woman weekly activism, Villaseñor committed to striking outside the United Nations Headquarters every Friday until her demands for a sustainable government were met. For more than 40 weeks after her first strike, Villaseñor sat on the same park bench in New York City, often alone, with a sign that reads "School Strike For Climate." Nothing has deterred this teenager from standing up–or rather, sitting down–for the future of humanity. She even once endured a polar vortex. 
In addition to striking each week, Villaseñor founded Earth Uprising, a group that defines itself as "a team of young people who want to save the planet." With this group, Villaseñor has mobilized youth across the nation, and has been one of the leading organizers for the record-breaking climate strikes, on both March 15th and September 20th of last year. At the global strike last September, Villaseñor spent the day demanding that politicians fight for an equitable transition to a clean-energy based economy without the presence of fossil fuels. Later that day, she spoke onstage in front of a crowd of over 250,000 strikers, recounting her experiences with the climate crisis and explaining her passion for environmental activism. 
Sunrise Movement
Another group that has made great strides in the youth revolution for climate justice is the Sunrise Movement, co-founded and directed by 26-year-old Varshini Prakash. This group has focused less on the school strike movement, although they have, of course, allied themselves with the other youth activists of the world. Instead, they chose to demonstrate in Washington D.C. in order to advocate for the divestment of fossil fuels and a Green New Deal, which is an ambitious and wide-ranging conceptual plan to conquer greenhouse gas emissions and environmental injustice. Much of the credit surrounding the introduction of the Green New Deal is often given to Congresswoman Alexandria Ocasio-Cortez, but Varshini Prakash is the concept's driving force. In an interview with The Nation, Prakash said, "What we really hope Sunrise is, beyond the tagline, is a political vehicle, and home, for millions of young people across America who have felt outraged and scared and frustrated at the political establishment for failing to do anything on climate for the last—for our entire lives." 
Jamie Saraí Margolin
Seattle-raised Jamie Saraí Margolin, a queer, mixed-race, daughter of a Colombian immigrant, aims to celebrate the diversity and intersectionality within the environmental movement. Starting at 14 years old, Margolin channeled her fear and anger into community activism; she advocated for sustainable policies, educated her peers, and organized rallies and climate events. Even still, her tireless efforts to create change were falling through. Margolin knew that she needed to do something bigger, something that would unify the young activists of the world. 
She wound up founding Zero Hour; an unstoppable movement created to uplift the diverse youth voice and to ensure that there will be a future in which we can thrive. Margolin traveled across the country to Washington D.C. with a group of around 100 students. They urged the government to stop accepting money from the fossil fuel industry and other harmful corporations. Marches were organized across the nation where thousands of young people made their voices clear: there is no more time to procrastinate on bold, powerful climate action. 
Because Margolin is unafraid to speak truth to power, she finds herself to be less than popular amongst the wealthy white men of the fossil fuel industry. She recounts stories of being called "sweetie" and being touched inappropriately, as well as being interrupted and corrected by those who choose to maintain their ignorance. Margolin is constantly criticized for refusing to fall into the misogynistic and heteronormative ideologies that are expected of young women, which is why she is particularly excited about the success of the movement she has created. "I am especially proud of building a movement that is run by women of color," she said. "It provides a safe place for girls like me to lead."
Quannah Chasinghorse 
Indigenous communities are often affected by the climate crisis more than any other ethnic group, especially with an increase in wildfires and the depletion of natural resources. Indigenous teens are speaking out on behalf of their tribes and communities, but much of the mainstream media continues to ignore their desperate cries for action. One such activist is Quannah Chasinghorse, an 18-year-old Native Alaskan from the Han Gwich'in and Lakota Sioux Nations. 
Chasinghorse successfully advocated for the Arctic Cultural and Coastal Plain Protection Act, a bill that prevents the White House from drilling for oil in the sacred Arctic Refuge. Without the climate justice activism of Chasinghorse and other native lobbyists, oil drilling may have resulted in a severe loss of biodiversity and possibly even death within the Indigenous communities of this area. But Chasinghorse points out that any damage to ancestral land has a negative effect on the connection between her community and their sacred Earth, which is deeply unifying within the Han Gwich'in Nation. 
As a result of a talk she gave on behalf of her tribe at a convention for the Alaska Federation of Natives, the group declared a climate emergency. "A lot of our communities and villages on the coast, because of erosion, are literally falling apart," Chasinghorse told Vice. "Communities are being evacuated from their own homes and ancestral lands because of climate change." Unfortunately, this story is not unique. Indigenous lives are constantly under attack by greedy politicians and corporations. So, it's more important now than ever that we listen to and learn from our Indigenous youth. 
Isra Hirsi
Don't underestimate 17-year-old Isra Hirsi, co-founder and executive director of U.S. Climate Strike. Her experiences as a climate activist are different than many others. Hirsi is the daughter of Congresswoman Ilhan Omar, who's been heavily scrutinized by racist politicians and viewed by many as the epitome of equality and representation. Hirsi has struggled to maintain an identity separate from her mother. But, having built this nationwide movement on her own, Hirsi's voice has begun to cut through the criticism surrounding Omar: the climate crisis will not wait for humanity to decide we're ready to fight it. 
Additionally, Hirsi understands how disheartening lack of representation can feel, which is why she strives to uplift the marginalized youth voice and diversify the climate movement. Hirsi's climate movement is intersected with the fight for racial and religious equality. She explains that her passion for climate activism is not because of a deep connection with nature, like many white environmentalists often experience, but because she understands the mass suffering that the climate crisis has inflicted upon people of color. 
As a result of Hirsi's work with U.S. Climate Strike, the most recent global strike had a turnout of hundreds of thousands in the United States alone. Additionally, Hirsi successfully advocated for a climate debate between the democratic presidential candidates. Although the Democratic National Party rejected this concept, CNN recognized Hirsi's determination and hosted the event on her behalf. 
The Bottom Line
The climate movement must continue to amplify youth voices of color because, simply put, we can't afford any alternative. Young marginalized women bring a unique and valuable perspective to the climate discussion, and until the global community is able to recognize that, we will get nowhere in our pursuit for environmental justice. 
Talia Reiss is a Freshman at Nyack High School and a local climate activist. She is passionate about reporting on and advocating for the planet.
See also:
Read Earth Matters every Wednesday on Nyack News And Views, or sign up for the Earth Matters mailing list.
Earth Matters  focuses on conservation, sustainability, recycling and healthy living.