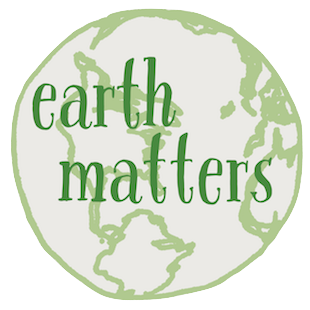 Earth Matters focuses on conservation, sustainability, recycling and healthy living.
If Earth Matters to you, sign up for our mailing list and get the next installment delivered bright to your inbox.
by Jocelyn Jane Cox
"What are you going to do this summer?"
This is the question on almost every parent's lips, now that the strange experiment called distance learning comes to a close. We're all processing uncertainties and trying to figure out how our kids can have fun safely, whether they go to a traditional summer camp or not. For those of us who are keeping our kids at home this summer, it turns out that Strawtown Studio is providing an interesting option: what they are calling their NatureArt Adventure Box Program.
Strawtown is located in Nyack and they usually run their summer camp out of Marydell. But this year's plan is designed to provide simple ways for kids and parents to step out into nature together, see the natural world in a new ways, and create some art. I was looking for something remote for our 7 year-old, but didn't want anything too screen-focused, since we've been on screens so much for school (etc!) during the pandemic. As soon as I heard about this concept, which will encourage us to get outside together, I felt at least part of our summer plan shift into place. You might have heard my sigh of relief echo throughout the county.
Strawtown's program includes one weekly Zoom–on Tuesday afternoons starting in July–which will include instruction and creative ideas, with a chance for the kids to share their thoughts and their work, if they want to. It will also include an illustrated activity book and an art box filled to the brim with materials. Mostly, it will include inspiration for getting into nature for the rest of the week.
I got a sneak peek at the art box this weekend. It's kind of like a briefcase you can take on-the-go, packed with a beautiful array of supplies that are familiar (like clay, watercolor paints, wooden beads) and less familiar (gold leaf, muslin, sandpaper). And yes, our son's eyes widened when he spied a roll of colorful patterned duct tape (no idea what we will do with that, but I suspect we'll like it).
"As soon as we step out of our doors, it's an adventure," says Strawtown Studio's founding Director Laurie Seeman. "Really, earth is the teacher and we are just facilitating." Along with Program Director Joanna Dickey, and the rest of the Strawtown team, Strawtown prides itself on not just providing creative ways to learn from and alongside nature, but also teaching kids handiwork and hand-skills, such as the lost art of tying knots. Some of the activities will work with yarn, string, and craft wire. The projects are meant to be both fun and confidence-building.
Since Strawtown was founded over 18 years ago, they've seen just how much kids love making a connection between art and natural science. "We want to help parents see how simple this can be," Seeman says, "and how it can lead to further exploration. It's kind of like we're offering a cookbook and recipes, but once you've got it, you can also cook your own recipes if you're inspired to."
Mostly, Strawtown is interested in fostering a sense of surprise: we might surprise ourselves and each other, which leads to, in Seeman's words, "open eyes, open mouth, and an open mind." In a way, Strawtown activities happen twice: first, inside the class-time itself; and second, for the rest of the week, when kids (and parents) see their environment through a different lens. Seeman says that it's all a way to "expand our sense of awareness… of place, of self, and of purpose."
Since schoolwork was winding down this week, we tried some of the guided activities that Strawtown has been offering in the last few months. It was like summer-camp pre-gaming. Our son chose an activity called "Plant Form Shadow Drawing," in which we were encouraged to use the sun as our art partner (she said yes!). Then we traced plant "skeletons." Next, as a family, we made a "Ground Sculpture." Our son loved running all over the yard gathering sticks, flowers, rocks, and pinecones. As intended, he discovered some things growing on our property, like red berries, that none of us had noticed before. We had fun working together to make an art piece. We built it inside our son's "secret fort," which is a little clearing inside a bunch of forsythia bushes in our front yard. I can imagine us trying both of these activities again, and layering in more of the suggestions. For example, next time around, we could work with the shadows at different times of day or try to make a sculpture with a particular palette, or a more defined shape. The main thing is that our son enjoyed the process–it was all simple and flexible.
The NatureArt Box Program is geared toward children ages 5-13 and their family and friends. Both local families and families from around the country can take part in this adventure. The box can be shipped or dropped off on your front porch. And right now it's especially nice to not have to go to the store or search online for materials–all participants will be using the same items.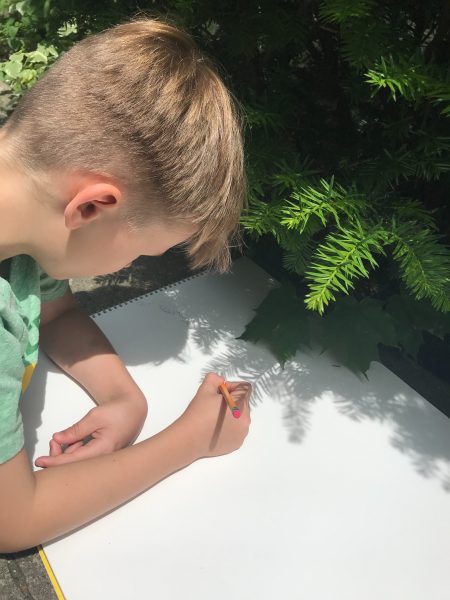 Over the years, I've heard great things about the Strawtown camp offerings and I'm acquainted with lots of people who have taken part. I'm excited to follow along with this hands-on program and also use it as a jumping off point as I try to approximate some kind of camp experience at home. Lindsay Siegel, of Nyack, who has taken part in Strawtown programs in the past, signed her boys up for the NatureArt Box because, "Strawtown both celebrates the beauty of nature and offers the most creative arts programming. I know that whatever they offer will be brimming with clever and engaging activities for our kids."
For many of us, these last few months have been a time of reconnecting with nature. This program formalizes the process a bit, in a hands-on way. I suspect that it will provide exactly the right balance of structure and freedom that a lot of families are searching for right now.
To learn more about Strawtown Studio's summer 2020 program, check out this short video and its website.
Jocelyn Jane Cox is a  freelance writer and author. Her 2012 humor book on life in the New York suburbs, The Homeowner's Guide to Greatness: How to handle natural disasters, design dilemmas and various infestations, is available on Amazon.com. Follow her on Twitter at @JocelynJaneCox.
Read Earth Matters every Wednesday on Nyack News And Views, or sign up for the Earth Matters mailing list.
Earth Matters  focuses on conservation, sustainability, recycling and healthy living.