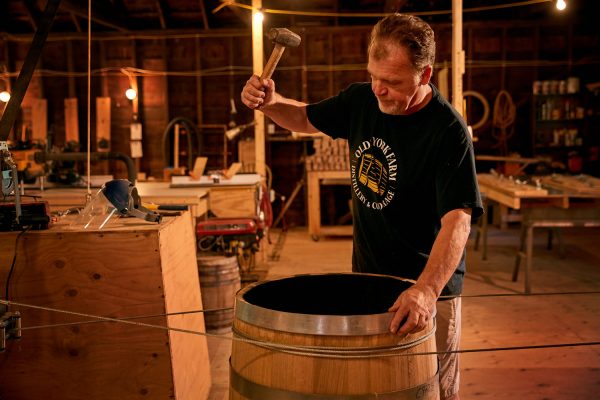 by Nate McCarthy
At Olde York Farm in Claverack, NY, founders Louise, Stuart, and the couple's daughter, Sophie Newsome, are reviving old Hudson Valley traditions while making unique artisanal spirits.
Longtime residents of Nyack, the Newsome family founded Cooper's Daughter Spirits after purchasing a historic farm nestled along the Claverack Creek in Columbia County.
[ad_tag_rotate ata="57″ dr="R"]
Cooper's Daughter produces exquisite small batch spirits from Hudson Valley grain and fruit. In addition to a distillery and cooperage, the farm also houses a tasting room where guests can enjoy their spirits and sample ciders and wines from New York State.
The idea to start Cooper's Daughter Spirits stemmed from Stuart's love of American history and his daughter Sophie's passion for farm-to-table food and drink. "It was the perfect marriage of family interests," says Sophie, co-owner, flavor developer, and operations manager.
A skilled carpenter of 40 years, Stuart was ready to leave the building trade. Little did he know that opening Cooper's Daughter would involve renovating a 250 year-old historic barn. "It was practically ready to fall down when we purchased the property," Sophie says.
The property itself is steeped in tradition: it's part of the historic Jacob Rutsen Van Rensselaer House & Mill, a complex of 14 related buildings in Claverack, NY. Rensselaer also had his own distillery and cooperage located on the complex in 1805.
It Takes a Village to cover our villages.
Local news matters now more than ever. Nyack News and Views has covered news, arts and culture in and near the Nyacks for a dozen years. During the COVID-19 crisis, we've doubled down on content, bringing readers service-oriented news you can use.

We need your help – NOW – to continue this work. Please consider making a one time or sustaining donation to Nyack News And Views. Thank You!
A commitment to using seasonal and local ingredients lends Cooper's Daughter spirits a distinctive Hudson Valley character. One of their most popular products is a Black Walnut Bourbon. "In the early spring, we tap black walnut trees for a rare nutty sap. It's the same process of making maple syrup, just much more rare," Sophie says, noting what a prize black walnuts are, if you can find them, lending the bourbon a one of a kind flavor profile. "We are very lucky to be so close to the source of some of the best ingredients in the world and are constantly inspired," says Sophie.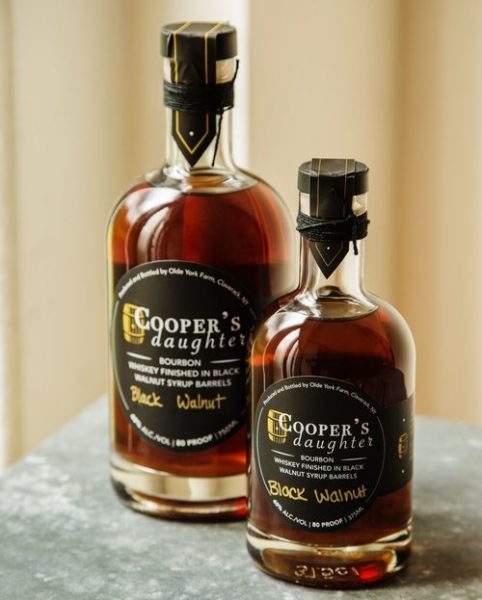 Another spring favorite is their Wild Ramp Vodka. Made with ramps (also known as wild leeks or spring onions) foraged from the Hudson Valley, the vodka makes for an intriguing addition to a classic cocktail, and is an ingredient used to make the Bloody Mary they serve at the distillery.
With the onset of the Coronavirus pandemic, Cooper's Daughter has temporarily shuttered their tasting room. And they have been raising funds for hand sanitizer, which they have donated to healthcare workers and first responders.
The distillery remains open for pick-up. They have installed a contactless drive-thru window and are also offering free delivery within 10 miles of both Claverack and Nyack, NY. For a list of stores that carry Cooper's Daughter Spirits or to place an order to be shipped visit www.oldeyorkfarm.com
CUCUMBER SANDWICH (recipe: Cooper's Daughter)
2 oz London Dry Gin
1 oz Cooper's Daughter Thai Basil Liqueur
1/2 lemon squeezed
garnish with cucumber slices
Directions: Add the gin, lemon juice, and thai basil liqueur, then fill with ice and shake vigorously. Fine-strain the liquid into a chilled coupe or martini glass, garnish with cucumber slices, and serve.
The regular Nyack Weekender is on hiatus during the pandemic. In its place we are inviting community members for their recommendations of books, movies, TV shows, comfort foods, etc for each weekend. You can get each week's update delivered to your mailbox auto-magically every Friday morning, by adding your name to our mail list. Visit our online sign-up sheet to subscribe.