This week in the villages: On Wednesday, the Village of Nyack Architectural Review Board will meet to review Montefiore Nyack's application for a parking structure. Proposed product samples are on view in Village Hall windows. The Nyack Village Board also passed a temporary ban on gas-powered leaf blowers. The Town of Clarkstown will hold a webinar on reopening small businesses, and its Memorial Day Ceremony will be held virtually. Rockland County will begin its mosquito control program. And Nyack's own Mask Makers entered a statewide PSA video competition.
Village Tax Increases for 2020-21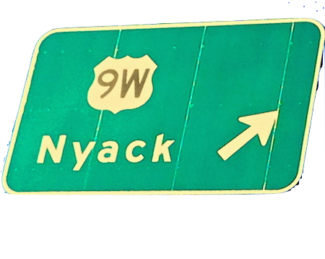 Municipalities across New York State are bracing for the impact of COVID-19 on their annual budgets. Two of the Nyack river villages will exceed NYS's tax cap of 2%, having announced 2020-21 rates of 4.82% and 4.77%. Read all about it in Coronavirus Collateral Impact: Nyack Village Tax Increases.
Village of Nyack
Temporary Ban on Gas Powered Leaf Blowers
The Nyack Village board passed a temporary ban on gas-powered leaf blowers at the May 14 village board meeting. The ban will be in place through the end of the school term.
Wed, May 20, 2020 Architectural Review Board Meeting
The Montefiore Nyack Hospital parking structure application is coming before the Architectural Review Board on Wed, May 20, 2020 at 7p. The meeting will be held via ZOOM and access will be provided for all parties. Proposed product samples to be used on the hospital parking garage will be displayed at Village Hall in various ground level windows. They may be viewed through the glass entrance doors and windows on Broadway through Tue, May 19 continuously throughout the day. Gloves, masks, and social distancing are required at all times. The plans for the parking structure may be viewed on nyack-ny.gov.
In addition to making and distributing over 12,000 cloth masks in Rockland, Nyack Mask Makers has entered a statewide video competition to create a PSA to encourage mask wearing. The top five videos will be posted, and New Yorkers can vote for their favorite. The winning video will be used as an official wearamask.ny.gov PSA.
It Takes a Village to Cover Our Villages.

Local news matters now more than ever. Nyack News & Views has covered news, arts, and culture in and near the Nyacks for a dozen years. During the COVID-19 crisis, we've doubled down on content, bringing readers service-oriented news you can use.
We need your help–NOW–to continue this work. Please consider making a one time or sustaining donation to Nyack News & Views. Thank You!
Changes to Overnight Parking
During the COVID-19 pandemic, the Village of Nyack has taken the opportunity to review its parking regulations. It has implemented changes in the interest of public safety and ensuring that streets are cleaned. On May 6, 2020, the Village of Nyack Parking Authority began enforcement of "No Parking on Village Streets" from 3a to 6p in the downtown area including:
Main St from Midland Ave to Broadway
Broadway from Cedar Hill Ave to First Ave
Franklin St from High Ave to Depew Ave
The Parking Authority will also enforce safety violations, including blocking of fire hydrants, parking too close to corners, blocking of crosswalks, vehicle inspections, and other parking infractions. Information on these and other parking changes may be found on nyack-ny.gov.
A Show of Support for Montefiore Nyack Hospital
In order to provide a small bit of joy to the staff of Montefiore Nyack Hospital, the hospital is looking for musicians from the community who would be willing to do a short, solitary set of music during the hospital shift change around 7:15a and 7:15p each day. The musician would stand on the corner of Haven Court, near the hospital (but a very safe distance away), and play or sing a set of their choice.
Interested musicians and vocalists may sign up here. The sessions will also be shared with the hospital on a Facebook page that recognizes the bravery of our first responders and hospital employees. If you have any questions, please contact Melody Patrick, Recreation Director, Village of Nyack.
The Village of South Nyack
Free Masks for Senior Citizens
The Village of South Nyack has obtained face masks from New York State. Seniors who are South Nyack and Grand View residents may pick up a face mask at South Nyack Village Hall, 282 S Broadway from 9a-4p M-F. The masks are individually wrapped and reusable. If you are unable to come in person, please call Village Hall at 845-358-0287 and arrangements will be made for a mask to be delivered to you by a member of the police department. Visit southnyack.ny.gov for more information.
Village of Upper Nyack
Upper Nyack Village Hall and DPW Closed Until June 15, 2020
The Village of Upper Nyack Clerk's Office and Department of Public Works facility will remain closed to the public until June 15, 2020. For an URGENT matter for Village Hall or Dept. of Public Works you may call (845) 803-4298. For non-urgent matters, please call (845) 358-0084 or visit uppernyack- ny.us to see if your matter may be addressed there.
If you have documents to deliver to Village Hall, please place them in the drop box available during regular hours or in the green metal mail box located on the porch. The mailing address is: Village of Upper Nyack, 328 N Broadway, Upper Nyack, NY 10960 and the fax number is (845) 358-0741.
Face Masks Available at Village Hall
The Town of Clarkstown has provided the village with a limited number of cloth face masks at no cost. If you would like a free mask, please email Village.Clerk@uppernyack-ny.us. The clerk will make one available to you for contactless pickup.
Town of Orangetown
Orangetown Highway Department Drop-off Center
The Orangetown Highway Department Drop-off Center is now open on Mondays, Wednesdays, and Fridays. A list of COVID-19 Access Regulations and Safety Guidelines may be found on orangetown.com.
Town of Clarkstown
The Town of Clarkstown State of Emergency remains in effect and all town departments are open to the public for telephone inquiries, electronic communications, and electronic filings. In-person appointments with the public will be made on an emergency basis only.
To reduce exposure risks to Clarkstown's emergency service professionals, town officials are asking the public to only call the police for emergencies. If you are quarantined (mandatory or self-imposed) in your home due to possible or confirmed COVID-19 exposure, PLEASE advise the 911 dispatcher so it may be relayed to responding units. Officers will be initiating the interview process from outside your home and practicing social distancing when possible.
Tele Town Hall Mon, May 18, 2020, 6p (NEW TIME)
Join Supervisor George Hoehmann for an update on a group telephone call to ask any questions or bring up any concerns you may have. Call 845-203-6304 to join or watch on FB live.
Reopening Clarkstown: A Helpful Guide for Small Businesses Webinar
The Greater Nanuet Chamber of Commerce, the New City Chamber of Commerce, and Supervisor George Hoehmann are hosting a webinar to discuss the process of reopening small businesses due to COVID-19 closures on Thurs, May 21, 2020 at 9:30a. Town staff from the Building/Fire Inspector, Planning, and Law Departments will be present along with a representative from the SBA to discuss information helpful to opening. To join, please register or call (613) 992-3221 access code: 244-838-904.
Virtual Memorial Day Ceremony
The Town of Clarkstown will be hosting the Annual Memorial Day Ceremony virtually on Fri, May 22, 2020 beginning at 10a. The event will be streamed live on the Town of Clarkstown Facebook Page.
Community Centers
The Clarkstown Recreation Department has been filming activities for residents to enjoy while home and social distancing. They will be broadcast every day on the Town of Clarkstown Government Access Channels (Cablevision/Altice Channel 78 and Verizon Channel 35). A schedule for the week may be found on town.clarkstown.ny.us. There will be other recreation activities broadcast on FB Live (on the Town of Clarkstown Recreation & Parks) led by recreation staff and volunteers at 11a each day. Videos will also be on the town YouTube Channel.
Clarkstown Mulch Site Open
Residents of the Town of Clarkstown may pick up compost and wood mulch during regular park hours for use at their residence at Germonds Park, 185 Germonds Rd, West Nyack.
Rockland County
Mosquito Control Program Begins Mon, May 18, 2020
The Rockland County Health Department will be treating catch basins and storm drains to prevent mosquitoes from breeding in standing water inside of these structures beginning Monday. If you see staff on the roads in county vehicles driving slowly doing these treatments, please be patient. Also, try to avoid parking over storm drains while county staff are doing the treatment work so that they can access the catch basins more easily.