by Amy Alinkofsky
Although Rockland Center for the Arts (RoCA) remains closed due to NY Pause, it continues its mission of enrichment through the arts with programs that will inspire you to create in the current, collective situation. Two virtual events are being offered: The Influence of Rockland's Mary Mowbray-Clarke, a lecture on her profound influence on art and culture; and Creativity & Well-Being: Building on the Synergy, a workshop to engage creative problem-solving capacity.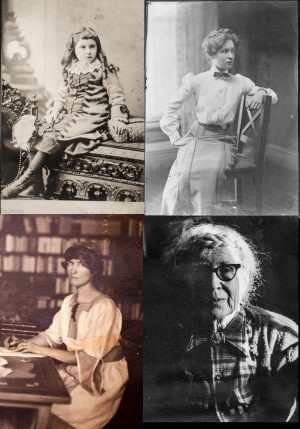 On Thurs, May 28, 2020 at 8p, art historian Justin Duerr will give an overview of the multi-faceted artist and counter-cultural maven Mary Mowbray-Clarke, her life's-work, and her social circles. It will include dozens of unseen letters, photographs, artworks, and diary excerpts. Mary Mowbray-Clarke (1874 – 1962) was a Rockland County woman whose influence on art and culture was vast and profound, though usually undertaken "behind the scenes," and therefore often neglected or omitted in official histories.
Born Mary Horgan, she came from a large working-class Irish Catholic Nyack family. Enrolling in classes at the Art Students League in 1890, when she was only 16, Mary was one of the few female alumna of the League to have found work as a professional illustrator, drawing battleships for the Boston Herald during the Spanish-American War. She met Jamaican-born British sculptor John Mowbray-Clarke while teaching art at the Finch School on the Upper East Side in 1904. They married in 1907, and in 1908 purchased a farm in Rockland County which they named "The Brocken." The Brocken quickly became a nexus for creative visitors, with Mary and John creating a very informal "art colony" inspired by the philosophies of artist/socialist William Morris and the anarchist intellectual Peter Kropotkin, among others.
Beginning in December 1933, she became the only woman to head a major WPA landscaping project, overseeing a crew of bricklayers, masons, and laborers to create Dutch Gardens, which still stands in New City, located behind the county courthouse. Upon Mary's death in 1962, thousands of papers in her archive, which were variously squirreled away in crawlspaces and crannies at the Brocken and the adjacent studio, began to drift away to the four corners of the earth. Some were burned, some were salvaged and placed in academic archives, some were saved by family or neighbors, and some were left to decay. The research for Duerr's Mowbray-Clarke biography, which will likely need to be a multiple volume set, draws upon all of these sources.
On Tue, June 2, 2020 at 3p, join artist-educator Diane Rosen for an art workshop focusing on the synergy between creativity and well-being. Creativity is part of human nature. Especially now, it's important to recognize and engage our innate creative problem-solving capacities. This workshop focuses on key attitudes/ habits of mind that enable you to tap your creativity more effectively and express it more confidently. In turn, the satisfaction of creating anything new and personally meaningful is known to enhance a sense of overall well-being. The interactive session features creative strategies that can help us thrive, even in uncertain times. Once you register, three activity pages (PDF format) for use during the inter-active session will be available to download.
The cost for each of these virtual sessions is $10. Once you have registered, the Zoom meeting information will be provided. To ensure you can join on time, please use the Zoom link to register at least a few minutes before the start time.
For more information please contact: info@rocklandartcenter.org, or visit www.rocklandartcenter.org. Rockland Center for the Arts is the oldest arts organization in Rockland County, presenting outstanding programming in the arts for over 70 years. Center for the Arts is located at 27 South Greenbush Rd, West Nyack, NY 10994.
RoCA's programs are made possible, in part, with funds from the New York State Council on the Arts, with the support of Governor Andrew Cuomo and the New York State Legislature. Funding is also made possible by the County of Rockland.