Although Rockland Center for the Arts is temporarily closed due to the stay-at-home order, it is bringing its mission of enrichment through the arts to you. Some of its amazing teaching artists are excited to present FREE Virtual Art Workshops and Live Demonstrations for both children and adults. So if you're tired of binge watching shows and eating everything in sight, why not create a piece of art? And if you can't bear the thought of walking around your neighborhood another time, the Catherine Konner Sculpture Park is now open.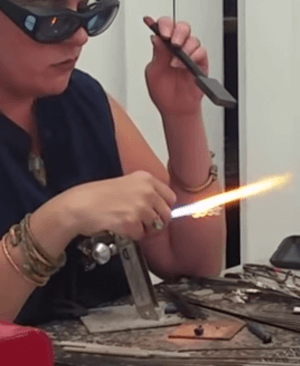 On Thurs, May 7 at 4p, acclaimed glass artist Stephanie Maddalen will teach you how to create beautiful objects using the tools and techniques of lampworked glass beads. Starting with the simplest and easiest process of winding glass onto a mandrel and on to working with trickier fish-shaped beads, this tutorial will open a world of possibilities for those eager for a new creative experience.
On Sat, May 9 from 1-2p, join artist Colleen Vanderhoef and create a portrait of your cat, dog, hamster, or favorite member of the animal kingdom by using a number of drawing techniques and any media available on hand. You will be shown step-by-step how to prepare and make a piece of art. All levels of creativity and talent are welcome. Materials needed include: drawing supplies (pencil, crayon, color pencil, etc), paint (watercolors, acrylics, etc.), and a surface (paper, canvas, cardboard, etc.). Each child's final creation will be featured in RoCa's online art exhibit.

On Sat, May 16 from 1-2p, artist and teacher Catherine Graham will guide you and your children in the step-by-step method for creating beautiful nature prints using supplies found at home. This online demonstration will give participants the know-how to make their own ink to transfer one-of-a-kind leaf impressions onto paper which can then be drawn into with markers and colored pencils. It's a fun activity for the entire family and a list of materials will be sent upon registration.
Flash Sketch Zoom Mob with Bill Batson
On Sat, May 16 at 12p, Nyack Sketch Log author and illustrator Bill Batson will drag and drop his Flash Sketch Mob from the sidewalk to your computer screen.
The first Flash Sketch Mob was held in Nyack in June 2012 when 100 participants of all ages and skill levels took up art making positions every 12 paces from Cedar Hill to Second Avenue on both sides of Broadway. All of the works created in the afternoon were scanned for a slide show that was projected on a wall that evening. Now, you are invited to use the flash sketch mob method to share some aspect of your quarantine. Unlike a typical Flash Sketch Mob where a group of people would draw segments of the same landscape, this event will incorporate the notion that we are alone together.
All will gather on Zoom at noon and go over some basic guidelines. You will be given your prompt at the beginning of the session and will then work on the prompt for one hour while being serenaded by some local musicians. You are encouraged to aim your camera at your work in progress. After an hour, we will view each other's work. For those who wish to have their work incorporated into a flash sketch zoom mob slideshow, you are invited to send digital images of your work to RoCA. A slide show of the world's first Flash Sketch Zoom Mob will be posted on RoCA's website later in the month.
To register for any of these Virtual Workshops and Live Demonstrations and receive the Zoom meeting information please send an email to
CampRoCA@gmail.com
with your or your child's name and which event(s) you would like to attend.
The Catherine Konner Sculpture Park Has Reopened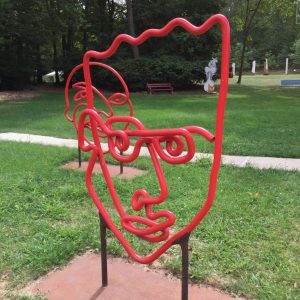 For those looking for somewhere different to walk and get outdoors, the Catherine Konner Sculpture Park is now open again and is free to the public. Visitors should adhere to social distancing, wear masks, supervise children, and only use the park during visiting hours (dawn until dusk). Please be aware that the building is temporarily closed and there are no restrooms available. And kindly take all masks and gloves out of the park with you.
For more information please contact: info@rocklandartcenter.org, or visit www.rocklandartcenter.org. Rockland Center for the Arts is the oldest arts organization in Rockland County, presenting outstanding programming in the arts for over 70 years. Center for the Arts is located at 27 South Greenbush Rd, West Nyack, NY 10994.
RoCA's programs are made possible, in part, with funds from the New York State Council on the Arts, with the support of Governor Andrew Cuomo and the New York State Legislature. Funding is also made possible by the County of Rockland.