by Juliana Roth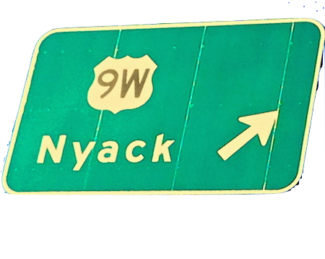 With municipalities hit hard across the country and New York State waiting to see when and how federal aid pans out, the Nyacks brace for the impact of COVID-19 on their economies. Meanwhile, budgets are due. How did each village respond?
Nyack: Downtown on Pause
Nyack's tax rate for 2020-21 was set at 4.82%, exceeding Governor Cuomo's Tax Cap of 2%.
"This is one of the hardest budgets we've ever done. All of the villages came out generally the same with a 4.5-5.5% tax raise, except for Upper Nyack," said Nyack Mayor Donald Hammond. "In Nyack, the overall year to year budget went down but the tax rate went up because of the very, very difficult revenue side. We don't even know if the budget is right, but we really don't know what to expect. Are we opening back up next month or in September?"
Property taxes account for 68% of Nyack's proposed 2020-21 revenue of $5,752,877 compared to the 6% of revenue brought in by non-property taxes.
The village's largest expense is personnel, which saw a bump as a result of collective bargaining and an increase in overall cost of operation over the past year. The town also budgeted for infrastructure improvement expenses: upgrades to sidewalks, water distribution systems, benches, and LED lights. But the future of these projects remains unclear.
Nyack relies on $80,000 in state funding for road repairs and other rebuilding grants, but there's a chance the state could pull back. "The next aid package has to take care of states and local municipalities. We are the ones on the forefront of responding to this crisis and we need to provide services to our communities. We need some relief," Hammond said. Meanwhile, recreation services and related expenses, save for the Nyack Center, are suspended across the villages.
Hammond is thinking of ways to keep the balance. "Look, this is not about expenses. You've got to manage both revenue and expense. We're in a different world right now. We've furloughed staff, changed some health benefits around for non-union employees, but are those revenue numbers going to come in the way we've projected? This has completely changed the way we manage the village."
Your donations made this story possible.
Local news matters now more than ever. Thanks to your support, Nyack News and Views has added additional coverage during the pandemic, hiring local journalists to write COVID-19 related articles. Your donations funded this story.


We need your help – NOW – to continue this work. Please consider making a one time or sustaining donation to Nyack News And Views. Thank You!
South Nyack: Maintaining Roads and Police
South Nyack's property tax increase came in at 4.77%.
The village budgeted for a 2020-21 revenue of $4,192,902 with approximately 75% of this income coming from property taxes at the new rate of 17.68%. South Nyack's largest expense goes to street maintenance, $683,816, and to its police force, $1,548,284.
"This particular budget was difficult for the Board of Trustees as we had to raise village taxes above the tax cap. Our goal is to make this a one-time increase above the cap to insure that our village stays solvent given the anticipated loss in revenue we would normally get from the state and the county due to the effects of this pandemic," said South Nyack Mayor Bonnie Christian. South Nyack was planning to discuss the purchase of the Olsen property on South Broadway, but talks are on hold. "We are sensitive to the financial stress that many of us are currently under and the village feels that as well. Budget concerns are being echoed throughout the villages and towns in Rockland, as well as the state and nationally."
Upper Nyack: Looking to Preserve
Compared to the other villages, Upper Nyack's 1.7% tax rate increase approached but did not exceed the Governor's Tax Cap.
69% of Upper Nyack's 2020-21 revenue is expected to come from the increased tax rate, accounting for $2,096,000 of $3,027,050 of projected funding. Much of the village's expense goes to the highway department for road repair, and to sewer system treatment. The village continues to invest in the preservation of the Hester Haring Cason Preserve.
Upper Nyack Mayor Karen Tarapata is waiting for the fall to offer her thoughts on the year ahead, but continues to join efforts across the villages for coordination. Representatives have been meeting every week instead of every other month to facilitate a shared response to the pandemic and the effects COVID-19 will have on the fiscal year ahead.
Nyack's Hammond is hopeful that services will continue to be shared between the villages. "We are confident we did our best. We've trimmed when we could."
Juliana Roth is a writer from Nyack, NY and  serves the Chief Storyteller with Edward Hopper House.