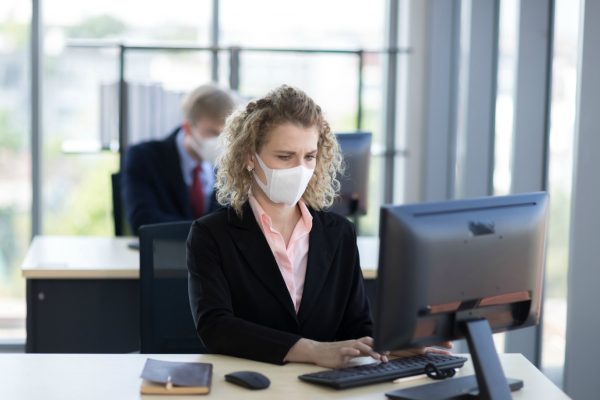 by Jane Cowles
As the restrictions of COVID-19 begin to lift, you may wonder how much room you will have to keep you safe. These are just a few of the questions you may have about workplace safety and your rights. If you are uncomfortable with going to the office, will you be able to work remotely? What safety precautions must an employer take? What are your rights if you believe you will get sick in the workplace?
Laws that Protect Employees
OSHA does not have specific regulations for COVID-19. However, OSHA does have requirements that employers must follow to protect the health and safety of employees. OSHA standards require personal protective equipment (29CFR1910 and 29CFR1910.134) for employees, a sanitary workplace (29CFR1910.1200), and a workplace that is free from hazards (29 USC 654(a)(1)). For additional details, read the OSHA guidelines for preparing the workplace for COVID-19.
The National Labor Relations Act (NLRA) protects employees in the private sector by allowing them to file a complaint. If you feel your workplace is a "hazard," you can file a complaint with the National Labor Relations Board. For more information, visit the NLRB website.
The Families First Coronavirus Response Act gives expanded protection for employees during the COVID-19 pandemic. Mainly, it provides rules relating to paid sick leave for employees impacted by COVID-19. Visit the Department of Labor website for additional details.
Can An Employer Fire You For Not Returning to Work
The short answer is yes. You cannot refuse to go back to work because you are apprehensive about your safety due to COVID-19. We will most likely see a rise in employee discrimination cases due to issues resulting from COVID-19.
Precautions at the Workplace
We will see a lot of changes to the workplace as employees start to go back to the office. Protective masks, gloves, glass barriers between desks, and requiring employees to check their temperature are a few of the measures that most likely will be taken. Some employers may continue to have employees work from home, or perhaps come to the office on rotating schedules to prevent COVID-19 from spreading. For more information, read this article form the New York Times.
This information is provided for general informational purposes only. No information contained in this article should be construed as legal advice and does not establish an attorney-client relationship.
Jane Cowles is an attorney focusing on contract law, business law (start-up, planning and restructuring), tax law and art law. She has over 10 years experience working with business transactions at boutique law firms and as a tax advisor for Ernst & Young. She has a solo practice in Rockland County and advises creative professionals, small businesses, and entrepreneurs. She is available to help with all the challenges individuals and business currently face with the COVID19 pandemic. For more information, visit her website www.janecowlesattorney.com or email her at jane@janecococowles.com. She is offering 30 minute FREE consultations by telephone or video conference.