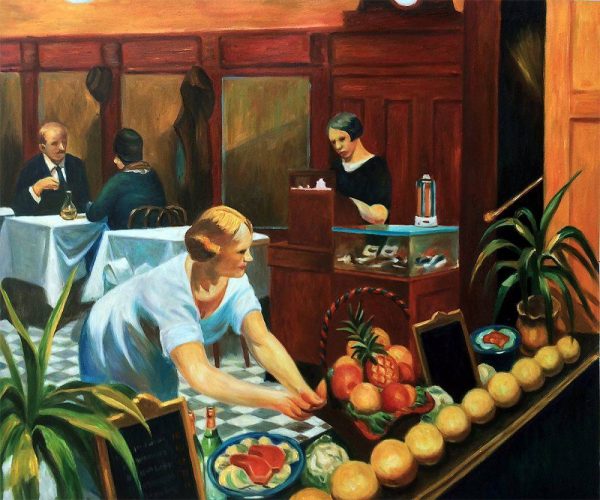 by Juliana Roth
March 5th, 1928: "I have just begun to use my typewriter again so here goes a note to you. Perhaps when that old furnace of yours needs no more of your attention you can find time to send me a note," reads a letter sent to Marion Hopper by her friend Ethel. Ethel lived a few blocks away from Central Park and the Metropolitan Museum of Art, and the museums bought 15 of Edward Hopper's etchings three years prior.
Three years later, the museum would purchase Table for Ladies. The title referred to a new policy advertised by restaurants in the '20s and '30s: women–well, mostly white women–would be allowed to dine together, alone. They would no longer be kicked out, seen as sex workers. Their solitude, their desire for a public setting for a private exchange, was slowly being permitted space. Allowed to exist.
But the painting depicts women at work: one at the register of the cafe and another arranging fruit in the window display. My eye goes to her. Unlike the woman at the register, this woman's eyes are not on her work. She is closest to the window, seemingly watching something pass on the street. By not paying attention to the duty before her, she commits a brief act of rebellion, one heightened by the man and woman sitting as a couple behind her, and the singular vacant table in front of them. When would she be allowed to sit?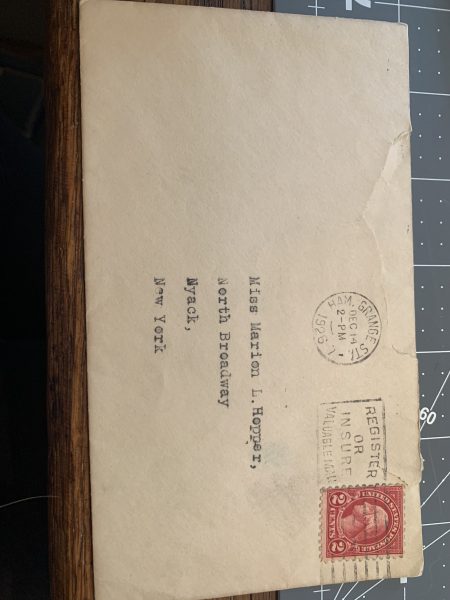 In 1928, there was still a lot to discover about human beings, and the possibility that women might be one of them. These were the years that the Peking man was identified after the discovery of a single tooth, predating the Java man which had previously been known as the first Homo erectus fossils. The Peking discovery led to the unearthing of dozens more fossils, but they would disappear from China after 1941 during Japan's invasion.
By 1928, women had secured the right to vote for eight years. Amelia Earhart became the first woman to cross the Atlantic. Meanwhile, Marion Hopper received and penned letters at her childhood home. She was not her mother nor Amelia and certainly didn't live the life of Edward–or even, for that matter, Jo.
Who was she?
From reading Marion's journals and inferring what was on the other side of the letters she received, I'm curious what might've been discussed were Marion and Ethel to find a table for ladies. Marion's was largely a shuttered life, occupied with the daily hazards of a home, a precarious income, and little else. She was, perhaps, lonely.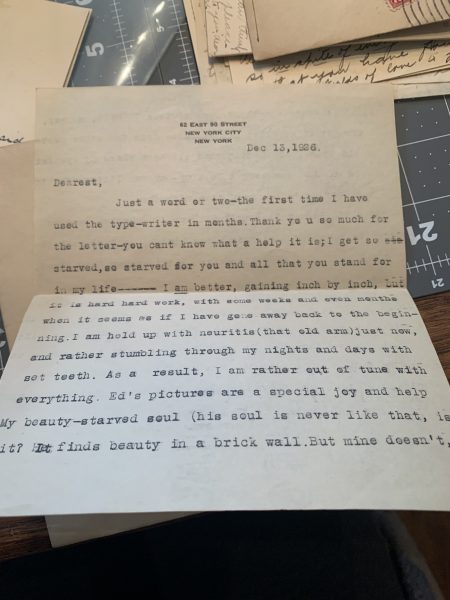 It seems it was difficult to be a Hopper woman. Gail Levin, Hopper historian and specialist, asks us: "Why bother with the work of women artists long consigned to the rubbish heap?" The near entirety of Jo's body of artwork was discarded by the Whitney Museum after her death and Marion's early inclinations towards art were not met with the same support as her brother's. And yet, Marion meticulously inventoried her daily life, recorded her judgments, and corresponded with her friends who wondered after her. Though she was a woman of her time, her daily attentions were quietly observed. She made them known. She was not silent. She wrote.
CITATION INFO:
Painting: Edward Hopper, Tables for Ladies, 1930, Metropolitan Museum of Art, © The Metropolitan Museum of Art
Two letters: Letters with Ethel, © Sanborn-Hopper Family Archive at Edward Hopper House Museum & Study Center
See also:
Juliana Roth is a writer from Nyack, NY and  serves the Chief Storyteller with EHH.
This series exploring the Edward Hopper archives is a collaboration between Nyack News & Views and Edward Hopper House Museum & Study Center.