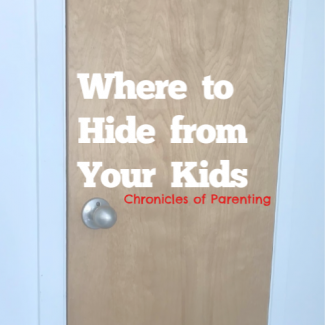 by Jocelyn Jane Cox
The coronavirus and 'safer at home' orders have placed many of us in extremely close proximity to our immediate families. The fact that kids have no school, no extra-curriculars, and no play dates affects them and affects parents, too. For some, this time together might be a beautiful thing… but it miiiiiight simultaneously increase claustrophobia exponentially.
In addition to feeding our kids, playing with them, cleaning up after them, trying to earn an income for them, we're now also teaching them. Sure, we might also feel compelled to obsessively hug them, filled with worry. But we need some space! And there are very few options these days. Here are some places to consider:
Bathtub: Leave your clothes on, pull the curtain closed (tape it to the tiles if you need to), and just slide to the floor for a few minutes of silence. No water or soap required. If your kids hate baths, then you know you're especially safe in there.
Closet: Don't even think about trying to Marie-Kondo this space while you're in there (or at any point during this pandemic, for that matter). Just lean back against the pile of old shoes, gaze at up at your clothes, and fantasize about that day in the distant (or super distant) future when you might get to wear them somewhere.
Under the covers: This works best if you don't make your bed; if you leave it extra lumpy then it will serve as camouflage for your exhausted body. Anxiety can be very draining and this hiding spot is extremely conducive to a much-needed nap.
Behind a Lamp: That big lamp in the corner might not buy you too much time, but it's easy to jump behind in a pinch, and every minute counts in this particular time warp.
Pantry: This area is probably extra spacious right now, because your child(ren) have already eaten through most of the snacks, and you haven't had the guts to go out to the store again.
Your mind: Let's face it, your kids are going to find you everywhere, and all we really have now is our imaginations. So travel far, far away in the hot air balloon of your brain, and watch from a distance as they poke, prod, and pull at you with all their annoying and inevitable needs. When the image fades, or the balloon pops, look them in their little eyes, and hug them some more. And forgive them when, in the weeks and months ahead, they understandably use a few of these spots to hide from you, too.
Jocelyn Jane Cox is a  freelance writer and author. Her 2012 humor book on life in the New York suburbs, The Homeowner's Guide to Greatness: How to handle natural disasters, design dilemmas and various infestations, is available on Amazon.com. Follow her on Twitter at @JocelynJaneCox.