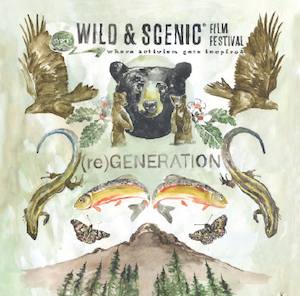 by Holly Caster
Stuck inside? Feeling quarantine claustrophobia? Bring the outdoor world into the comfort of your living room by live-streaming the Wild & Scenic Film Festival, April 22nd at 7p.
A two-hour selection of 13 short films will be presented FREE on the 50th anniversary of Earth Day. These films, ranging in length from two to 27 minutes, are sure to be enjoyed by all ages. Content includes new stories of conservation, animals and animal trafficking, insects, trees, cycling, litter, wire-walking, rainforests, autism, hiking, national parks, sculpture, and more. Of local interest, acclaimed New York filmmaker and adventurer Jon Bowermaster's A Living River focuses on the Hudson. Visit rivertownfilm.org for more information and to reserve your FREE spot and receive a private link to the event.
ROSA4Rockland, the grassroots environmental non-profit, and Rivertown Film, Rockland's only arts non-profit dedicated to motion pictures, have teamed up to present this creative and fun-filled evening of award-winning shorts that combine poignant story-telling and gorgeous cinematography. The event will be hosted by a live emcee, creating a film festival experience for all those watching from home.
ROSA hopes that offering this event when most annual Earth Day gatherings have been canceled will provide a much-needed boost for folks in the community and encourage respect for our planet and natural surroundings. Rivertown and ROSA suggest viewers create a Dine-in-Your-Own-Home-Theater experience by ordering take-out to support local restaurants.
Filmmaker Suzanne Mitchell, who serves as President of ROSA and as a Rivertown Film Board Member, believes that this live-streamed film festival is a fundamental example of future entertainment events. "There has never been a time in history where film exhibition has become more empowering than now, during the 'stay at home' mandate."
"Ever since our screenings had to shut down due to Covid-19, Rivertown Film has been 'keeping the faith' with our audiences by experimenting with online content," said Rivertown Board Chair Vera Aronow. "Now, we are thrilled to part of this event and hope people will sign on, take part, and let us know what is working so we can present more thought-provoking films."
For more information, go to rivertownfilm.org or suffernfilmfest.com.
The regular Nyack Weekender is on hiatus during the pandemic. In its place we are inviting community members for their recommendations of books, movies, TV shows, comfort foods, etc for each weekend. You can get each week's update delivered to your mailbox auto-magically every Friday morning, by adding your name to our mail list. Visit our online sign-up sheet to subscribe.