Nature-Connection, Discovery, Creativity, Local and Global Environmental Learning!
by Laurie Seeman
We become inhabitants of where we live more fully when we take time to be present outdoors. So often we leave little time for anything other than a "postcard" view of our natural world. Now more than ever, we are being called to open up and attune to our place in the living system of planet earth. This weekend, make quality time for your earth relationship.
Nature discovery and creating art programs is what Strawtown Studio is known for in Nyack. Few know that the programs are "place-based"–centered upon our local nature, culture, and history, and dedicated to instilling a sense of belonging to where we live and grow.
We see sheltering in place as an opportunity to gain a new appreciation for our home surroundings simply by taking time to notice the buds, the fragrance of the air, the emergence of the animals, and the return of life all around us. 
Earthwork artist Andy Goldsworthy, a close observer of nature throughout the seasons, once said in a lecture that he travels the world for his art profession, but he prefers to remain home. He added that when he travels he sees differences in nature, but when he is home he sees change. It's a good time to take a cue from the artist, and take up the artistic lens for added enjoyment in our quarantined time.
For this weekend, a simple earth art idea for being present outdoors: make stick ground sculptures.
The spring earth is soft and allows for sticks to be poked into the ground. First, arrange a number of Y-shaped sticks into the earth, then add horizontal sticks on top of the Y's, connecting them. Then add an arrangement of other natural materials, like harvested flowers, grasses, acorns, etc. You'll learn a lot about spring plants, insects, and rocks. This is an activity that is good for one person or a family, and children can keep going on their own once they begin. Discoveries may lead to natural science questions, and the internet holds many answers.
It Takes a Village to cover our villages.


Local news matters now more than ever. Nyack News and Views has covered news, arts and culture in and near the Nyacks for a dozen years. During the COVID-19 crisis, we've doubled down on content, bringing readers service-oriented news you can use.
We need your help – NOW – to continue this work. Please consider making a one time or sustaining donation to Nyack News And Views. Thank You!
At the parks
For those who are venturing out to the parks, there is more to appreciate about Rockland's natural environments that leads to interesting discovery. Parks are places where significant habitats meet–mountains, woodlands, meadows, river estuary. Few realize that the Rockland stretch of the Hudson River holds five of the 40 designated *Significant Fish and Wildlife Coastal Habitats! There are incredible fish and bird migrations happening along the river right now. 
Tree identification
The lower Hudson River valley is known as one of the hardwood capitals of the world for the great variety of hardwood, broad-leaf trees. Our wonderful trees are foliating now, and it is a great time for tree identification and befriending your trees.  
You don't need to know all the answers
When you spend time outdoors, rest assured that it's okay not to know the names of things. In fact, the names can prevent you from developing a relationship with the natural world. Asking questions can be the first step to building new relationships and starting open-ended conversations. Adding time for simple hands-on nature and art activities is a way to wonder and learn.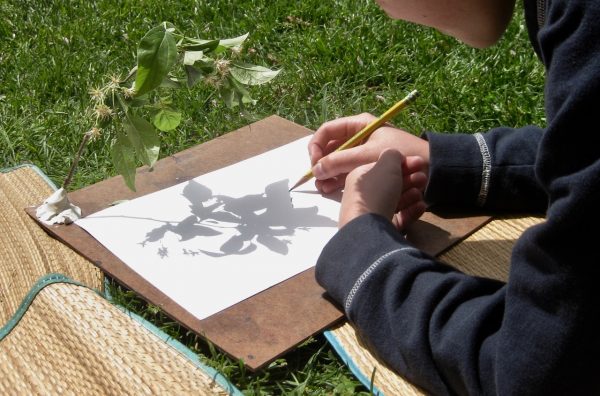 Shadow drawing
Strawtown's At Home on-line Guided Nature Activities.
In response to this time at home, Strawtown Studio artists/naturalists have created At Home Guided Nature Activities on-line. These FREE activities will show you how to explore your green spaces and backyards with an artistic lens.  Receive a new activity each week, accompanied by a short video. Also included are ideas for Taking it Further and Learning Add-Ons. You will find projects for working with: botanicals, shadows, eggshells, mud, and more.
This week's activity is in celebration of Earth Day: "Walking Lightly on the Earth: Footprinting and Shoe Printing." To access the activities, simply register with your email, and receive Strawtown's Bonus Companion Guide to Nature Learning.
This Earth Day weekend is a great time for developing local and global nature appreciation!
Laurie Seeman is Founder/Director and Lead Artist/Educator at Strawtown Studio.
See also: Nyack Sketch Log: Kids Explore Nature & Art at Strawtown Studio, 4/10/2018
The regular Nyack Weekender is on hiatus during the pandemic. In its place we are inviting community members for their recommendations of books, movies, TV shows, comfort foods, etc for each weekend. You can get each week's update delivered to your mailbox auto-magically every Friday morning, by adding your name to our mail list. Visit our online sign-up sheet to subscribe.