This week in the villages: As coronavirus hits more and more people, Montefiore Nyack could use your support: donate needed supplies or food, or provide music at shift changes for the hard-working hospital staff. If you've worked in the medical field and are not currently working, the hospital would like to talk to you about joining its staff. It's also census time. Please complete the census and make sure you are counted so that funding for essential services and programs will continue.
2020 Census
Everyone should be staying home, so there's no excuse not to complete the 2020 Census and help your community get federal funding for essential programs and services like schools, roads, emergency readiness, food assistance, and Medicaid. Please complete the census, and encourage your family and friends to respond as well. It takes an average of 10 minutes. You may respond online, via phone, or by mail. Visit 2020census.gov.
Rockland County
For the most up to date information on the 2019 novel coronavirus (COVID-19), please visit the Rockland County Department of Health's main coronavirus webpage or the Centers for Disease Control and Prevention webpage.
Anyone who believes they may have been exposed or is experiencing symptoms should contact their physician or call the NYS COVID-19 HOTLINE 24/7 at 1-888-364-3065 for guidance. You can also sign up for coronavirus updates from New York. Learn What You Can Do About coronavirus (COVID-19) right now.
Mass Transportation Changes
Rockland Coaches has now suspended all service. At this time, it plans on resuming some level of service at the beginning of May. For further information on schedule changes, visit the Rockland County Public Transportation Transit Alerts page.
Village of Nyack
There will be a workshop for the 2020-21 Village of Nyack budget on Mon, Apr 6, 2020 at 6:30p followed by a public hearing on the budget at 7:30p. The Nyack Village Board will also vote on Apr 6 to pass a resolution to give the trustees flexibility to override the NYS 2% tax cap, if required. All meetings are open to the public via the Zoom online application.
Montefiore Nyack Hospital Needs Your Help
It's also not too late to join the Nyack Mask Makers: sew, donate, or help distribute masks to those who need them.
A Show of Support for Montefiore Nyack Hospital
In order to provide a tiny bit of joy to the staff of Montefiore Nyack Hospital, it is looking for musicians from the community who would be willing to do a short solitary set of music during the hospital shift change around 7:15a and 7:15p each day. The musician would stand on the corner of Haven Court, near the hospital (but a very safe distance away) and play or sing a set of their choice.
Interested musicians and vocalists may sign up here. The sessions will also be shared with the hospital on a Facebook page that recognizes the bravery of our first responders and hospital employees. If you have any questions, please contact Melody Partrick, Recreation Director, Village of Nyack.
COVID-19 Changes
Nyack Village Hall remains closed to both employees and the public until further notice, and the Department of Public Works will be picking up the trash as scheduled – Mondays & Thursdays. Contact information for Village Hall staff may be found at nyack-ny.gov.
Changes to Bulk Pickup
Staying home has given many people the opportunity to get a jump on spring cleaning. As a result, the garbage crews have been picking up a lot of excess trash and bulk items the past few weeks. At this time, the DPW is working on a modified staffing schedule. All residents are asked to please limit any bulk to one or two items. If possible, please hold the bulk until the next collection–always the first Friday of the month–and hopefully everyone will be accommodated in a month or so. The first goal is the safety of the crews, while balancing the needs of the residents.
The Village of South Nyack
Hillside Ave/Shadyside Ave Construction Update
Yonkers Contracting Co. will be completing the intersection at Shadyside and Hillside Avenues, beginning on or about Apr 10, 2020. As a result, Shadyside Ave will be closed to traffic in both directions at Hillside Ave. Residents can continue to access Shadyside Ave from Rt 9W, using South Boulevard and South Highland Ave, or Old Mountain Rd. Detour signs will be in place prior to the closure, and a variable message sign has been installed at the foot of Shadyside Ave informing residents of the impending closure. This closure will be in effect for several months.
Residential Construction
In accordance with Executive Order 202.6, all non-essential construction must shut down except emergency construction (e.g. a project necessary to protect health and safety of the occupants, or to continue a project if it would be unsafe to allow to remain undone until it is safe to shut the site). Essential construction may continue. That includes roads, bridges, transit facilities, utilities, hospitals or health care facilities, affordable housing, and homeless shelters. Sites that cannot maintain social distancing protocols and safety best practices must close. Enforcement will be provided by the state in coordination with the city/local governments. This will include fines of up to $10,000 per violation.
The Village of Upper Nyack
Public Hearing on Tentative 2020-2021 Village Budget
A public hearing on the tentative budget for the Village of Upper Nyack will be held on Thurs, Apr 16, 2020 at 7:30p via teleconference. A copy of the tentative budget is available on uppernyack-ny.us.
Update on Postponement of Village Elections
In accordance with Executive Order 202.13, which was issued the morning of Mar 30, 2020, all village elections, including the previously postponed March village elections, and all village elections scheduled to take place in April or May of 2020, have been postponed to a TBD date. The village is also awaiting guidance on the status of absentee ballots already collected and that information will be shared when it is received.
Two trustees will be elected for two year terms. The two candidates from the Bell Tower Party are Jeffrey Epstein and Kennon Rothchild III.
Leaf Bags and Bulk Pickup 
Leaf bags are now available on Monday, Wednesday, and Friday mornings ONLY. Bags will be placed on the front porch of Village Hall and are first-come-first-served until the supply is depleted. Currently there will be a limit of 10 bags per visit and you will not have to sign for bags at this time.
To reduce potential exposure to coronavirus by DPW staff, leaf bags will be picked up no sooner than 24 hours from the time they are placed at the curb. Hard surface bulk items, such as white goods, will be picked up after a minimum of 72 hours outdoors. We regret the inconvenience. This is only a temporary restriction.
Request for Bids to Paint the Exterior of Upper Nyack Village Hall
The Village of Upper Nyack is seeking bids to paint the exterior of the village hall. Sealed bids may be submitted at Village Hall, 328 N Broadway until 11a on Tue, Apr 14, 2020 at which time bids will be publicly opened and read. Information for interested bidders may be found on uppernyack-ny.us.
Town of Clarkstown
The Town of Clarkstown State of Emergency remains in effect until further notice. All town departments will only remain open to the public for telephone inquiries, electronic communications, and electronic filings. In-person appointments with the public will be made on an emergency basis only. The Clarkstown Town Court is closed.
To reduce exposure risks to Clarkstown's emergency service professionals, town officials are asking the public to only call the police for emergencies. If you are quarantined (mandatory or self-imposed) in your home due to possible or confirmed COVID-19 exposure, PLEASE advise the 911 dispatcher of this so it may be relayed to responding units. Officers will be initiating the interview process from outside your home and practicing social distancing when possible.
All senior centers and community centers remain closed until further notice. Playgrounds and pickleball courts are closed. However, parks are open.
Tele Town Hall Mon, Apr 6, 2020, 4p
Join Supervisor George Hoehmann on a group telephone call to ask any questions or bring up any concerns you may have. Call 845-203-6304 to join or watch on FB live.
Mini Trans Schedule Changes
Service hours Monday through Friday will only be 6:55a to 2:30p to allow residents to shop for essential items such as food and medications. There will be no Saturday service.
Congers Lake Walkway Closed
Effective Mon, Apr 6, 2020 at 12 noon, the Congers Lake walkway and boardwalks as well as the dog park are closed  for the expected apex of this event through Mon, Apr 20, 2020.
Community Centers
The Clarkstown Recreation Department has been filming activities for residents to enjoy while home and social distancing. They will be broadcast every day on the Town of Clarkstown Government Access Channels (Cablevision/Altice Channel 78 and Verizon Channel 35). A schedule for the week may be found on town.clarkstown.ny.us. There will be other recreation activities broadcast on FB Live on the Town of Clarkstown Recreation & Parks led by recreation staff and volunteers on Facebook live at 11a each day. All of these will also be on the town YouTube Channel.
Clarkstown Mulch Site Open
Residents of the Town of Clarkstown may pick up compost and wood mulch during regular park hours for use at their residence at Germonds Park, 185 Germonds Rd, West Nyack.
Town of Orangetown
Orangetown Tue, Apr 7 7:30p Board Meeting via Teleconference
In accordance with Executive Order 202.1, the Tue, Apr 7 Orangetown Town Board meeting will be held remotely by videoconference. It will be accessible by via telephone and online. And it will be recorded and later transcribed. It will air live on Channel 30 on Verizon Fios and Channel 78 on Cablevision. It will be livestreamed on YouTube. The public may also view or listen in to the videoconference through GoToMeeting or by calling in. To join the meeting from your computer, tablet, or smartphone, go here. If you are new to GoToMeeting, get the app now and be ready when your first meeting starts. You can also dial in using your phone at United States (Toll Free): 1 877 568 4106 or +1 (312) 757-3129 with access code 968-285-389. Please arrive five minutes before the scheduled start time. You will be placed on hold until the meeting starts. Questions about accessing the GoToMeeting videoconference should be emailed to supervisor@orangetown.com.
For this meeting, the usual public comment portion of the agenda will not be held. However, anyone wishing to comment or pose a question is encouraged to submit comments or questions via email prior to the meeting and the Board will address such comments or questions during the meeting. Please email comments or questions to supervisor@orangetown.com prior to the meeting or call the supervisor's office at 845-359-5100 Ext. 2293.
Area Scholarships
Arts Camp @ RoCA Scholarship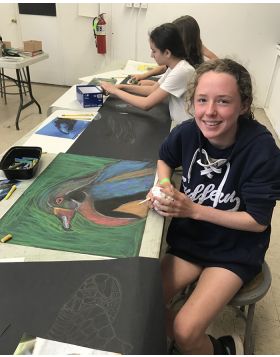 The deadline for scholarship applications for the Arts Camp at RoCA four week session from July 27 through August 21, 2020 for those with significant financial need is April 15, 2020. Priority is given to children who have not been to the camp before.
The day camp serves children entering grades K-9 in September, 2020 and operates Monday through Friday from 9:45a to 4p. The camp does not provide transportation or lunch. Scholarships are not transferable or redeemable for cash.
Both a camp application and a summer day camp scholarship application must be completed to be considered. Acceptance is not guaranteed. Please read the camp brochure for complete details. If you have any questions about the scholarships or completing the forms, please call Amy at 845-358-0877 ex. 18 between the hours of 9a and 5p Monday through Friday or email Amy@rocklandartcenter.org. Applicants will be notified of acceptance by May 1st.