This week in the villages: To ensure everyone can remain "safer at home," the Village of Nyack and Village South Nyack will hold virtual Village Board meetings. State Senator David Carlucci and Clarkstown Town Supervisor George Hoehmann are holding virtual town halls. Orangetown and Clarkstown are distributing free face masks. The 2020-21 budget for the Village of Upper Nyack has been adopted. And we mourn the loss of Fire Chief Charlie Bullock, along with his wife and daughter.
Rockland County
Coronavirus Virtual Town Hall
Senator David Carlucci will be hosting a Virtual Town Hall on the coronavirus (COVID-19) with Dr. William Greenhut, Emergency Medicine Physician and Association Director of the Emergency Department at Montefiore Nyack Hospital, via Facebook Live on Mon, Apr 27 at 4p.
Update to Standing Precautionary and Mandatory Quarantine Orders
Rockland County Executive Ed Day and County Health Commissioner Dr. Patricia Schnabel Ruppert announced an update to the  Standing Quarantine Orders (precautionary and mandatory) to include persons who have been notified of positive laboratory test results by their medical providers (and not only RCDOH) and persons who have been diagnosed by their medical providers with COVID-19 based upon symptoms only and no laboratory test. The updates may be found on rocklandgov.com.
COVID-19 Shopping Relief
If you are a senior citizen or an individual with a compromised immune system, The Good News Association is offering a free grocery delivery service. Please call the number on the graphic for your area to place an order on Mondays, Wednesdays, and Fridays between 8 and 10a for delivery that same day. Town of Orangetown residents should call 845-356-3585. You may also email info@thegoodnewsassociation.com.
Mass Transportation Changes
Beginning Thurs, Apr 30, 2020, the Palisades Center Lot J Commuter Parking Facility will have temporary designated parking and a new traffic pattern to prepare for repaving. Starting Fri, May 1, 2020, commuters are asked to please park on the south side of the lot while the north side is repaved. Note that the bus stop will be temporarily relocated during this time, but the shelter will remain open and the ticket vending machine will remain accessible. There will be no overnight parking allowed for the duration of the repaving project.
To keep up to date on transportation schedule changes, visit the Rockland County Public Transportation Transit Alerts page.
Village of Nyack
Nyack Mourns Chief Charles Bullock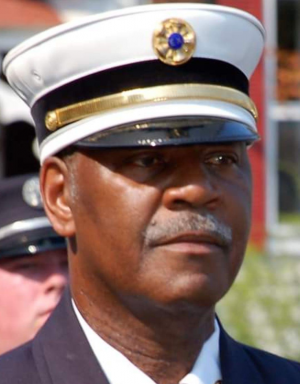 The Bullock family has suffered unimaginable loss to the COVID-19. Charles "Charlie" Bullock, former chief of the Central Nyack Fire Department, his wife, Lois Bullock, and their daughter Chanda have all succumbed to the virus this month.
Charles Bullock was a Rockland County legend. He was a star athlete at Tappan Zee High School, Class of 1958, a stand-out in both football and basketball. Charlie was inducted into the high school's Athletic Hall of Fame in 2012 and earned All-County honors in both sports. After joining the Central Nyack Fire Department in 1968, he served as Fire Department Chief in 1978 and 1979, serving more than 50 years. He became a Clarkstown police officer in 1965 before joining the Palisades Interstate Parkway Police. When the New York section of the parkway was taken over by the state, he became a New York State trooper.
Charlies was a gentle, kind presence and known to nearly all Rockland residents who shopped at Costco in Nanuet, where he worked after his state retirement. He was a true gentleman.
Broadway Streetscape Project
New York State Department of Transportation has given final approval to the Broadway Streetscape Project. From Cedar Hill Avenue to the village border with Upper Nyack, the sidewalks will be replaced, including ADA accessibility, crosswalks, lighting, and beautification. The bidding and awarding of the project will take a couple of months and actual construction would not begin until late summer or early fall, in the best case scenario.
The village would like to arrange for a video or teleconference with anyone who has a vested interested in the project. For businesses, the village understands that this moment presents a difficult level of uncertainty. They want to be able to explain the project, hear your concerns, and mitigate any obstacles. Please reply to Nyackstrong@nyack-ny.gov if you would like to be included in the call to be scheduled early this week.
Nyack Celebrates Super Hero Day
Did you know that Tues, Apr 28 is Super Hero Day? Nyack Nourishes will be celebrating "Nyack Super Hero Day," honoring Nyack's front line fighters who keep our community ticking with 400 pizzas from our world class local pizzerias. Read Nyack Nourishes Its Super Heroes to find out more about this celebration and to learn how you can help.
Thurs, Apr 30, 2020 Virtual Village Board Meeting
Information on how to join the Thurs, Apr 30 7:30p Village Board meeting either via Zoom or by telephone may be found on nyack-ny.gov.
A Show of Support for Montefiore Nyack Hospital
In order to provide a tiny bit of joy to the staff of Montefiore Nyack Hospital, it is looking for musicians from the community who would be willing to do a short, solitary set of music during the hospital shift change around 7:15a and 7:15p each day. The musician would stand on the corner of Haven Court, near the hospital (but a very safe distance away), and play or sing a set of their choice.
Interested musicians and vocalists may sign up here. The sessions will also be shared with the hospital on a Facebook page that recognizes the bravery of our first responders and hospital employees. If you have any questions, please contact Melody Partrick, Recreation Director, Village of Nyack.
COVID-19 Changes
Nyack Village Hall remains closed to both employees and the public until further notice, and the Department of Public Works will be picking up the trash as scheduled – Mondays & Thursdays. Contact information for Village Hall staff may be found at nyack-ny.gov.
Changes to Bulk Pickup
Staying home has given many people the opportunity to get a jump on spring cleaning. As a result, the garbage crews have been picking up a lot of excess trash and bulk items the past few weeks. At this time, the DPW is working on a modified staffing schedule. All residents are asked to please limit any bulk to one or two items. If possible, please hold the bulk until the next collection–always the first Friday of the month–and hopefully everyone will be accommodated in a month or so. The primary goal is the safety of the crews, while balancing the needs of the residents.
The Village of South Nyack
Tue, Apr 28, 2020 Virtual Village Board of Trustees Meeting
Information on how to join the Tue, Apr 28 7:30p Village Board meeting via teleconference may be found on southnyack.ny.gov. An agenda for the meeting may also be found on southnyack.ny.gov.
The Village of Upper Nyack
April 2020 Green Committee Newsletter
The April 2020 Upper Nyack Green Committee Newsletter reflects on sheltering in place and how we have returned to slower, simpler times with benefits and disadvantages. To get more earth friendly news, sign up to receive Nyack News and Views' Earth Matters newsletter delivered to your mailbox every Thursday.
2020-21 Budget Adopted
Curious about how your money is being spent? The 2020-21 budget for the Village of Upper Nyack has approved and is available on uppernyack-ny.us.
Local Law #3 of 2020 Temporary Moratorium Law
A copy of Local Law #3 of 2020 for a temporary moratorium on commercial or residential special use permit and special use renewal applications may be found on uppernyack-ny.us. An application for a waiver from the Board of Trustees pursuant to Section IV of the Temporary Moratorium Law, Local Law # 3 of 2020 may also be found on uppernyack-ny.us.
April 23 Workshop Meeting 
In case you missed it, last week a workshop meeting was held to hear resident opinions on a proposed seasonal ban on gas-powered leaf blowers. A video recording and an audio transcript of the meeting may be found on uppernyack-ny.us.
Town of Orangetown
Cloth Masks for Seniors/Immunocompromised Citizens
The State of New York is sending cloth masks to Orangetown for senior and immunocompromised residents. One mask will be issued per person (they are cloth, so they are washable). Pick up is available at the Town Clerks Office. Please call (845) 359-5100 x 5004 and schedule an appointment. You must give them your name and address to receive a mask.
For those who live in Village of Nyack, Village of Piermont, Esplanade, Thorpe Village, Dowling Gardens, Venture, Pearl River Senior Club A, The Promenade, and Bright View, please reach out to your point of contact. If you have any questions, you can call the Supervisors Office at (845) 359-5100 x 2293, or feel free to email Supervisor Kenny.
Virtual 5K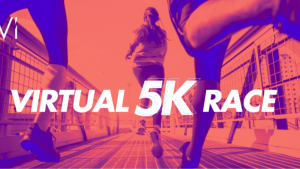 The Town of Orangetown and Supervisor Teresa Kenny have come up with a fun and interesting fundraiser in these tough and trying times, a Virtual 5K Race to be completed between May 1 and May 17, 2020. What's unique about this event is that participants can run (or walk) the 5K on any route and time of their choice within the specified time frame. Run/walk with friends if you wish – just observe stipulated social distancing rules.
For those who don't want to participate in the event, there is still an opportunity to be a part of this event. For a $ 100 donation, you'll get your name (personal or business) printed on the back of the t-shirt which will be supplied to all participants. And most importantly, all net proceeds will go towards keeping local food pantries fully stocked for the many families who need some help at this time.
April 21, 2020 Town Board Meeting
In case you missed it, a video of last week's town board meeting may be found on the Town of Orangetown Facebook page.
Town of Clarkstown
The Town of Clarkstown State of Emergency remains in effect and all town departments are open to the public for telephone inquiries, electronic communications, and electronic filings. In-person appointments with the public will be made on an emergency basis only.
To reduce exposure risks to Clarkstown's emergency service professionals, town officials are asking the public to only call the police for emergencies. If you are quarantined (mandatory or self-imposed) in your home due to possible or confirmed COVID-19 exposure, PLEASE advise the 911 dispatcher so it may be relayed to responding units. Officers will be initiating the interview process from outside your home and practicing social distancing when possible.
Tele Town Hall Mon, Apr 27, 2020, 3p
Join Supervisor George Hoehmann for an update on a group telephone call to ask any questions or bring up any concerns you may have. Call  845-203-6304 to join or watch on FB live.
Free Face Masks for Town Residents
On Tue, Apr 28, 2020, seniors (60 and over) and residents with underlying medical issues will be able to pick up a free cloth mask at Germonds Park, 185 Germonds Road, West Nyack from 10a to 2p. On Wed, Apr 29, all residents may pick up a cloth mask also at Germonds Park from 10a to 2p. One mask per person. First come, first served, until supplies last. Must show proof of residency.
Congers Lake Walkway, All Town Parks, and local State Parks Closed
The Congers Lake walkway and boardwalks, as well as the dog park, all town parks, and Rockland Lake, Hook Mountain, and Nyack Beach are currently closed until further notice.
Community Centers
The Clarkstown Recreation Department has been filming activities for residents to enjoy while home and social distancing. They will be broadcast every day on the Town of Clarkstown Government Access Channels (Cablevision/Altice Channel 78 and Verizon Channel 35). A schedule for the week may be found on town.clarkstown.ny.us. There will be other recreation activities broadcast on FB Live (on the Town of Clarkstown Recreation & Parks) led by recreation staff and volunteers at 11a each day. Videos will also be on the town YouTube Channel.
Clarkstown Mulch Site Open
Residents of the Town of Clarkstown may pick up compost and wood mulch during regular park hours for use at their residence at Germonds Park, 185 Germonds Rd, West Nyack.
New York State
Department of Motor Vehicles (DMV)
In accordance with NYS Executive Order No. 202.8, DMV field offices, road test sites, and traffic violations bureaus are closed, and certain DMV services are temporarily unavailable. Many expiration dates, including licenses and registrations expiring Mar 1, 2020 or later, have been extended until further notice. Additional information may be found on dmv.ny.gov.