This week in the villages: Governor Andrew Cuomo has extended New York State on PAUSE through May 15. New Yorkers are also now required to wear a face covering in public when social distancing is not possible. The Good News Association is helping seniors and those with compromised immune systems with a free grocery delivery service. And the Village of Nyack mourns the loss of Fire Chief Brian Knecht.
New York State
To continue to stop the spread of the novel coronavirus and to continue to flatten the infection curve, NYS Governor Andrew Cuomo extended New York State on PAUSE through May 15, 2020. All New Yorkers are now required to wear a face covering in public when social distancing is not possible, including on public transportation, in stores, and on crowded sidewalks.
If you do not yet have a mask or a face covering, here are some resources:
Making a Cloth Mask – Nyack resident Mario the Magician has made a video showing you how to easily transform a piece of cloth into a face covering.
How to Get a Free Cloth Mask

Call 288-3186 and leave your name, address, and the number of masks you require for your family. Speak slowly and clearly and a Village of Nyack employee will arrange delivery.
Visit Nyack Mask Makers and complete the request for a mask, and a Village of Nyack employee will arrange delivery.
And if you are in the position to donate time or resources to the effort to provide masks in Nyack, please visit Nyack Mask Makers.
Rockland County
Coronavirus Virtual Town Hall
Senator David Carlucci will be hosting a Virtual Town Hall on the coronavirus (COVID-19) with Dr. William Greenhut, Emergency Medicine Physician and Association Director of the Emergency Department at Montefiore Nyack Hospital via Facebook Live on Mon, Apr 20 at 4p.
COVID-19 Shopping Relief
If you are a senior citizen or an individual with a compromised immune system, The Good News Association is offering a free grocery delivery service. Please call the number on the graphic for your area to place an order on Mondays, Wednesdays, and Fridays between 8 and 10a for delivery that same day. Town of Orangetown residents should call 845-356-3585. You may also email info@thegoodnewsassociation.com.
Mass Transportation Changes
To keep up to date on transportation schedule changes, visit the Rockland County Public Transportation Transit Alerts page.
Village of Nyack
Nyack Mourns Brian Knecht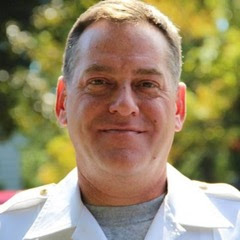 Last week, the Village of Nyack lost a true public servant and an even finer man. Brian Knecht, a native son, proud member of Orangetown Fire Company #1, and Fire Chief, died after a valiant and hard fought battle with cancer. Brian served the community in all parts of his life, whether gently ushering families through hard decisions in his position as Funeral Director at Hannemann Funeral Home, as a devoted member of St. Anns Church, or while serving bravely as both a firefighter and Fire Chief of the Nyack Fire Department. Read more about Brian Knecht on lohud.com.
A Show of Support for Montefiore Nyack Hospital
In order to provide a tiny bit of joy to the staff of Montefiore Nyack Hospital, it is looking for musicians from the community who would be willing to do a short, solitary set of music during the hospital shift change around 7:15a and 7:15p each day. The musician would stand on the corner of Haven Court, near the hospital (but a very safe distance away), and play or sing a set of their choice.
Interested musicians and vocalists may sign up here. The sessions will also be shared with the hospital on a Facebook page that recognizes the bravery of our first responders and hospital employees. If you have any questions, please contact Melody Partrick, Recreation Director, Village of Nyack.
COVID-19 Changes
Nyack Village Hall remains closed to both employees and the public until further notice, and the Department of Public Works will be picking up the trash as scheduled – Mondays & Thursdays. Contact information for Village Hall staff may be found at nyack-ny.gov.
Changes to Bulk Pickup
Staying home has given many people the opportunity to get a jump on spring cleaning. As a result, the garbage crews have been picking up a lot of excess trash and bulk items the past few weeks. At this time, the DPW is working on a modified staffing schedule. All residents are asked to please limit any bulk to one or two items. If possible, please hold the bulk until the next collection–always the first Friday of the month–and hopefully everyone will be accommodated in a month or so. The primary goal is the safety of the crews, while balancing the needs of the residents.
The Village of Upper Nyack
Workshop Meeting on a Proposal for a Seasonal Ban on Gas Powered Leaf Blowers
There will be a video/teleconference workshop to hear resident opinions on a proposed seasonal ban on gas-powered leaf blowers on Thurs, Apr 23, 2020 at 7p. In accordance with Executive Order 202.1, the workshop meeting will be recorded in its entirety. You may join the videoconference on Zoom (Meeting ID: 445 143 9332, Password: 499861) or join by telephone at 929-436-2866 (Meeting ID: 445 143 9332, Password: 499861).
Leaf Bags and Bulk Pickup 
Leaf bags are now available on Monday, Wednesday, and Friday mornings ONLY. Bags will be placed on the front porch of Village Hall and are first-come-first-served until the supply is depleted. Currently, there will be a limit of 10 bags per visit and you will not have to sign for bags at this time.
To reduce potential exposure to coronavirus by DPW staff, leaf bags will be picked up no sooner than 24 hours from the time they are placed at the curb. Hard surface bulk items, such as white goods, will be picked up after a minimum of 72 hours outdoors. We regret the inconvenience. This is only a temporary restriction.
Town of Orangetown
Virtual Town Hall
In case you missed it, last week Town Supervisor Teresa Kenny hosted a virtual town hall with Montefiore Nyack President and CEO Dr. Mark Geller, Orangetown Police Department Chief Donald Butterworth, and Deputy Town Supervisor Mike Lawler. A video of the town hall meeting may be found on the Town of Orangetown Facebook page.
Orangetown Strong
As everyone continues to "stay in place," the employees at Town Hall want to let you know that you're not alone, that everyone is in this together. Should you need anything, call (845) 359-5100 x 2293 or feel free to email Supervisor@Orangetown.com. Click on Orangetown Strong to watch a video that the Town of Orangetown put together for the community.
Town of Clarkstown
The Town of Clarkstown State of Emergency remains in effect and all town departments are open to the public for telephone inquiries, electronic communications, and electronic filings. In-person appointments with the public will be made on an emergency basis only.
To reduce exposure risks to Clarkstown's emergency service professionals, town officials are asking the public to only call the police for emergencies. If you are quarantined (mandatory or self-imposed) in your home due to possible or confirmed COVID-19 exposure, PLEASE advise the 911 dispatcher so it may be relayed to responding units. Officers will be initiating the interview process from outside your home and practicing social distancing when possible.
Tele Town Hall Mon, Apr 20, 2020, 3p
Join Supervisor George Hoehmann for an update on a group telephone call to ask any questions or bring up any concerns you may have. Call  845-203-6304 to join or watch on FB live.
Town Board Meeting
You may listen to the Apr 21, 2020 regularly scheduled Town Board meeting at 7p by calling 917-522-0641.
Congers Lake Walkway, All Town Parks, and local State Parks Closed
The Congers Lake walkway and boardwalks, as well as the dog park, all town parks, and Rockland Lake, Hook Mountain, and Nyack Beach are currently closed until further notice.
Community Centers
The Clarkstown Recreation Department has been filming activities for residents to enjoy while home and social distancing. They will be broadcast every day on the Town of Clarkstown Government Access Channels (Cablevision/Altice Channel 78 and Verizon Channel 35). A schedule for the week may be found on town.clarkstown.ny.us. There will be other recreation activities broadcast on FB Live (on the Town of Clarkstown Recreation & Parks) led by recreation staff and volunteers at 11a each day. Videos will also be on the town YouTube Channel.
Clarkstown Mulch Site Open
Residents of the Town of Clarkstown may pick up compost and wood mulch during regular park hours for use at their residence at Germonds Park, 185 Germonds Rd, West Nyack.
Cover photo courtesy of NyackMask Maker, Megan Artin.