by Annie Hekker Weiss
There are super heroes in our community. They don't wear capes, but they do wear PPE, police badges, chef's hats and fireman's helmets. You know them as the "essential workers" at the hospitals, ambulance corps, the DPWs, the post office, the funeral homes, police departments, firehouses, pharmacies, local markets and delis. On Tues April 28, in conjunction with National Super Hero Day (yes…that is a real holiday!), Nyack Nourishes will be celebrating "Nyack Super Hero Day," honoring Nyack's front line fighters who keep our community ticking with 400 pizzas from our world class local pizzerias.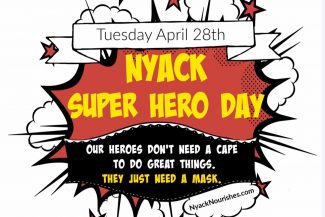 Nyack Nourishes' mission is to provide meals for the healthcare heroes working at Montefiore Nyack Hospital and the Nyack Community Ambulance Corps during the Covid 19 crisis while supporting local Nyack restaurants.
Since our launch only two weeks ago, your support of Nyack Nourishes  has been truly humbling, raising over $27,000 for restaurants to feed our health care workers. Those donations will pay for over 1600 meals for Montefiore Nyack Hospital employees and volunteers at the Nyack Community Ambulance Corp.
Do you know an acting Super Hero who can give a shout out to some real Super Heroes?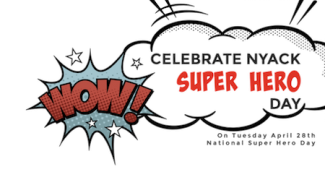 Nyack Nourishes wants to connect with actors, actresses and cartoonists who have played or drawn Super Heroes on National Super Hero Day, Tues April 28. We want to ask them to record a short video message of support and encouragement to our essential workers. If you have contacts in SuperHeroLand to make this  idea a reality, send an email or visit the CONTACT US link at NyackNourishes.com.
Nyack is home to a diverse, mostly family run, set of restaurants who take pride in the international dishes they provide be it from Thailand, Peru, India, the Philippines, France, Greece, Mexico or Ireland. These meals have been well received in so many levels. Even the delicious smell that is a byproduct of this exceptional food has not gone unnoticed. One employee mentioned that they enter the hospital in "go mode" but when they smell a fresh meal arrive, even if they can't get to it at that moment, they take a much needed pause and find comfort in knowing that someone was thinking of THEM and that a good meal awaits. Others commented that they are taking leftovers home since they can't shop or get food once they end their shift. Having access to good food during these difficult days makes a difference on so many levels. The hospital has been so very grateful.
We have created Signs Of Nourishment and have collected over 100 pieces of art from kids in our community who want to thank our hospital workers. These pieces will be laminated and placed on display for hospital employees to see. We have also partnered with local printer Harrington Press and created #NyackStrong lawn signs that are being sold and placed throughout town. Please consider going to our website and ordering one for your lawn or for someone you want to honor!
It Takes a Village to cover our villages.

Local news matters now more than ever. Nyack News and Views has covered news, arts and culture in and near the Nyacks for a dozen years. During the COVID-19 crisis, we've doubled down on content, bringing readers service-oriented news you can use.
We need your help – NOW – to continue this work. Please consider making a one time or sustaining donation to Nyack News And Views. Thank You!
We sincerely thank each of you for embracing and sharing this mission with your family, friends and on social media. Please continue to do so if you are able. We appreciate your sharing with us your shout outs to people who have helped care for your loved ones at the hospital during this time and we made sure they received those messages. They are truly appreciated, so keep them coming.
Thank you to local pizzerias Casa Del Mar, Pizza Bistro, Tarentellas and Turiellos, for their help in making and distributing 400 pizza pies on #NyackSuperHeroDay.
We are grateful for the countless people in our community including Elliot Forrest from Arts Rock, Jeanne Muchnick from Lohud, Francis Wilkinson from Bloomberg Opinion, and Dave Zornow at Nyack News & Views for promoting our mission. Thank you to Chief Ivan Guerra at the Nyack Community Ambulance Corp for his kind words about the impact of this program and for delivering the all of the meals directly to the hospital each day. And a special thanks to Michele Whalen who we are fortunate to have on our team as she oversees the distribution funds to our local restaurants.
Please continue to stay healthy, kind and connected to our beloved community. Thank you again for helping from home.
South Nyack residents Annie Hekker Weiss and Susan Wilmink co-ordinate donations to Nyack Nourishes.