My name is Mr. Amazing. Hoping this note finds you all well, healthy and at home.
Kids in our circus always want to know my real name. If you are a parent reading this, I have to ask you: can you keep a secret? (scroll down to learn my secret!)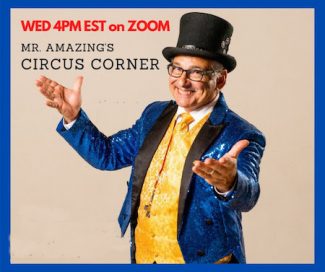 Each Wednesday at 4p, Hilary Sweeney (CEO of Westchester Circus Arts) and I present: "MR. AMAZING'S CIRCUS CORNER," 30 minutes of fun and learning on Zoom.

This free half-hour online educational / entertainment series uses the the circus arts to foster a natural enthusiasm for learning that makes children smile. We will be exploring how to make the most of new ways to watch and play while children learn new skills to help them navigate their lives. It's fun for parents, too!
Each week I'll start the show with a physical brain game and then travel to 'The 4 Corners' (selected from the following): The Skill Corner, Clown Corner, Poem Corner, Story Corner, History Corner, Science and Math Corner, and the Guest Spotlight.
There will also be time for a Q&A from viewers, and various games and activities kids (and parents) can prepare for ahead of time.
"Mr. Amazing's Circus Corner"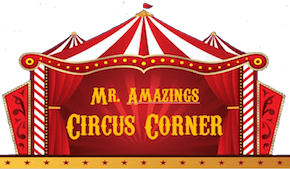 Each Wed 4p EST on Zoom
Meeting ID: 964 3865 6235
Password: Circus123
Questions? Call 1-845-721-5059
And now about my secret! My actual name is Carlo Pellegrini. I've run a few institutions in Nyack, NY, over the past 35 years: Amazing Grace CIRCUS!, Nyack Chamber of Commerce, and Rockland Parent-Child Center. I've produced circuses in Rockland, Westchester counties and around the US; street fairs and the Halloween Parade in Nyack…but I've only appeared once on camera…for the movie POPEYE.
Our goal is to translate to the screen what we have been doing for over 50 years in person with kids: using circus arts education to improve cognitive function, help kids understand their emotions better as they learn to learn (while learning new skills), and prepare them for life (or at least for the next time they fight with a sibling, have a difference of opinion with mom, and try to deal with staying-at-home right now). We are all at a pivot moment in our lives…so why not share a laugh with new friends and learn some new skills at the same time.
Right now we are using Zoom as the streaming platform. The first 100 viewers get in. The next 100 will be in the Waiting Room. If that happens (wouldn't that be nice), next week we will upgrade our live streaming ability. This is a learn as you go (LAYG), laugh while learning (LWL) event.
And did I mention it is FREE! The only thing you have to pay is attention!
Seriously…it's free. Ideally, if we get enough traction with the show, we will migrate to the PBS model: sponsors, funding and donations 'from viewers like you.'
Of course, we won't turn down greenbacks now. If you find value in even five minutes of our 30-minute program, hit the donate button (go to www.amazinggracecircus.org/donate).
Clowns, ringmaster and aerialists have to eat, too.
Come One, Come All to Mr. Amazing's Circus Corner, every Wednesday at 4p!
See ya there!
Yours in circus,
Mr. Amazing