A somber 50th anniversary for Earth Day is right around the corner. Nyack News And Views, Nyack 2030 and the Nyack Library want to hear from you about Earth Day's past, present and future.
April 22 is the 50th anniversary of the first Earth Day in 1970. It occurs during a reflective time when we are all staying Safer At Home during the COVID-19 pandemic. The worldwide virus has supplanted concerns about climate change for the time being — which doesn't mean they are going away.
What is Nyack 2030?
Nyack 2030 is a community collaboration among local governments,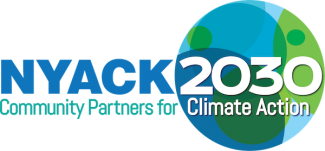 businesses, schools, houses of worship, the Nyack Library, civic organizations, nonprofits, and other groups and individuals. We're working together to reduce greenhouse emissions in the 50 % by 2030 and forge a path to a resilient and sustainable future. For more information about Nyack 2030, email Marcy Denker at Nyacks2030@gmail.com.
The environmental movement has made incredible progress over the past 50 years. There have been milestones — and setbacks. During these concerning times, it's a good opportunity to ask: what have we accomplished? And where do we go from here…and how do we get there?
Nyack News and Views, Nyack 2030 and the Nyack Library are collaborating on a project to hear what you think. Here's how it works:
Write a paragraph or two about Earth Day. It can be something people might remember from earlier Earth Days at the beginning of the environmental movement; or accomplishments prior to 2016 which you think are important; or your thoughts about the future regarding climate change. (Keep it short — about the length of a full tweet!)
If you would prefer to submit a :60-90 video instead of text, that works, too.
Be sure to include a sentence explaining who you are ("South Nyack resident" OR " Nyack High School Student" or "Sustainability Committee member" or "elected official…etc.)
What is the theme for Earth Day 2020?
According to EarthDay.org, the theme for Earth Day 2020 is climate action.
The enormous challenge — but also the vast opportunities — of action on climate change have distinguished the issue as the most pressing topic for the 50th anniversary.

Climate change represents the biggest challenge to the future of humanity and the life-support systems that make our world habitable.
As space allows, we will include your submission in the Earth Day edition of Earth Matters on Nyack News And Views.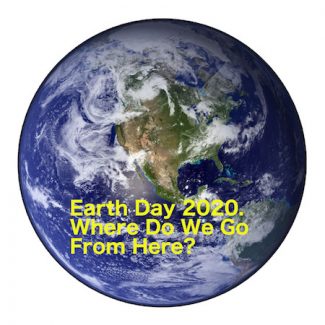 If you would like to participate, place send your contribution to Max Cea at Nyack News And Views at Max@NyackNewsAndViews.com by April 18. That's also where you should send any questions you have about this collaboration as well!
Thanks for your interest in this project. Thanks in advance for your thoughts in text or via video, too.
The earth has been through a lot, and so have we. The environmental movement has helped make our world a better place. Stay safe, and stay engaged. Your words and encouragement can make a difference for our community and for the environment.