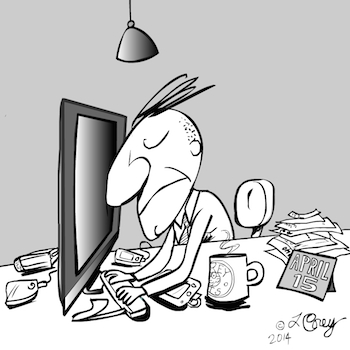 by Jane Cowles
The deadline to pay federal income taxes is extended to July 15, but there are some things you may want to consider before Tax Day approaches. The government has issued relief provisions to help those who are experiencing financial difficulty due to the coronavirus.
If you have past due federal income taxes, tax debt, or currently have a payment plan with the Internal Revenue Service, the People First Programs suspends some compliance rules. The IRS website details key program provisions that may apply to you.
Employers may qualify for tax credits for providing employees with health care benefits, paid sick leave, child care leave, and paid leave due to the coronavirus. In some cases, these credits can be advanced to help meet current payroll expenses during this time. This rule applies to self-employed individuals as well. Please visit the Treasury website to learn more.
The government offers many tax relief provisions to businesses. You can see a summary of them in a Senate Finance report. Some highlights include immediate advances of Alternative Minimum Tax Credits and an expansion of the application of Net Operating Losses.
It Takes a Village to cover our villages.

Local news matters now more than ever. Nyack News and Views has covered news, arts and culture in and near the Nyacks for a dozen years. During the COVID-19 crisis, we've doubled down on content, bringing readers service-oriented news you can use.
We need your help – NOW – to continue this work. Please consider making a one time or sustaining donation to Nyack News And Views. Thank You!
If you have student loans, the CARES Act signed into law on March 27, 2020, automatically places student loans in forbearance for the period of March 13, 2020, to September 30, 2020. For additional details and a list of frequently asked questions, please visit the Federal Student Aid website.
The Tax Foundation offers a nice summary of many of the tax relief provisions.
Some other things to consider to feel less of a tax crunch:
If know you will have to pay taxes, set aside a portion of the total estimated amount due each month. If this is not possible for you now due to financial hardship, consider contacting the IRS or State Tax Department to arrange an extended payment plan or an offer in compromise. Please note interest will still apply, but you can reduce or avoid penalties by working with the IRS and State Tax Departments.
During this time, many business owners and freelancers have incurred additional expenses to maintain home offices and/or restructure businesses to work remotely. The costs you incur for new office equipment, digital software, website hosting, and education to improve skills while you have some down time may qualify as deductible expenses or as capital expenses that can be amortized over time.
This information is provided for general informational purposes only. No information contained in this article should be construed as legal advice and does not establish an attorney-client relationship.
Jane Cowles is an attorney focusing on contract law, business law (start-up, planning and restructuring), tax law, and art law. She has over 10 years experience working with business transactions at boutique law firms and as a tax advisor for Ernst & Young. She has a solo practice in Rockland County and advises creative professionals, small businesses, and entrepreneurs. She is available to help with all the challenges individuals and business currently face with the COVID19 pandemic. For more information, visit her website www.janecowlesattorney.com or email her at jane@janecococowles.com. She is offering 30 minute FREE consultations by telephone or video conference.