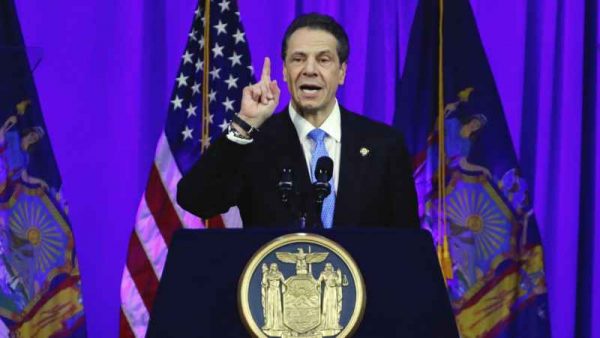 This week in the villages: With 623 confirmed cases of Coronavirus in Rockland County as of 3/23 and over 15,000 in New York State, it's time to hit PAUSE. Non-essential workers are required to work from home and everyone is required to maintain a six foot distance from others in public.
New York State
To stop the the spread of COVID-19 and try to flatten the infection curve, NYS Governor Andrew Cuomo has put New York State on PAUSE (Policies Assure Uniform Safety for Everyone). Effective Sun, Mar 22 at 8p, all non-essential workers are required to work from home and everyone is required to maintain a six foot distance from others in public. PAUSE  also temporarily bans all non-essential gatherings of individuals of any size for any reason.
The governor also enacted "Matilda's Law" to protect New York's most vulnerable populations, including individuals age 70 and older, those with compromised immune systems, and those with underlying illnesses. The measure requires this group of New Yorkers to stay home and limit home visitation to immediate family members or close friends in need of emergency assistance. If it is necessary to visit such individuals, the visitor should get pre-screened by taking their temperature and seeing if the person is exhibiting other flu-like symptoms. Both individuals should wear a mask for the duration of the visit. More information about the governor's mandate may be found on coronavirus.health.ny.gov.
Rockland County
Two weeks ago on March 8, Rockland County reported two cases of Covid-19. As of Sat March 20, the county has 230 confirmed cases.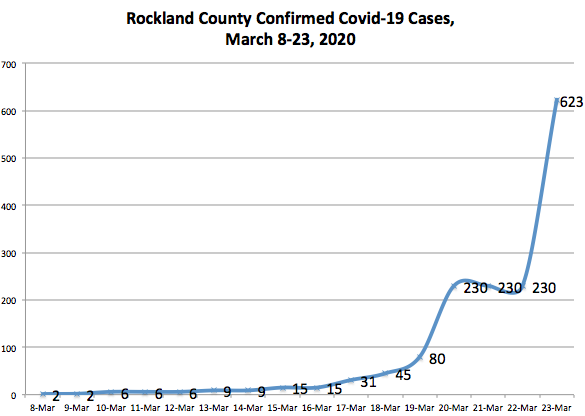 For the most up to date information on the 2019 novel Coronavirus (COVID-19), please visit the Rockland County Department of Health's main coronavirus webpage or the Centers for Disease Control and Prevention webpage.
Transportation Changes
In order to ensure that nurses, doctors, child care workers, first responders, transit workers, and essential staff in New York get to where they need to be, Metro North will continue to run regular weekday service on its Hudson, Harlem, and New Haven lines. For information on schedule changes on other trains and bus lines visit the Rockland County Public Transportation Transit Alerts page.
Village of Nyack
COVID-19 Changes
The Village of Nyack is adhering to the Governor's "PAUSE PLAN" and has implemented the following measures:
The Memorial Park playground has been closed to the public.
The basketball court is closed.
Nyack Village Hall remains closed to both employees and the public until further notice.
Parking fees have been suspended until further notice.
The Department of Public Works will be picking up the trash as scheduled – Monday & Thursdays.
Contact information for village hall staff may be found at nyack-ny.gov. You can also sign up for Coronavirus updates from New York State.
Anyone who believes they may have been exposed or is experiencing symptoms should contact their physician or call the NYS COVID-19 HOTLINE 24/7 AT 1-888-364-3065 for guidance.
The Village of South Nyack
South Nyack Village Hall is now CLOSED to the general public until further notice. All village departments are OPEN for business and staff will continue to perform necessary village operations and assist the public by telephone and email.
Village Hall – 845-358-0287
Building Department – 845-358-0244
Department of Public Works – 845-358-0227
South Nyack/Grand View Court Clerk – 845-358-5078
South Nyack/Grand View Police Department: Office – 845-358-0206, Emergencies – 911
Email addresses are available on southnyack.ny.gov
South Nyack/Grand View court is cancelled until further notice and information will follow regarding the Mar 24, 2020 Board of Trustees meeting and public hearings.
The South Nyack Village Board will hold it's March 24 meeting via conference call beginning at 6p. The agenda includes 2020-2021 Budget Workshop (6p), Public Hearing – Proposed Landscaper Registry Local Law (7:30p), Public Hearing – 2020-2021 Police Budget (7:30p). The regular Board of Trustees meeting will immediately follow. To listen to this meeting, call (267) 930-4000 and use the access code 389-930-058.
The Village of Upper Nyack
Impact of COVID-19 on Village Business
The Village of Upper Nyack Clerk's Office and Department of Public Works facility are CLOSED to the public until Apr 3, 2020. For an URGENT matter for the Village Hall or Dept. of Public Works you may call (845) 803-4298. For non-urgent matters, please call (845) 358-0084 or visit uppernyack- ny.us to see if your matter may be addressed there.
If you have documents to deliver to Village Hall please place them in the drop box available during regular hours or the green metal mail box located on the porch. The mailing address is: Village of Upper Nyack, 328 N Broadway, Upper Nyack, NY 10960 and the fax number is (845) 358-0741.
Changes to Leaf Bag and Bulk Pickup during COVID-19 Outbreak
To reduce potential exposure to coronavirus by DPW staff, leaf bags will be picked up no sooner than 24 hours from the time they are placed at the curb and hard surface bulk items, such as white goods, will be picked up after a minimum of 72 hours outdoors. We regret the inconvenience. This is only a temporary restriction.
Town of Clarkstown
The Mar 17, 2020  Town of Clarkstown State of Emergency remain in effect until further notice. All town departments will only remain open to the public for telephone inquiries, electronic communications, and electronic filings. In person appointments with the public will be made on an emergency basis only. The Clarkstown Town Court is closed.
To reduce exposure risks to Clarkstown's emergency service professionals, town officials are asking the public to only call the police for emergencies. If you are quarantined (mandatory or self-imposed) in your home due to possible or confirmed COVID-19 exposure, PLEASE advise the 911 dispatcher of this so it may be relayed to responding units. Officers will be initiating the interview process from outside your home and practicing social distancing when at all possible.
All senior centers and community centers remain closed until further notice. Playgrounds and pickleball courts are closed; however, parks are open.
Community Centers
The Clarkstown Recreation Department has been filming activities for residents to enjoy while home and social distancing. They will be broadcast  every day on the Town of Clarkstown Government Access Channels (Cablevision/Altice Channel 78 and Verizon Channel 35) at 10a, 12p, 2p, and 4p and the schedule will be as follows:
10a Preschool Story Time
12p Upper Body Exercise with Rose (Seniors)
2p Basketball for Beginners
4p Baking with Rose – Irish Soda Bread (All Ages)
Monday – Trivia
Tuesday – Story Time & Science Lab
Wednesday – Word Games
Thursday – Talk Show
Friday – Crafts for Kids
All of these will also be on the town YouTube Channel.
New Monitoring Program for Seniors and Persons at Risk
A new monitoring program will be implemented for seniors and at risk persons living within the Town of Clarkstown. Residents are asked to notify the Supervisor's Office of any seniors and persons with medical conditions living in Clarkstown who would want a regular phone call to check in on the person of concern. This is a voluntary program in which town staff and volunteers will call seniors multiple times per week to check if the person needs household supplies, food, or just to provide a friendly voice. If you are interested in adding anyone to the call list please call the Supervisor's Office at 845-639-2050.
Currently, over 1,200 seniors are enrolled in the town senior citizen clubs which were suspended last week. The town is also aware of an additional 200 medically compromised adults. All of these individuals will be automatically added to the list.
Clarkstown is partnering with Meals on Wheels, which delivers over 450 meals daily to seniors and persons with disabilities, most within the town. During the COVID-19 crisis Meals on Wheels will be delivering more meals per day but reducing daily contact and thus the Meals on Wheels recipients will also be added to the call list.
Small Businesses
Small Business Association (SBA) Disaster Assistance is now available to New York small businesses economically impacted by the coronavirus (COVID-19). There will be an informational session on SBA Disaster Loan Assistance for Rockland Small Businesses on Mon, Mar 23, 2020 at 9:30a on at the Facebook Town Of Clarkstown page via Facebook Live. The discussion will focus on the assistance available to help small business begin recovering from the Coronavirus outbreak including SBA Economic Injury Disaster Loans. These loans can be used to pay fixed debts, payroll, accounts payable, and other bills that can't be paid because of the disaster's impact. Eligible small businesses may now apply for SBA Economic Injury Disaster Loans (EIDL) online at disasterloan.sba.gov/ela.
Town of Orangetown
On Tue, Mar 17, 2020 a State of Emergency was declared for the Town of Orangetown. At the current time, parks and golf courses will remain open, but all town playgrounds are closed. There is limited access to all town offices until further notice. Everyone is encouraged to use the website  orangetown.com or to call ahead before heading over. If your matter is not of a time sensitive nature, then you may be asked to reschedule at a later date.
All town meetings (including the Orangetown Town Board) scheduled through Mar 27, 2020 have been cancelled. For meetings scheduled beyond that date, the town is working towards having the meetings available via teleconferencing or other interactive means. Please check the website before the scheduled meeting date for more information.
Any resident in need of assistance during this challenging time should reach out to the Supervisor's office via e-mail at
Supervisor@orangetown.com
or calling (845) 359-5100 x 2293. The town is working with several volunteer organizations and will assist and coordinate for any resident in need.
Area Scholarships
SUEZ Scholarships
SUEZ and the National Association of Water Companies are offering seven $3,000 scholarships to New York high school seniors who plan to pursue a degree in a water industry related field. Completed applications must be submitted by March 31. Please visit mysuezwater.com for more information.
ML by Maria Luisa Scholarship
The application for the 2020 ML by Maria Luisa Scholarship program is now available to graduating female students in Rockland County. The ML by Maria Luisa Scholarship recognizes Rockland County high school female seniors who, through their actions or beliefs, embrace the principals of ML by Maria Luisa: civic and community involvement, commitment to social justice, social equality, and environment/eco-friendly lifestyles.
Two $1,000 scholarships will be awarded: one to a promising woman who is a senior attending a private or public Rockland County high school (must be a Rockland County resident) and one to a promising woman who is a senior attending Nyack High School. The scholarship will assist with costs in attending a college of the students' choice. The application deadline is March 31, 2020.
In addition to the ML by Maria Luisa Scholarship, there are other scholarships available through The Rockland Community Foundation.