When you're down and out; when you're on the street
When evening falls so hard — I will comfort you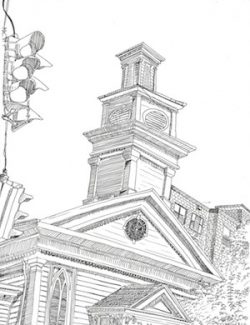 Nyack, March 20 — Paul Simon's "Bridge Over Troubled Waters" is a song truly for these challenging times. The Nyack Center invites you to throw open your windows or step out your front door tonight at 7p and join your neighbors in a community sing. Simply step out your front door, open your window, go out on your front porch or wherever you are, and join your neighbors singing!
The community will be conducted by Dru Pluhowski. to join in, call (720) 835-5967 code 02784 at at 6:50p.
The warmup song at 7pm is "I Can't Help Falling In Love with You" followed by
"Bridge Over Troubled Water".
Don't remember the lyrics? Scroll down to sing along. Thanks to the Nyack Center and Dru for leading this effort to lifting everyone's spirits in song!
Key of C
I Can't Help Falling in Love with You
https://www.youtube.com/watch?v=vGJTaP6anOU
Wise men say only fools rush in
But I can't help falling in love with you
Shall I stay
Would it be a sin
If I can't help falling in love with you
Like a river flows surely to the sea
Darling so it goes
Some things are meant to be
Take my hand, take my whole life too
For I can't help falling in love with you
Like a river flows surely to the sea
Darling so it goes
Some things are meant to be
Take my hand, take my whole life too
For I can't help falling in love with you
For I can't help falling in love with you
BFlat
Bridge Over Troubled Water
https://www.lyrics.com/…/Simon+%…/Bridge+Over+Troubled+Water
When you're weary, feeling small
When tears are in your eyes, I'll dry them all (all)
I'm on your side, oh, when times get rough
And friends just can't be found
Like a bridge over troubled water
I will lay me down
Like a bridge over troubled water
I will lay me down
When you're down and out
When you're on the street
When evening falls so hard
I will comfort you (ooo)
I'll take your part, oh, when darkness comes
And pain is all around
Like a bridge over troubled water
I will lay me down
Like a bridge over troubled water
I will lay me down
Sail on silver girl
Sail on by
Your time has come to shine
All your dreams are on their way
See how they shine
Oh, if you need a friend
I'm sailing right behind
Like a bridge over troubled water
I will ease your mind
Like a bridge over troubled water
I will ease your mind