The Hopper House Museum and Study Center will hold a memorial service for Lynn Saaby on April 8
by Art Gunther
Non-profits such as the Hopper House Museum and Study Center in Nyack rely on volunteers to be the necessary engine so that all runs smoothly. They are literally worth their weight in gold as giving, committed souls who are most protective.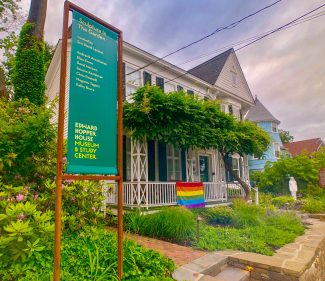 Hopper House, the birthplace home of Edward Hopper, the foremost American realist painter, exists because in the 1970s community volunteers saved the decaying structure. They tackled every part of the 1858 building, fixing floors and windows and replacing utilities. All in a labor of love to rescue a village home of great note and to offer space for art installations.
The original art center, which now has expanded reach and responsibility as a museum and study center, has continued through the decades with the invaluable   help of many volunteers who came, worked, and then passed the baton to their successors. In addition, there have always been a few special people whose extra long service has secured Hopper House its virtual lifeblood, those go-to men and women who know how the lights work, where the old, original furniture is, who know the right tradespeople to call for repairs.
For decades at Hopper House, one such individual was Lynn Saaby of Upper Nyack, who passed last year. Lynn gave unselfishly of his deep intelligence and common sense, his muscle and brawn and often his pocketbook to help keep the painter's home on a solid footing.
In recognition of Lynn's volunteerism, Hopper House will conduct a special memorial April 8, 3-5p, at the museum, 82 North Broadway.
For more information, visit the museum's website, EdwardHopperHouse.org
Art Gunther is a former trustee and now a volunteer at the Hopper House.