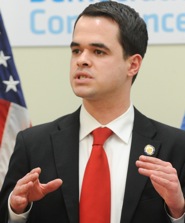 by Senator David Carlucci
During a deadly pandemic, the American people need strong and direct leadership from the top down. President Trump's administration was ill prepared to handle the coronavirus (COVID-19) pandemic, having cut staff tasked with identifying global health problems in China and continually attempting to cut funding for the Centers for Disease Control and Prevention (CDC). Further, the administration ignored warnings in January and February coming out of China about the COVID-19 outbreak and continued to downplay the risk to the public. Proper guidance to the states may have prevented Mardi Gras in Louisiana and not accelerated the race to save lives in that state.
The COVID-19 pandemic is only expected to get worse in New York, and our commander in chief is not enforcing the Defense Production Act, leading to far fewer ventilators and Personal Protection Equipment (PPE) available to front line heroes like our doctors, nurses, medical staff, and first responders. However, we New Yorkers know how to step up in a crisis to keep residents safe. Through the state's leadership, others are looking to us on how to test for COVID-19, maximize hospital capacity, obtain a needed stockpile of ventilators and PPE, and help our workers and small businesses.
Your next congressman needs the proven track record to lead when times are tough. That is what I have done during Hurricane Sandy, and now the COVID-19 pandemic. Rockland and Westchester residents deserve a congressman who will stand up and fight a crisis with facts and science. Residents deserve a leader who will support an economy for the many and not the few big corporations. Residents need a fighter for our workers and small businesses. Lastly, residents should have a champion for the middle-class, the families who lost jobs, can't afford health insurance, and those who are fearful they can't make their next mortgage payment.
As your Congressman, I will work to ensure there is a pandemic response team in place so that we are better equipped to face these issues. I will push for better unemployment regulations to provide a safety net so that our working-class families are protected, and I will fight tooth and nail to support invoking the Defense Protection Act so that our health care workers have enough supplies to tend to those who are sick.
As your current state senator, I have been at the forefront of the pandemic, supporting strict guidelines to reduce the spread of this deadly virus. I passed a law allowing workers to receive paid sick leave and guaranteed job security if they were exposed to someone with COVID-19 or developed symptoms. I strongly called on the federal government to enforce the Defense Production Act and supported creative calls for more PPE and housing for our health care workers and EMS. Working with my colleagues, we were successful at delaying the sales tax collections for small businesses, and after calling on the U.S. Small Business Administration (SBA) and the state, all Hudson Valley businesses were made eligible for low interest disaster recovery loans. I also helped waive the seven-day waiting period so workers could claim unemployment insurance due to COVID-19. Early on, using my experience as Chair of the Mental Health and Developmental Disabilities Committee, I provided resources to community members and held Facebook Live town halls with mental health professionals to help address the silent pandemic. Finally, I helped ensure education funding was protected when schools were closed and could not meet the 180-day requirement of instruction.
This is the type of leadership needed in Washington, someone who has a proven track record of delivering results for Rockland and Westchester residents.
David Carlucci is the state senator for New York's 38th district, which includes most of Rockland County and parts of Westchester County.