Say goodbye to the cold and celebrate Mardi Gras at the Nyack Center. Watch the story of Five Guys Named Moe. Or get some new home improvement ideas at the Suburban Home Show. If you like games, there will be a board game night as well as trivia for a good cause.
This Fri-Sun list of what to do and where to do it is brought to you by Rockland Center for the Arts. This Saturday, stop by for the screening of Lost in the Stars, explore the American Modernism: 20th Century Influencers in Rockland exhibit, or take a stroll through the Catherine Konner Sculpture Park to view the Natural Progressions and RoCA Nest 2019 exhibits. Also, mark your calendars for Camp Open Houses: Sundays March 8, April 5, or May 3.
Friday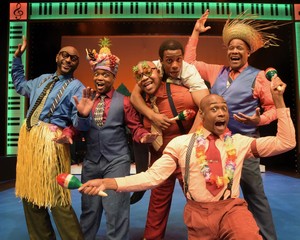 The Westchester Broadway Theatre presents Five Guys Named Moe. Nomax is single, broke, and drinking his sorrows away when five guys named Moe–Big Moe, Little Moe, Eat Moe, Know Moe, and Four-Eyed Moe–emerge from his radio to help him straighten out, ease his broken heart, and sing and dance his way to love. In celebration of Black History Month, pay tribute to Louis Jordan, the 1940s rhythm & blues singer, songwriter, and bandleader whose new approach to jazz paved the way for rock & roll in the 1950s. Enjoy this jazzy show with songs such as "Is You Is Or Is You Ain't My Baby" and "Choo Choo Ch'Boogie." Show runs through March 1st, Fri & Sat 6:15p, Sun 11:45a & 5:30p, and Thurs 11:15a, 1 Broadway Plaza, Elmsford.
Spring is nearly in the air, which means it's time for home improvement. Head over to Rockland Community College to see hundreds of exhibits and demonstrations on the latest home improvement services and products. The 33rd annual Suburban Home Show has everything under one roof–contractors, designers, landscapers, and more. Fri 3-9p, Sat 10a-8p, Sun 10a-6p, RCC Field House, 145 College Rd, Suffern.
Rockland Contra Dances is an evening of acoustic folk music, easy-to-learn dances, with a relaxing atmosphere. No experience or partner needed. Enjoy a free workshop for newcomers where you'll learn everything you need for a night of dancing and socializing. Come on out for caller, Ridge Kennedy, and the tunes of Reality Sandwich.  7:30p, Green Meadow Waldorf School Gym, 871 Chestnut Ridge Rd, Chestnut Ridge.
Enjoy a night out with fine wine, a delicious meal, and live jazz and swing tunes by Nyack's own Swing Easy Trio. 8-11p, UP Lounge and Restaurant, 91 Main St, Nyack.
In celebration of Black History Month, Shades Repertory Theater presents Samuel Harps' The Death of King Shotaway based on the true story of The African Globe Theater, established in 1821 in Lower Manhattan by playwright William Henry Brown. It was the first theater company to stage Othello with a Black actor in the title role. Fri, Sat, & Sun 8p, Ramapo Cultural Arts Center, 64 N Main St, Spring Valley.
Saturday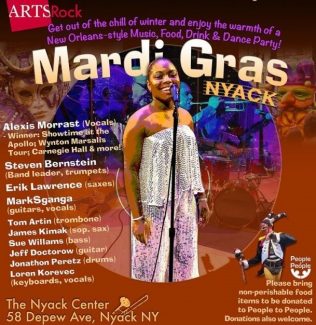 ArtsRock presents Mardi Gras. Get out of the chill of winter and celebrate the warmth of a New Orleans-style party with Nyack's own super trumpeter Steven Bernstein, the vocals of Alexis Morrast, and more. Tickets are $45, available online and include delicious food. Drinks are available for purchase. Nyack Center, 8p, 58 Depew Ave, Nyack. If you have any non-perishable food items, please bring them to be donated to People to People.
Let your inner child out and stop by the Pearl River Train Show, a large complex track layout with a dozen or more trains running at once. Sat 10a-5p, Sun 12-5p, United Methodist Church, 130 Franklin Ave, Pearl River.
It's Family Game Night at the Living Christ Church. Enjoy snacks, board games, and meet your neighbors. 6:30-8:30p, McKaig Hall, 151 S Broadway, Nyack.
Stop by Rockland Center for the Arts for a movie night: watch Lost in the Stars, a 1988 documentary video portrait of playwright Maxwell Anderson, who lived on South Mountain Road in New City from the 1920s until the 1950s. It includes rare interviews with former Rockland residents Burgess Meredith and Helen Hayes, both early leaders of Rockland Center for the Arts, along with Maxwell Anderson and Kurt Weill. 7p, 27 S Greenbush Rd, West Nyack.
Join the Bobby Deitch Jazz Trio for a night of cool jazz and some hot funk. 8p, Maureen's Jazz Cellar, 2 N Broadway, Nyack.
Sunday
The Historical Society of Rockland County presents Small Wonders: The Dollhouses and Miniature Art of Catherine Cooke. The exhibit features a selection of custom dollhouses decorated and furnished down to the tiniest details, from period wallpaper, area rugs, and lamps, to food in the kitchen. Sun, Wed, Thurs, and Fri 12-4p, 20 Zukor Road, New City. The exhibit runs through March 1.
Stop by Murty's Public House for an afternoon of trivia fun to benefit the Penguin Plunge. Team size is 2-5 people, donations are $10 per player. There are three rounds of trivia challenges with great prizes. This year's Penguin Plunge is a fundraiser for three year old Jelien Sirenma Ramos and three year old Skylar Hurley. 2-5p, 29 W Central Ave, Pearl River.
GraceMusic presents the Barefoot Quartet, formerly known as Groove Quartet. The group will play Debussy's String Quartet in G minor, Haydn's String Quartet No. 5 in G major, and in celebration of GraceMusic's 50th season, Haitian-born composer Jean "Rudy" Perrault's lovely String Quartet No. 2 (Zombie: Origin & Evolution). There will be an artist meet and greet after the concert. 4p, Grace Church, 130 First Ave, Nyack.
Don't miss JIGJAM, a quartet from the heart of the midlands in Ireland. If you like traditional Irish music, Bluegrass, and Americana, you will love "I-Grass," a blend of it all. 4p, The Turning Point, 468 Piermont Ave Piermont.
Enjoy an opening reception for Real and Imagined Journeys, the latest exhibit at Darvin Fine Art Gallery. 4-6p, 481 Piermont Ave, Piermont. Exhibit is on view through March 7.
Looking Ahead … Friday, March 13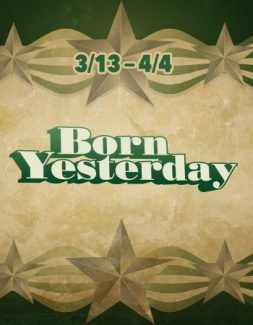 Elmwood Playhouse presents Born Yesterday. Watch Harry Brock, a corrupt junk dealer, come to Washington D.C. with his chorus girl mistress, Billie Dawn. To make Billie more socially acceptable, he hires a journalist to educate her. Sparks soon fly between Harry and Billie as she tries to thwart his plan to buy a congressman. Tickets are available online. Show runs through April 14. Fri and Sat 8p, Sun 2p, 10 Park St, Nyack.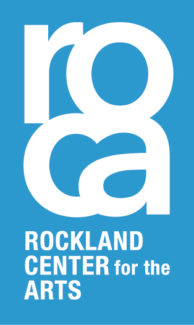 The Nyack Weekender is your Fri-Sun list of what to do and where to do it. This weekly series is brought to you by Rockland Center for the Arts.
To get the Nyack Weekender delivered to your mailbox auto-magically every Friday morning, add your name to our mail list. Visit our online sign-up sheet to subscribe.