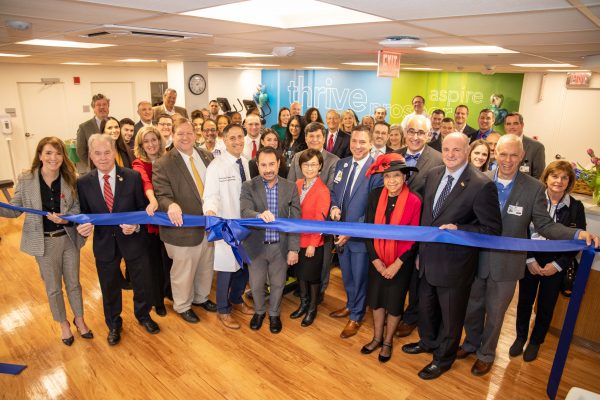 To celebrate the opening of its new 2,500 square-foot outpatient Cardiopulmonary Rehabilitation Center (in partnership with Burke Rehabilitation Hospital) Montefiore Nyack Hospital hosted a ribbon-cutting ceremony on February 26, 2020.
For Montefiore Nyack, a 391-bed community acute care medical and surgical hospital located near Nyack's BOCES, the opening means a new offering for local patients. The Outpatient Cardiac Rehabilitation Program at Montefiore Nyack Hospital enables individuals with heart conditions to resume an active, healthy lifestyle with an individualized plan. Following a physician's referral, each participant receives a thorough evaluation before beginning exercise. A person who has had a heart attack or a heart procedure such as bypass surgery or a stent is a good candidate for cardiac rehab, as well as other people with heart problems, such as a history of heart failure or angina related to heart disease.
Working with a patient's cardiologist, Montefiore's medical director and team of clinical exercise physiologists will develop an extensive individualized plan of care, usually three times a week for up to 12 weeks, to address each patient's unique needs. With review by the program's Medical Director, a clinical exercise physiologist considers each patient's specific needs and goals in order to develop an optimal cardiovascular rehabilitation program. The program also includes education about nutrition, smoking cessation, and stress reduction—all keys to a healthy heart.
Montefiore Nyack Hospital, a 391-bed community acute care medical and surgical hospital located in Rockland County, NY.  Its mission is to provide competent, innovative and accessible emergency and acute care services to the residents of Rockland County and surrounding areas. It is a member of Montefiore Health System and a partner with Touro College of Osteopathic Medicine, providing clinical rotations to third-year medical students.
To learn more visit www.montefiorenyack.org; follow on Facebook or Twitter and view on YouTube. For more information, please call 845-348-7500 or visit montefiorenyack.org/outpatient-cardiopulmonary-rehabilitation.