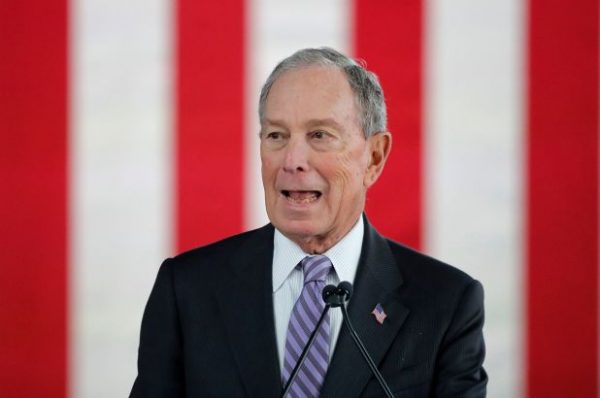 by Nate McCarthy
The billionaire former New York City Mayor Mike Bloomberg has already poured upwards of 400 million of his personal wealth into his campaign to be the next Democratic Presidential nominee. And it's working: a new national poll shows Bloomberg surging into second place, at 19%, behind frontrunner Bernie Sanders (I-Vt), who maintains a lead at 31%.
Mr. Bloomberg, who in 2019 was the 9th richest person in the world, entered the Democratic race relatively late, but has outspent every candidate by a startling margin. Democratic voters should not be fooled by Bloomberg's ad blitz and big spending. His record stands for itself.
Recently, audio from a speech Bloomberg gave at the Aspen Institute was leaked, in which he defends the notoriously racist stop and frisk policy, saying "you just xerox the description" of "minorities age 18-25… and hand to cops."
Under stop and frisk, Bloomberg systematically hunted down and terrorized black and brown youth in New York City. The victims of this policy had their names entered into a police database, regardless of whether they had ever been accused of committing a crime, making them permanent police suspects.
Not only did Bloomberg's terror campaign destroy millions of lives, it was all a big lie.
Since Mayor Bill de Blasio has been in office, stops have been reduced to 10,000 a year (as opposed to 600,000 a year under Bloomberg), and violent crime is the lowest it's been in New York City in 70 years. In his Aspen Institute speech given two years after leaving office, Bloomberg still defends the policy.
It does not matter that Bloomberg has apologized now that he has decided to run for president. This does not change the irreparable damage he inflicted on too many New York City communities. Elected officials have a moral responsibility to the people they govern. Stop and frisk should be immediately disqualifying for Mike Bloomberg.
And what of Bloomberg's history of misogyny and sexism? 64 different women have filed 40 different lawsuits against Bloomberg for sexual harassment and discrimination. The billionaire former mayor's vile sexism has been well-documented, yet deeply overlooked by democrats eager to turn a blind eye.
And what of Bloomberg's longtime support of Republicans, as recently as these past midterm elections? He has donated $4.6 million to the GOP and helped Republicans take and maintain control of the U.S. Senate (he even hosted a fundraiser for conservative representative Peter King, who has a score of 4 out of 100 from the Human Rights Campaign for his voting record).
Bloomberg's record on the environment is grossly overblown. He supported the Keystone XL pipeline. And he is pro-fracking, pro-nuclear, and supports the continued use of fossil-fuels.
Bloomberg's positions on education are disturbingly similar to Trump's and the inept Education Secretary Betsy Devos. He supports privatizing and dismantling public schools across the country. His campaign spokesman recently emphasized that privatization will be a core message of his 2020 presidential run: "Mike will champion the issue as president." Under Bloomberg's reign as New York City mayor, he expanded the number of charter schools (which siphon crucial resources from public schools struggling to stay afloat) from 18 to 183.
At the most recent debates, Democratic figures like Julian Castro and Cory Booker were noticeably absent, having dropped out of the race for their inability to meet fundraising goals. Yet Mike Bloomberg was on that stage, because he's got billions of dollars, and because the Democratic National Committee changed their rules to allow him on the stage.
If Democrats have a shred of moral courage and want to claim a moral high ground against Trump's White House, they should denounce Mike Bloomberg's candidacy. Now.
Nate McCarthy grew up in Nyack and currently lives in New York City. He is a recent graduate of Hunter College, where he studied English literature and media.