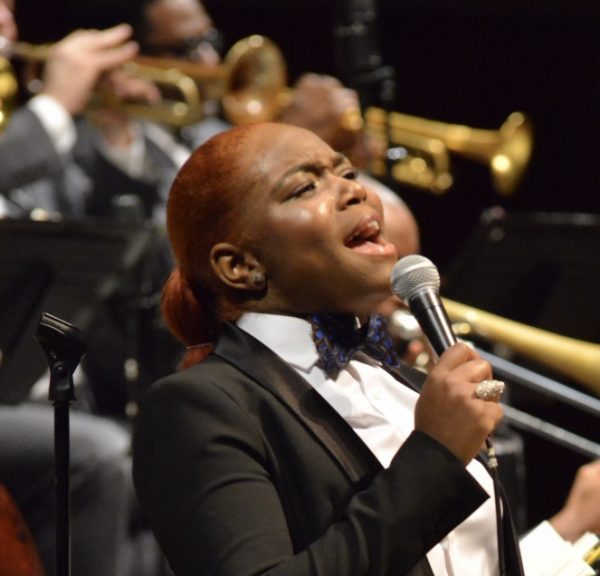 by Melanie Rock
Alexis Morrast is often labeled a "young vocal phenom" for good reason. She's a compelling performer whose musical career is in vibrant, early bloom. Since winning Showtime At The Apollo three years ago–at age 17–she's earned a place at the mic with luminaries Quincy Jones, Roberta Flack, and Wynton Marsalis, and has graced the stages of Carnegie Hall and Lincoln Center, among other notable venues.
On Saturday, February 22, ArtsRock presents Morrast's first live performance in Rockland County, as the featured vocalist in Steven Bernstein's popular Mardi Gras revue at the Nyack Center.
Bernstein met Morrast on stage last November, while working as musical director for WBGO's anniversary gala, and he's certain she's destined for stardom. "I was blown away by her preternatural poise and her singing," he says. "She was totally professional, and a very cool young lady. We did a tribute to Dee Dee Bridgewater, and when Alexis sang, Dee Dee actually started crying."
A New Jersey native, Morrast has been encouraged by her large, musical family since her precocious beginnings in church choir. At 13, she enrolled in the Mason Gross youth program at Rutgers, and traveled to Cape Town, South Africa for study-abroad. "That was a life-altering experience," she says. "I learned so much about other cultures, and had incredible exposure to different musical forms there–sounds I'd never heard before."
She went on to audition for the Apollo Theater's Amateur Night and won the youth competition two years in a row, followed by her 2017 win on TV's Showtime At The Apollo. Subsequent opportunities poured in, including gigs with the Jazz Foundation of America, and an invitation to join Wynton Marsalis and the Jazz At Lincoln Center Orchestra's annual winter tour last November.
"We left New York right after Thanksgiving and got back right before Christmas. And it was like living with the world's greatest teachers and mentors. I will never forget what an amazing experience that was. I feel so blessed to have worked with those incredible musicians. They taught me so much, and could not have been nicer people."
That opportunity prompted Morrast to take a gap year after high school. But this August, she'll be attending Boston's Berklee College of Music, embarking on a four-year conservatory program. So now's the time to catch her perform. Because just like her number-one influence, this young woman's remarkable journey is already reaching for the stratosphere. "I'd have to say I'm most inspired by Ella Fitzgerald's performance at the Apollo when she was just seventeen. I would love to have such a long career."
In case the promise of great live music, dancing, and a vast buffet of New Orleans-inspired delicacies isn't enough to tempt folks out on a brisk February night, this exciting chance to catch Alexis Morrast should have us lined up down the block.
To purchase advance tickets, and for more information on Mardi Gras 2020 at the Nyack Center, visit ArtsRock.com.
Melanie Rock is a Nyack-based writer and musician. Follow her on Twitter @browngirlcu.