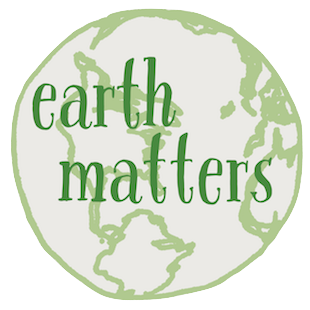 Earth Matters focuses on conservation, sustainability, recycling and healthy living. This weekly series is brought to you by Maria Luisa Boutique, and Summer Arts & Play Program at Blue Rock School.

If Earth Matters to you, sign up for our mailing list and get the next installment delivered bright to your inbox.
by Jennifer Giunta
The app iNaturalist, created through an initial collaboration between the California Academy of Sciences and the National Geographic Society, aims to connect citizen scientists, naturalists, biologists, and other researchers. And it is: iNaturalist is a fascinating data collection app that is revolutionizing citizen science.
In addition to suggesting photo IDs, the app gives users the ability to look at a map of their neighborhood and see what their neighbors have ID'd in their yards, or in nearby parks and waterways. This builds community by enabling residents and visitors to get to know what's common–or unusual–in a given area. Anyone can identify and comment on the photos submitted by other members. Users are able to connect not only with their neighbors, but with scientists worldwide who might be leading authorities on the species in question. This type of crowdsourcing allows for more specific and accurate IDs. The location of spots on a moth, for example, can indicate subtle differences in the genus or species.
Submitting photos of observations can sometimes automatically enroll users in projects being run by researchers locally and around the world. My October sighting of spotted wintergreen (Chimaphila maculata) in Harriman State Park enrolled me in the New York Wildflower Monitoring Project. Looking at the data collected by this project led me to Susan Hewitt, a citizen scientist and independent malacologist (mollusk expert) affiliated with the American Museum of Natural History.  She's logged an astounding 48,000+ observations and identified over 3,000 species new to the app. Ms. Hewitt is also the lead observer in the New York City EcoFlora project, initiated at the New York Botanical Garden, which enlists volunteers to compile information about all the plants in New York City, and their relationships with other organisms, such as birds, insects, and mushrooms.
"Anyone can use the app to create a project of their own," Hewitt explains. "It can be extremely informal. You define the place that you're targeting on a map, give it a name, and decide whether or not to allow public input.  Some projects are curated more strictly by their creators. By automatically mapping and identifying observations by volunteers, those project creators sometimes have very little to do afterwards."
Observations on iNaturalist can be extremely helpful to researchers tracking invasive, endangered, or rare species that are often only assessed every ten years or so, with limited data and little access to specimens. With the onset of climate change and encroaching land development, more up-to-date analysis can act as a catalyst for important conservation initiatives. If someone is interested in tracking a particular species, such as the emerald ash borer (a destructive pest) or the monarch butterfly (the focus of active conservation efforts), they can bring up a map to see where they've been spotted globally.
iNaturalist uses a phone's GPS capabilities to provide latitude and longitude data. Google Maps then indicates the precise location of the site where the photo was taken. Later on, the app developers can add in satellite data, and Moderate Resolution Imaging Spectroradiometer (MODIS) data to get an even clearer picture of the climate, temperature, topography and conditions.
As of February 2020, iNaturalist has claimed over 31,000,000 observations of over 254,000 species from over 600,000 members. New species are plotted at a rate of around 5,000 per month, but this rate is expected to decline over time since "discovering" a new species on the app becomes more and more difficult. Right now, just 1 in 400 observations indicates a species new to the app. But repetitive sightings offer important clues about whether populations are increasing or decreasing in a certain area.
"In addition to using iNaturalist for IDs," Hewitt says, "we use it to find out where something lives, why it lives there, and how." Taking part in these projects is a great way to satisfy your curiosity while helping to document the wide web of diversity that thrives or struggles on our changing planet. Environmental stewardship has never been easier.
Jennifer Giunta is co-owner of Cottage Creek Gardens, a home-based plant nursery in Valley Cottage, NY and a co-founder of The Nyack Seed Exchange at The Nyack Library. 
Email Earth Matters
Read Earth Matters every Wednesday on Nyack News And Views, or sign up for the Earth Matters mailing list.
Earth Matters  focuses on conservation, sustainability, recycling and healthy living. This weekly series is brought to you by Maria Luisa Boutique and Summer Arts & Play Program at Blue Rock School.