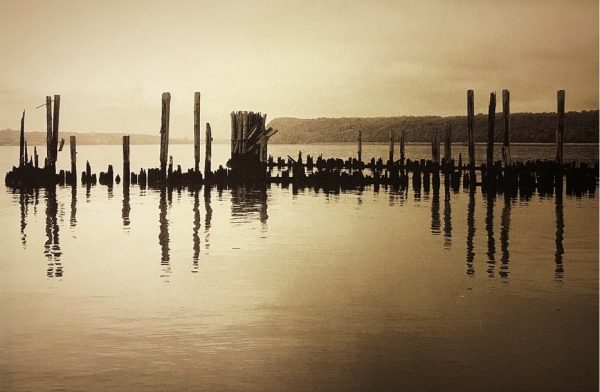 by Art Gunther
If Rockland County were to take its own Rorschach Test, it might look like the Hudson River pilings at Piermont that once supported a wooden pier from which more than a million men and some women left to confront Hitler in the European Theatre, World War II. 
The horrors of that time, including the Holocaust, were born and fanned by manipulated hatred derived from prejudice, itself a product of inequality. That a madman could freely steer the ship of state with so many willing countrymen at the oars is a reminder that the inclinations of history can repeat themselves.
For thousands, the Piermont pilings were among the last sights of the USA, never to be seen again. Whatever was in the hearts and minds of those civilian soldiers off to lose life and limb and to suffer bruised emotion forever, this truth was certain: By and large these people were good and decent. 
Those pilings remain at Piermont, no longer carrying the weight of men and women off to war against Hitler. Now, in the year 2020, other good citizens stare at the pilings symbolically, knowing that Rockland, and the nation, hold mostly decent people, as before. This time their enemy is the hatred of anti-Semitism, the hatred of Muslims, the hatred of non-whites, the hatred of immigrants, the hatred of anyone "different."
Hatred again fanned by self-interest. Yet, as in 1945, the victory will go to those who stand up and do battle.
The pilings will endure, as will the ultimate goodness of humanity.
Art Gunther is a retired newspaperman. You can reach him at ahgunther@yahoo.com. This post was originally published on his blog, thecolumnrule.com.