On Tues Jan 7, 2020, Teresa Kenny was sworn in as the new Orangetown Supervisor. Here is the text of her inaugural address that evening.
Welcome to the 2020 Orangetown Reorganization Meeting. A town rich in history, which is making even more history tonight by swearing in the first woman town supervisor in the 221 year history of Rockland County.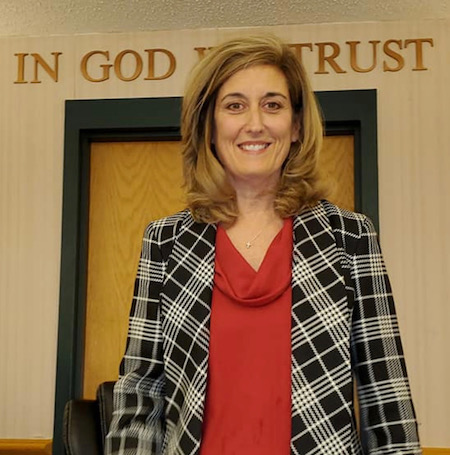 When I started to prepare my remarks for tonight, I planned to mention this at the end of my comments. But I moved it to the beginning because I know it was important to many voters and that a big deal was made of it after the election.
But, as much as it is an honor – and it is a huge honor – it is not how I want my tenure as supervisor to be defined. I am an attorney that worked part-time for the town for 23 years, with four town supervisors; I am an experienced real estate attorney; I'm an active member of the community; I'm a mother, a wife, a sister, a daughter, a neighbor and a friend. That is who Orangetown elected to be the next town supervisor.
With that said, I want to thank the people of the Orangetown for trusting me to be their next town supervisor. It is an honor and a privilege and I am excited by both the opportunities and the challenges ahead.
As promised during the campaign, my administration will work tirelessly every day to continue moving Orangetown in the right direction.
I want to thank former Supervisor Chris Day for his leadership and strong support for my candidacy. Chris accomplished a lot during his term and started some really exciting projects – including the new town hall and community center, which are both in the final design stages. I look forward to picking up where he left off on these and other initiatives and seeing them through to completion.
On a personal note, I want to say that I enjoyed working with Chris these last two years, I wish him and his family the best and hope that one day he returns to public office.
I look forward to working with the members of the Orangetown Town Board – Councilmen Troy, Diviny, Valentine, and Bottari – as well as our Town Clerk Rosanna Sfraga, our Highway Superintendent Jim Dean, Town Justices Pat Loftus and Rich Finning, and all of the town department heads, as well as the CSEA and PBA leadership.
I will say there is one thing bittersweet about winning the election – it is that I will miss working in the Town Attorney's Office – an office which I have had the pleasure of working in for over 23 years with some of the most professional people that I have ever known – both support staff and attorneys. I want to thank Rob Magrino, Dennis Michaels, Denise Sullivan, Rick Pakola, Barbara Gionta, Mary Ferrara and Barbara Dardzinski for their friendship and unwavering support during the campaign.
I also want to take this opportunity to congratulate Barbara Gionta on her move to the Rockland County District Attorney's Office – a loss for the Town but a gain for the people of Rockland, and to Barbara Dardzinski on her recent semi-retirement.
We are fortunate to have a great team, a team that is dedicated to serving our community and I look forward to working with them over the next two years.
I also want to quickly thank my campaign team. Without their hard work and support, I would not have been successful this past November. I will always be grateful for their confidence in me and just think, we get to do it all over again in another year or so!
And finally, I want to thank my family for their support and encouragement over the last nine months.
It was truly special that my 93-year old father, a retired police officer and WWII veteran and my 82-year old mother, the strongest woman I know, were able to vote for me in November.
Along with my sisters, JoAnn and Marie, who were out there every day campaigning for me, my family gave me the strength I needed to go out and knock on doors, stand in front of Shop Rite, and attend a lot of events across the town.
But, I especially want to thank my husband Larry and our two children Caitlin and Brendan. I could never have stepped forward and run for public office without your love and support. Thank you.
Nine months ago, when I was first asked to run for town supervisor, it was a difficult decision and one that I did not make lightly.
But I decided to run for two reasons: first, I believe the town has made significant progress over the last few years and I did not want to see us go backwards; and second, I believed that my professional experience gave me something to offer.
As we embark on a new chapter in Orangetown, I will use this experience to focus our attention on the issues that matter most.
Together with the town board, we will continue to PROTECT Taxpayers by budgeting responsibly.
In the coming weeks, I will be working with our department heads to evaluate the needs of each department and ensure that we continue to find savings and efficiencies, while ensuring that we have the personnel and resources necessary to best serve town residents.
In addition, we will work with our state representatives to fight for mandate relief, additional AIM funding, and a change to the school aid formula, which has continually short changed our school districts, causing property taxes to rise.
We will focus on innovative ways to GROW our economy by revitalizing our downtowns and we'll work with the state to re-develop RPC. In addition, we will proactively recruit businesses to come to Orangetown, to the Pfizer property, Blue Hill Plaza, and the Route 303 corridor.
Economic development will be a major priority of my administration, as we seek to bring in new, clean tax rateables and continue on the progress of the Town Board bringing in companies like Chase and Bloomberg.
In addition, we will work to STOP irresponsible development. As I stated during the campaign, this is the most pressing issue throughout Rockland County and I will use my experience as a local real estate attorney to work with the town board to craft and implement laws designed to address these concerns.
The Orangetown Town Board has made significant progress by passing laws and taking actions, such as increasing fines for town code violators and hiring an additional code enforcement officer. However, there is more to be done. Together we will:
Update the Town's woefully outdated comprehensive plan, which hasn't been updated since 2003 and review and strengthen our zoning laws and town code;
Establish a land trust to purchase "under threat" properties, like HNA Palisades and Nyack College;
Continue to judiciously use the PAC (Planned Adult Community) zone to allow seniors to stay in the town and to look for other housing options in and around our downtown districts for our young residents to move to until they are ready to buy a home in the town.
On all of these initiatives, community engagement is critical and we will work transparently, and with input from residents to ensure that we do what is in the best interest of the town.
Finally, we will SAFEGUARD our wnvironment by protecting our water and air quality, preserving open space, investing in our sewer infrastructure, and promoting recycling.
As supervisor, I will work with elected officials throughout our town and county, including the river villages, community leaders, and residents to continue the good work of the town board and tackle these issues head on in a bipartisan way, as I have done for the last 23 years in the town attorney's office.
I'm excited to get to work and once again, am grateful to the people of Orangetown for the opportunity.